Million Dollar Dip
by KetoFocus.com
An insanely addicting dip packed with flavor
Million Dollar Dip is an easy dip with simple ingredients and bold flavors and tastes like a million bucks.
Nutrition Facts
Serving Size:
1/4 cup dip
This easy dip recipe is perfect for parties, game day, tailgating, or just to snack on any day of the week. Whip up this Million Dollar Dip and pass it around with a tray of dippers like your favorite crackers, potato chips, or vegetables. This party favorite will be gone before halftime!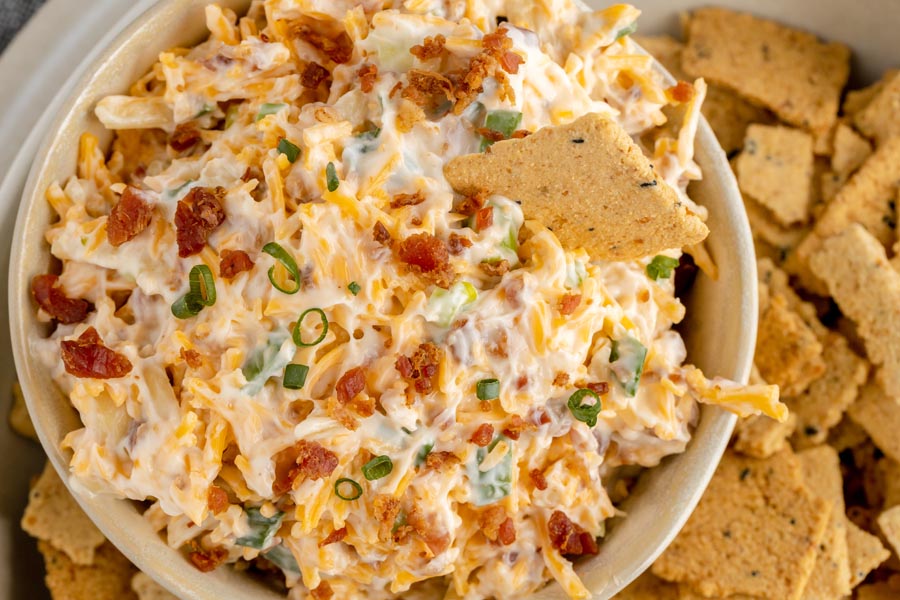 Serve up this million dollar dip recipe with tortilla chips or crackers for a homemade scoopable option.
This snack is also called the Neiman Marcus dip and includes mayonnaise, real bacon bits, freshly shredded cheddar cheese, crunchy almonds, sliced green onions, and garlic powder. It's a flavorful party dip commonly found during the holiday season and on the snack table on game night for good reason. You won't be able to get enough of this delicious dip.
How to make million dollar dip
There are only two steps to make this vintage recipe.
Combine the dip ingredients – mayonnaise, shredded cheddar cheese, crumbled bacon, almonds, green onions, and garlic powder.
For best results, cover and refrigerate for at least 2 hours to set.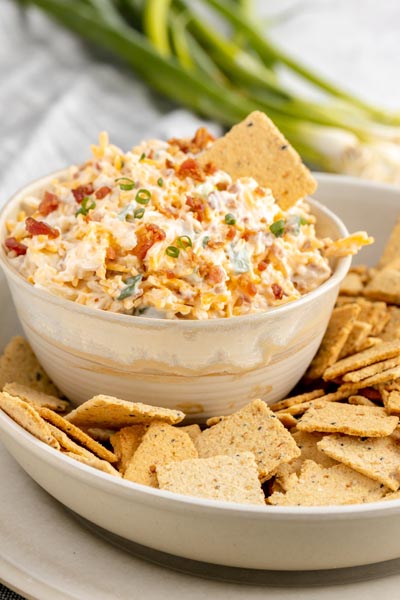 What is in million dollar dip?
You can find the ingredients for this easy recipe at your local grocery store or in your pantry at home.
Mayonnaise: This is the base for the dip. Be sure to use good quality mayo here. Avocado mayo can be used too.
Shredded cheese: Use sharp cheddar cheese as it has the most flavor, but mild or medium cheddar can be used. It's also best to grate your own cheese in order to avoid the fillers that are added to the pre-shredded cheddar cheese you get from the store. Shredding cheese yourself gives a better texture to the cheese too.
Bacon: For the best flavor, cook and crumble your own bacon. For a quick option, use bacon bits.
Slivered almonds: Almonds add a crunchy texture to this party appetizer.
Green onions: Thinly slice the green onions for a beautiful presentation.
Garlic powder: A little garlic goes a long way to making this dish flavorful. Can use fresh minced garlic too.
Million Dollar Dip Recipe Video
Subscribe to the KetoFocus YouTube Channel
With 100s of videos and millions of views, Ketofocus is one of the most popular Keto channels on YouTube.
Million Dollar Dip Ingredients
1 ½ cups mayonnaise
8 oz shredded cheddar cheese
½ cup cooked crumbled bacon or bacon bits
½ cup slivered almond
5 green onions, sliced (green part only)
½ teaspoon garlic powder
Million Dollar Dip Directions
In a medium bowl, combine mayonnaise, shredded cheddar cheese, crumbled bacon, almonds, green onions and garlic powder. Stir to combine.

Cover and refrigerate for at least 2 hours to set.

Quick Tip
Refrigerating helps the dip to mold together and helps the flavors combine.