Buffalo Chicken Dip
by KetoFocus.com
Shredded chicken smothered gooey cheese and spicy buffalo sauce - get your chips ready!
Three types of cheese are melted into a buffalo chicken sauce and topped with more crumble blue cheese. Scoop this up with celery or chips, but it's good enough to eat with a fork!
Buffalo chicken dip is the ultimate appetizer for a party. Just like my pizza dip and spinach artichoke dip, it will be the hit of the gathering or tailgate party and will disappear before you know it!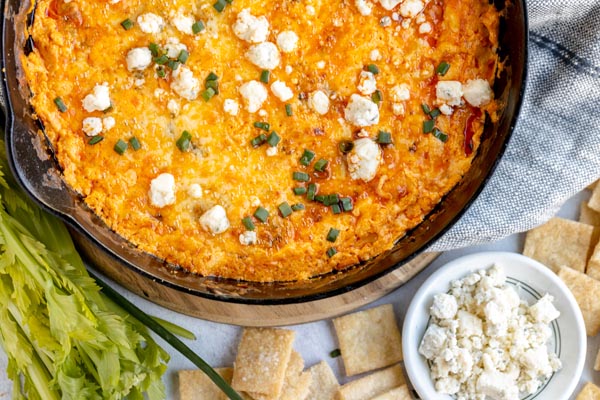 A creamy, cheesy dip with buffalo flavor and chicken, this dip was made to share. Bits of shredded chicken are smothered in Frank's buffalo sauce and butter. Three types of cheese are added to make this dip creamy, gooey and scoopable. Enjoy with celery sticks, broccoli or sliced bell pepper for a healthy snack. Or chips and crackers for the classic dippers.
Other recipes for this easy buffalo chicken dip use ranch dressing packets to add flavor; however, this recipe doesn't use ranch packets as they are filled with unnecessary ingredients and fillers. This dip has plenty of flavor without having to add artificial ranch.
How to make buffalo chicken dip
Melt butter in a cast iron skillet and add cooked shredded chicken. Stir in buffalo sauce to heat through.
Turn off the heat and stir in sour cream, lemon juice, cubed cream cheese, and a handful of Monterey Jack cheese.
Top with more Monterey Jack cheese and blue cheese.
Bake at 375 for 10 minutes.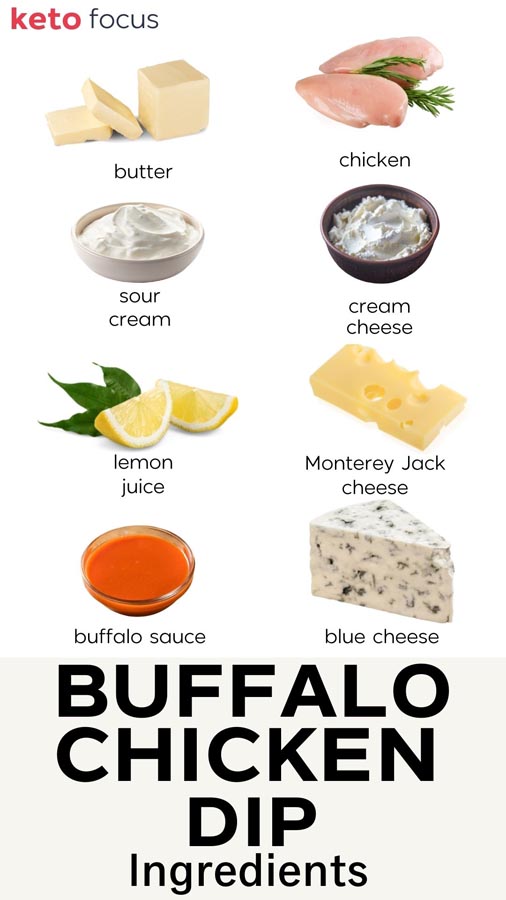 Key ingredients
Butter – To make this dip rich and enhance the flavor, we add butter. You could get away with not using butter but the flavor won't be quite as good.
Chicken – Use pre-cooked, shredded chicken to make this an easy dip to make. A rotisserie chicken or grilled chicken breast from the deli works great for an easy way to get cooked chicken for this dip.
Buffalo sauce – It's easiest to use premade buffalo sauce from a bottle. Frank's Red Hot buffalo sauce is a favorite. Primal Kitchen makes a dairy free version that is made with cashew butter.
Sour cream – Added to give a creamy factor to this super bowl dip and to balance out the tang from the Frank's buffalo sauce.
Lemon juice – Helps brighten up the dip. You can omit this if needed, but it does help with the flavor.
Cream cheese – Gives this creamy dip a gooey, scoopable component.
Monterey Jack cheese – A neutral cheese, that melts easily. It offers a mild cheesy flavor without over-powering the buffalo flavor. Mild cheddar cheese may also be used.
Blue cheese – Blue cheese pairs perfectly with buffalo sauce. Of course, you can omit this if you aren't a fan.
Buffalo Chicken Dip Recipe Video
Subscribe to the KetoFocus YouTube Channel
With 100s of videos and millions of views, Ketofocus is one of the most popular Keto channels on YouTube.
Buffalo Chicken Dip Ingredients
1 tablespoon butter
2 cups shredded chicken
1/2 cup buffalo sauce
1/4 cup sour cream
1/2 teaspoon lemon juice
6 oz cream cheese, softened & cubed
1/2 cup shredded Monterey Jack cheese
1/3 cup crumbled blue cheese
Buffalo Chicken Dip Directions
Melt butter in a cast iron skillet over medium heat. Add shredded chicken and buffalo sauce. Cook until buffalo sauce is heated through. Remove from heat.

Ingredients

Butter
Shredded chicken
Buffalo sauce

Quick Tip
You can add all the ingredients to a casserole dish and baking instead of heating and melting cheese in the skillet.

Stir in sour cream, lemon juice, cubed cream cheese and 2 tablespoons shredded Monterey Jack cheese until combined.

Ingredients

Sour cream
Lemon juice
Cream cheese (cubed)
Monterey Jack cheese (2 tablespoons)

Top with remaining shredded cheese and crumbled blue cheese.

Ingredients

Monterey Jack cheese (remaining)
Blue cheese

Bake at 375 degrees for 10 minutes or until cheese is melted and bubbly. Sprinkle with chives, green onion or more crumbled blue cheese.

Quick Tip
Move to the top to broil on high for 2-3 minutes to get a golden brown crust on top.

Crockpot buffalo chicken dip

Add all ingredients to a slow cooker and cook on low for 3-4 hours. Stir to combine all the ingredients. Then lower the slow cooker to warm heat setting to keep warm while you wait for the party to start!