Keto Tortilla Chips
by KetoFocus.com
Crispy, crunchy keto chips made with only 3 ingredients
Crunch on your favorite snack chip - the tortilla chips - with this keto tortilla chip recipe. These chips are super crispy and perfect for scooping up your favorite low carb dip.
There are some foods that we really miss on the keto diet and chips is one of them. Right now, to satisfy that need for a crunchy snack, we only have pork rinds. I make it my mission to turn our favorite foods into keto versions like crackers or french fries and these tortilla chips are no exception.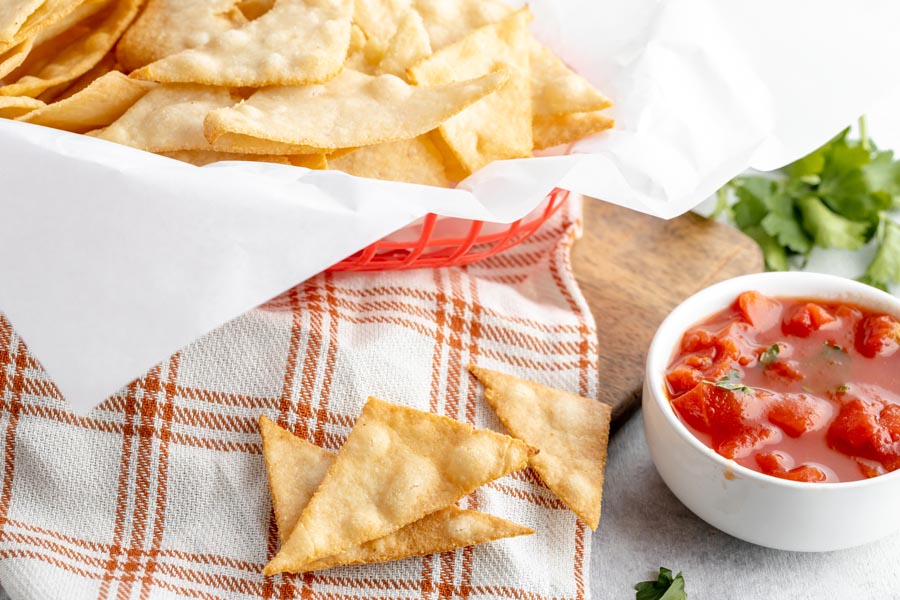 You no longer have to stare down the potato chips aisle with puppy dog eyes thanks to this keto tortilla chip recipe. It's so easy to make this keto snack so you can satisfy your crunch craving in about 10 minutes. And with only 3 ingredients, this is one recipe that you will always be ready to make when that desire hits.
Unlike other recipes, these keto chips are super crispy. They even look like a fried tortilla chip from Juanitas with the bumps on top! I'll share my tips for getting the crispiest tortilla chip. Then you'll be set with a bowl of fresh guacamole and salsa or use to make keto nachos.
These low carb tortilla chips are made from almond flour and unflavored protein powder. Other recipes use fathead dough made from mozzarella cheese. You are basically making keto cheese chips that don't taste or look like tortilla chips. These tend to be puffy and more lime a toasted flatbread instead of low carb chips.
How to make keto tortilla chips
Make dough by combining almond flour, unflavored protein powder, xanthan gum, salt and water.
Roll out dough very thin.
Cut into triangle shapes using a knife or pizza cutter.
Fry in avocado oil until golden brown.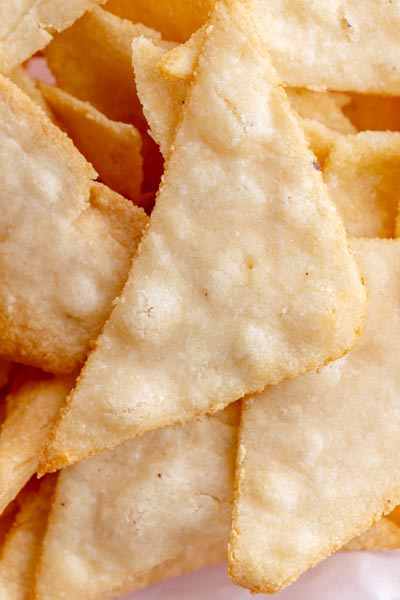 Key ingredients
Almond flour – This nut flour is the base for our chips. Using almond flour yields a nutty flavor and provides substance to our chip. Almond flour also turns golden brown as it fries.
Protein powder – This ingredient is what makes these chips crunchy and crispy. You can't substitute the protein powder and you shouldn't omit it. Make sure you select unflavored or else your chips may have a strange sweet flavor.
Xanthan gum – The gum is what holds the dough together. It makes it pliable for rolling and frying. You may be able to substitute with other gums like guar gum; however, I haven't experiment with that.
Keto Tortilla Chips Recipe Video
Subscribe to the KetoFocus YouTube Channel
With 100s of videos and millions of views, Ketofocus is one of the most popular Keto channels on YouTube.
Keto Tortilla Chips Ingredients
Keto Tortilla Chips Directions
In a medium bowl, combine almond flour, protein powder, xanthan gum and salt. Stir to combine. Pour in hot water and mix until dough forms.

Quick Tip
Start mixing with a fork first, then move to mixing and kneading with your hands.

Place dough in between two sheets of parchment paper. Using a rolling pin, roll out in all directions (attempting to form a rectangle shape) until the dough is very thin. The thinner the dough, the crispier the chip. To easily keep the dough from sticking to the parchment paper, carefully peel away the top parchment paper. Then replace and flip over. Then remove the new parchment paper on top. Now the dough will remove easily when you cut your shapes.

Quick Tip
To keep the parchment paper from sliding as you roll, place a damp paper towel underneath the bottom parchment paper.

Using a pizza cutter or a knife, cut the dough into triangle shapes. Let the dough dry for several minutes - usually the time it takes to prep and heat the oil.

In a large skillet add enough avocado oil to cover the dough as they fry. Heat oil to medium heat. Once hot, add a few triangles to the oil (enough to cover the surface) and fry until golden brown. You can flip the chips if desired or lightly press them individually into the oil with a metal spatula.

Once the chips are golden brown, remove them using a slotted spatula or spoon and place on a paper towel lined plate or baking sheet. Slightly season with salt.