Keto Cheez its
by KetoFocus.com
A keto version of your favorite cheese cracker
Puffy, crunchy keto cheez-its that look and taste like the childhood favorite but these cheesy low carb crackers are gluten-free and have 1 carb per handful!
Nutrition Facts
Serving Size:
14 crackers
Are Cheez-it crackers your kryptonite?? They are mine – as are Doritos and most crackers in general.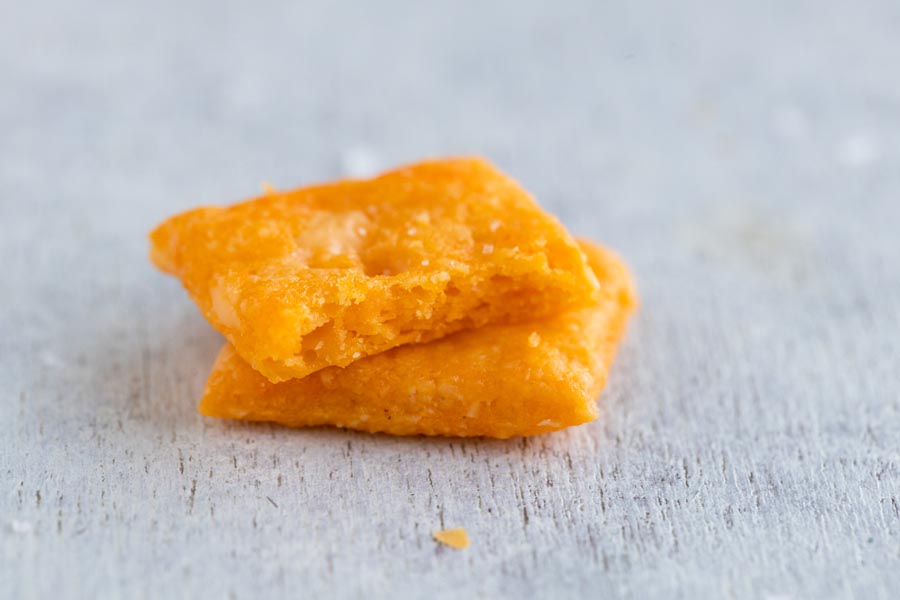 If they are hanging out on my kids' plate or the box is staring me in the face, it's hard not to sneak a couple Cheez-it crackers. But that usually leads to a couple handfuls of crackers which can add up to a lot of carbohydrates. A serving of 27 Cheez-its crackers (which is about two handfuls) has 17 grams of carbs! Plus these aren't gluten-free Cheez-its.
You are better off making your own if you want to stick to your low carb goals and still enjoy your favorite cracker. This keto cheez-it recipe has 1 carb per 14 crackers. And we made it without baking a slice of cheddar (like other recipes like to do….this is not a Cheez-it LOL!)
Using real cheddar cheese, almond flour and a few other ingredients, you can satisfy that crunchy, cheddary cracker fix in under 45 minutes. Plus make enough for the whole week!
How to make keto cheez-it crackers
Mix together dry ingredients – almond flour, xanthan gum, cheddar cheese powder (if using) and salt.
Stir in shredded cheese.
Add water and stir to combine.
Roll dough in between two sheets of parchment paper into a very thin layer (about the thickness of a fork prong or a dull pencil tip).
Cut into squares and add the iconic hole in the center using a toothpick or chopstick.
Place crackers on a parchment lined baking sheet and bake at 250 degrees for 20-25 minutes. Remove before the crackers turn golden brown.
Let cool. The keto crackers will continue to harden on the baking sheet and get crispy as they cool.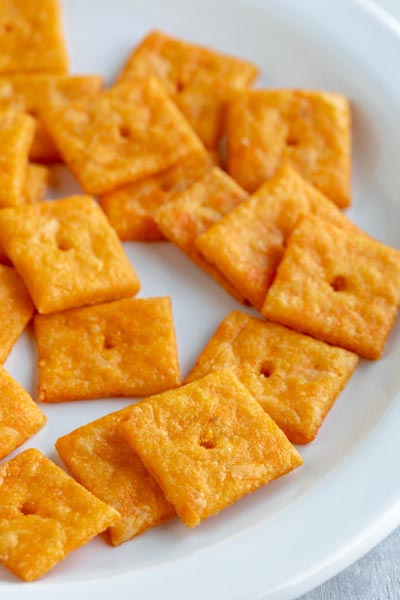 Key ingredients & substitutions
Almond flour – The keto flour base for our gluten free crackers. For the best texture and flavor get blanched, super fine almond flour. I haven't tried substituting with other keto flours, like coconut flour. If you did want to experiment and try coconut flour, try using around 3 tablespoons coconut flour.
Xanthan gum – The xanthan gum is a necessary ingredient to help hold the crackers together as you roll them out and bake. It keeps the dough from sticking to the parchment paper as well.
Cheddar cheese powder – This is an optional ingredient but I added it for extra cheddar flavor and for coloring.
Sharp cheddar cheese – Using sharp cheddar cheese over medium cheddar or mild will give the best cheese cracker flavor to your cheez it. You can try out other cheeses like Colby Jack or Pepper Jack cheeses for other flavors.
Gluten Free Cheez its Recipe Video
Subscribe to the KetoFocus YouTube Channel
With 100s of videos and millions of views, Ketofocus is one of the most popular Keto channels on YouTube.
Gluten Free Cheez Its Ingredients
Keto Cheez its Directions
In a medium bowl, whisk together almond flour, cheddar cheese powder (if using), xanthan gum and salt.

Ingredients

100 g almond flour (1/2 cup + 1/3 cup)
4 teaspoons cheddar cheese powder, optional
2 teaspoons xanthan gum
1/2 teaspoon salt

Quick Tip
Use the cheddar cheese powder for extra cheddar flavor and for bright orange coloring.

Stir in shredded cheese.

Ingredients

4 oz cheddar cheese, shredded

Quick Tip
Don't worry about trying to get the cheese to mix or melt into the dough. The shreds of cheese will melt into the dough as it bakes and help to form air pockets which create the iconic puff of each cheese cracker.

Add water and stir until a dough forms. It may seem like there is not enough water at this point start to knead the dough with your hands and it should come together as a dough similar to play doh texture.

Quick Tip
For ultra bright orange cheese crackers, add a few drops of orange food coloring to the water before adding to the dry ingredients.

Place dough in between two sheets of parchment paper. Flatten into a square or rectangle shape. Roll out dough, trying to keep a square or rectangle shape as much as possible. Roll until the dough is about as thick as a dull pencil tip or thickness of a fork prong. Carefully peel off the top layer of parchment paper. (See video above for best practices on rolling the dough)

Quick Tip
To keep the parchment paper from sliding around as you roll, place a damp paper towel under the bottom layer of parchment.

Using a pizza cutter or knife, cut dough into squares. To give the center a hole to prevent the crackers from puffing too much and for that iconic cheez-it appearance, use a skewer or chop stick to poke a hole in the center.

Quick Tip
Sprinkle with flaky salt before baking if desired.

Bake in a 250 degree Fahrenheit oven for 20-25 minutes. Take them out just before they turn golden brown around the edges. The cheez-its will continue to harden and get crispy as they cool.