Keto Cool Ranch Doritos
by KetoFocus.com
Your favorite ranch flavored tortilla chip turned keto
These keto cool ranch doritos taste like the real thing. Crispy low carb tortilla chips are dusted with a unique ranch seasoning and it only takes about 15 minutes to make!
Sometime you just want chips – especially if you love crunchy foods. These keto cool ranch doritos will satisfy that craving. It's an easy keto comfort food you can prep in no time just like my keto crackers or crispy tortilla chips.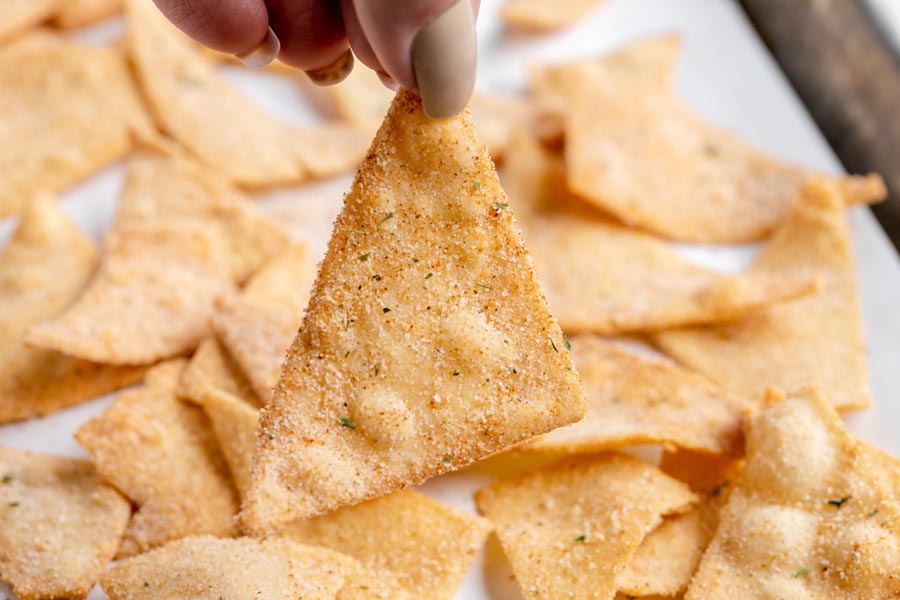 When it comes to Doritos, you are either a fan of the nacho cheese flavor or cool ranch or both. Luckily, now that I gave you a recipe for crispy keto tortilla chips, it's easy to make an authentic cool ranch coating to go with them. You just need a few pantry spices and seasonings to quickly make the blend.
Keto Cool Ranch Doritos Recipe Video
Subscribe to the KetoFocus YouTube Channel
With 100s of videos and millions of views, Ketofocus is one of the most popular Keto channels on YouTube.
Keto Cool Ranch Doritos Ingredients
Keto Cool Ranch Doritos Directions
Add almond flour, protein powder, xanthan gum and 1/2 teaspoon salt to a medium bowl Stir to combine. Add hot water and mix until dough forms.

Place dough ball in between two sheets of parchment paper. Roll out in all directions using a rolling pin to form a rectangle. Roll dough until it is very thin. The thinner the dough, the crispier the chip.

Quick Tip
To easily keep the dough from sticking to the parchment paper, carefully peel away the top parchment paper. Then replace and flip over. Then remove the new parchment paper on top. Now the dough will remove easily when you cut your shapes.

Cut dough into triangle shapes using a pizza cutter or a knife. Let the triangles sit for 5-10 minutes while oil heats up.

Using a large skillet, add enough avocado oil to cover the chips as they fry. Heat oil to medium heat. Once the oil is hot, add a layer of chips to the oil (enough to cover the surface) and fry until golden. You can flip the chips if desired. Remove the chips with a slotted spatula or spoon and transfer to a paper towel lined plate.

Quick Tip
Fry until they just start to turn color. Cooking too long could burn them.

Make cool ranch seasoning

In a small bowl, whisk together ranch seasoning, smoked paprika, garlic powder, onion powder and remaining salt.

Add chips to a plastic bag or bowl and pour in seasoning. Toss to evenly coat tortilla chips.