Keto Jalapeno Poppers
by KetoFocus.com
Keto jalapeno poppers will be your new keto homerun! They're so rich, creamy and flavorful with their cream cheese, bacon and jalapeno combo that they are hard to keep around! Make these for your keto and non keto friends!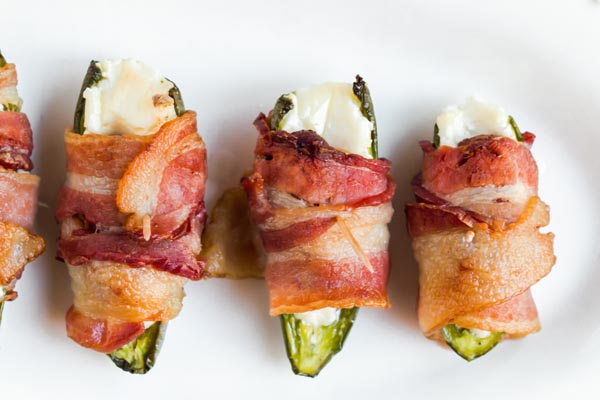 The recipe is so simple – only four ingredients, jalapenos, cream cheese, cocktail sausages, and bacon. There is a lot of prep work in making these but we get an assembly line going with two or more people and can knock out the prep time quickly.
These fat filled jalapeno poppers are the ideal ketogenic meal with 27 grams of fat per three poppers. Whenever we are going a keto restart and have fallen off the keto wagon, we make a bunch of these keto jalapeno poppers. They satisfy any craving for fast food or carb filled foods. These poppers are the ultimate comfort food!
Keto Jalapeno Poppers Recipe Video
Subscribe to the KetoFocus YouTube Channel
With 100s of videos and millions of views, Ketofocus is one of the most popular Keto channels on YouTube.
Keto Jalapeno Poppers Ingredients
12 jalapenos
8 ounces of cream cheese
24 Lit'l Smokies beef sausages
24 strips of bacon
toothpicks
Keto Jalapeno Poppers Directions
Preheat oven or grill to 300 degrees.

Cut the top off of all the jalapenos. Slice each jalapeno lengthwise.

Quick Tip
Before you start, either put on some disposable gloves or be careful touching your eyes and face after exposure to jalapenos.

Remove the jalapeno internals

Using a spoon or jalapenos corer, remove all the ribs and seeds from the inside of each jalapeno. Rinse the jalapenos under cold water to make sure all the ribs and seeds are removed.

Scoop about 1 tablespoon of cream cheese into each jalapeno half.

Place a Lit'l Smokie sausage on the cream cheese of the jalapeno.

Tightly wrap each jalapeno with bacon.

Secure the bacon wrapped jalapeno with a toothpick.

Add poppers to baking sheet

Place the poppers in a rimmed baking sheet covered with aluminum foil. Bake in the oven or grill for at least an hour, but ideally 2.5 to 3 hours. The longer jalapeno poppers cook, the less spicy they will be.

Quick Tip
For less spicy, lower the temp and cook them longer. Try 250 degrees and 3 - 4 hrs. Check them every 15 minutes after 3 hours.

Remove from oven and let cool for about 5 to 10 minutes before serving.