Keto Beef and Broccoli
by KetoFocus.com
A one pot easy Chinese classic turned keto
It's easy to enjoy the flavors of the East on a low carb diet with this keto beef and broccoli recipe. Toss ground beef, garlic, soy sauce, sesame oil and broccoli in a skillet and cook for 10 minutes.
When you crave Chinese food but don't want to risk ordering take-out because you don't know how many carbs are in the sauce, you must make this low carb beef and broccoli recipe. It's the perfect fix for those Chinese takeout blues. Just like my egg roll in a bowl recipe or my teriyaki chicken.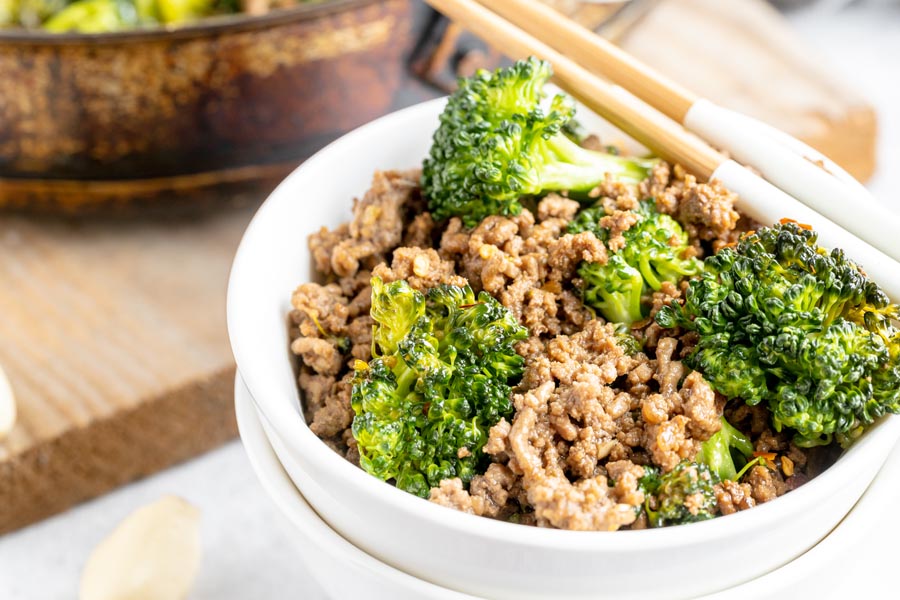 Not only does this keto Chinese food recipe cure those cravings for takeout, but this is a simple one pot meal you can make in 10 minutes. We use ground beef instead of steak since it's easier to cook up when  you are short on time and in a hurry. Garlic, soy sauce, vinegar and sesame oil are added for flavor. Throw in broccoli or any vegetable that needs to be used up in the refrigerator and let steam.
The best part about one pot keto meals is that clean up is so easy since we only dirtied one pan!
How to make keto broccoli and beef
Cook ground beef in a skillet until browned.
Season beef with garlic and onion powder.
Add in flavor – soy sauce, vinegar and sesame oil.
Pour in broccoli florets and let steam for a couple minutes until fork tender.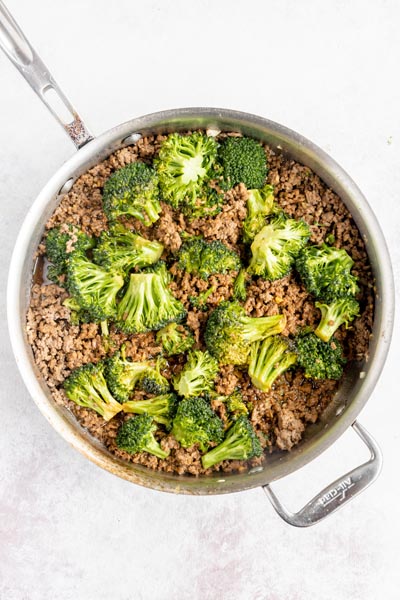 Key ingredients
Beef – In order to make this recipe in one pot and have it come together in 10 minutes, I used ground beef; however, any type of beef can be used. You can easily grill up steaks, use beef strips or use leftover steak for this keto Chinese food recipe.
Garlic – Adds flavor to the dish. Garlic powder can be used as a substitute in place of minced garlic. Try using 1 teaspoon. Stay away from garlic salt as the sauce will already be salty from the soy sauce.
Soy sauce – For flavor, soy sauce is added. If you are gluten free, you can use tamari which is soy sauce without the gluten. Or if you are avoiding soy, then use liquid aminos. Coconut aminos can be used as well.
Sesame oil – This adds fat but also a unique flavor from the sesame. You can used regular sesame oil or toasted sesame seed oil.
Vinegar – Adds a little hint of acid to the low carb broccoli beef to balance the flavors. Use white vinegar, apple cider vinegar or rice vinegar.
Broccoli – Can't have low carb beef and broccoli without the broccoli florets. I prefer to use the pre-cut fresh broccoli florets that come in a bag since it's simple and I don't have to mess with cutting vegetables. You can also use frozen broccoli.
Keto Beef and Broccoli Recipe Video
Subscribe to the KetoFocus YouTube Channel
With 100s of videos and millions of views, Ketofocus is one of the most popular Keto channels on YouTube.
Keto Beef And Broccoli Ingredients
1/4 cup avocado oil
1 1/2 pounds ground beef
dash onion powder
2 cloves garlic, minced
1/2 cup soy sauce, tamari or liquid aminos
1/4 cup sesame oil
4 teaspoons apple cider vinegar
12 oz broccoli florets
Keto Beef and Broccoli Directions
Add avocado oil to a skillet and heat over medium high heat. Add ground beef and break up into small chunks. Cook, stirring occasionally until beef is browned and slightly crispy. Add onion powder and garlic. Stir for 30 seconds.

Ingredients

Avocado oil
Ground beef
Onion powder
Garlic (minced)

Stir in soy sauce, sesame oil and vinegar.

Ingredients

Soy sauce
Sesame oil
Apple cider vinegar

Stir in broccoli florets. Cover and let steam over medium heat until broccoli is fork tender (3-5 minutes)

Quick Tip
Top with green onion or sesame seeds