Keto Shrimp Fried Rice
by KetoFocus.com
In just a matter of minutes, you can be enjoying this wonderful low carb fried rice with shrimp!
Classic keto shrimp fried rice made low carb using cauliflower rice is a tasty, easy keto dinner recipe you can throw together in 10 minutes!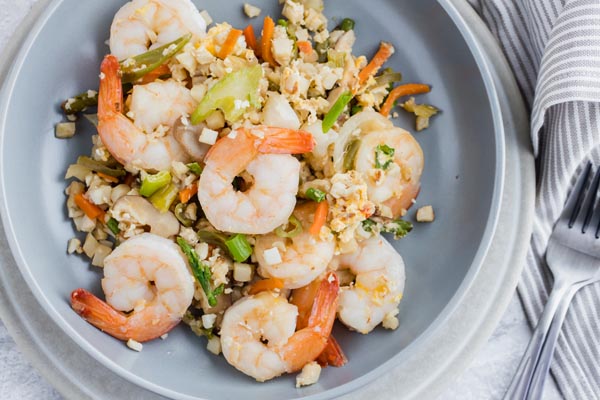 What do you cook when you want to put a healthy, home cooked keto dinner recipe on the table and you only have 10 minutes? Try keto shrimp fried rice! This is a one pot wonder recipe where everything is added to one skillet and sauté quickly for a quick dinner you can make to accommodate your busy life.
This recipe uses a couple of shortcuts to keep it simple to prepare.
I'll have those listed down below for you. We use jumbo shrimp and lots of vegetables for flavor, as well as, cauliflower rice to keep this dish low carb.
Keto Shrimp Fried Rice Recipe Video
Subscribe to the KetoFocus YouTube Channel
With 100s of videos and millions of views, Ketofocus is one of the most popular Keto channels on YouTube.
Keto Shrimp Fried Rice Ingredients
2 tablespoons butter
1 pound shrimp, peeled and deveined
4 green onions, chopped with whites and greens separated
3 garlic cloves, minced or 1 tablespoon garlic paste
2 teaspoons freshly grated ginger or 2 teaspoons ginger paste
2 oz sliced mushrooms
16 oz cauliflower rice
2 cups frozen asparagus stir fry or other frozen vegetable stir fry
1/4 cup liquid aminos or soy sauce
2 tablespoons white vinegar
1 tablespoon sesame oil
1 teaspoon monk fruit sweetener, optional
2 egg
Keto Shrimp Fried Rice Directions
Cook shrimp in large skillet

Heat butter in a large skillet over medium high heat. Add shrimp to the skillet and saute for 30 seconds on each side. Then remove and set aside.

Add whites of the onions, garlic and ginger to the skillet. Saute until fragrant.

Ingredients

Green onion (whites)
Garlic
Ginger

Add in mushrooms, cauliflower rice, vegetables, liquid aminos, white vinegar, sesame oil and monkfruit sweetener. Cook for 3-4 minutes or until vegetables are heated through.

Add back in the shrimp. Create a well in the middle of the skillet by pushing the cabbage mixture off to the sides. Crack the eggs in the center of the well and let cook until the edges turn white before scrambling the egg into the fried rice mixture.