Keto Almond Flour Chocolate Chip Cookies
by KetoFocus.com
The best tasting keto chocolate chip cookies you will ever have! These keto cookies are soft, chewy and sweet without that fake sugar flavor like some keto cookies can have.
I love finding the best recipes and this keto chocolate chip cookie with almond flour is one of my favorite. It will definitely satisfy your chocolate chip cravings just like my chocolate chip cookie dough truffles and keto chocolate chip mug cake.
These keto chocolate chip cookies with almond flour taste like a real chocolate chip cookie. I have received countless rave reviews after posting this recipe on my instagram page and YouTube channel. Many of my followers agree they are the best keto chocolate chip cookies they have had. They are the perfect combination of sweet, chewy, and crispiness. These cookies are so good that my favorite keto chocolate chip manufacturer, ChocZero, decided to put them on that back of their bag of dark chocolate chips! And they love that they call for almond flour instead of coconut flour.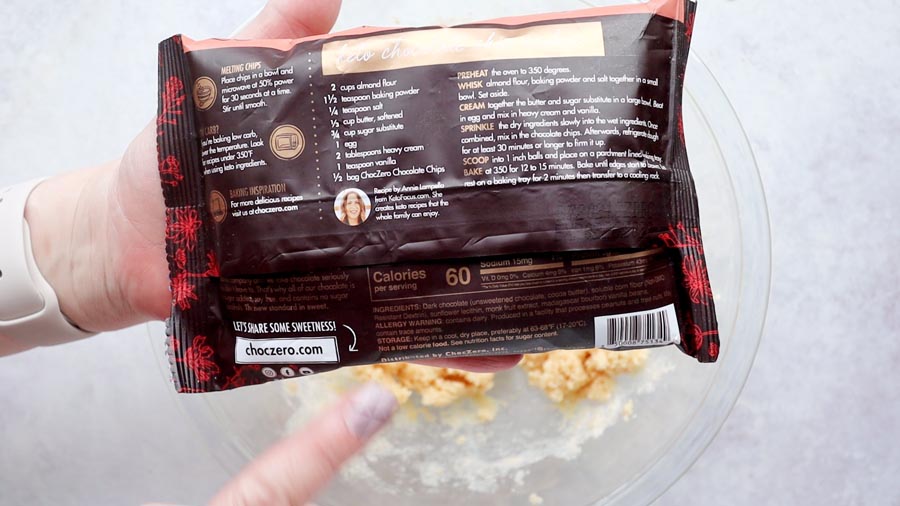 Keto Chocolate Chip cookies are an easy keto cookie to make and can be made in less than 30 minutes. When you are craving a cookie or keto chocolate chip cookie dough, you can satisfy it quickly with this easy low carb cookie recipe.
I came up with this recipe for keto chocolate cookies on accident. I was making my keto butter bars and added too much almond flour by accident. Instead of tossing out all the dough, I decided to turn it into something. The dough looked similar to cookie dough, so I added an egg, baking powder and chocolate chips to the almond flour mixture. Then baked them. And that's how the best keto cookies with almond flour were created. LOL!
How to make keto chocolate chip cookies with almond flour
Mix together dry ingredients in a bowl – almond flour, baking powder and salt. Set aside.
Cream softened butter with sweetener until fluffy.
Add in egg, heavy cream and vanilla.
Slowly mix in dry ingredients. Add sugar-free chocolate chips.
Scoop and bake!
Let cool before handling.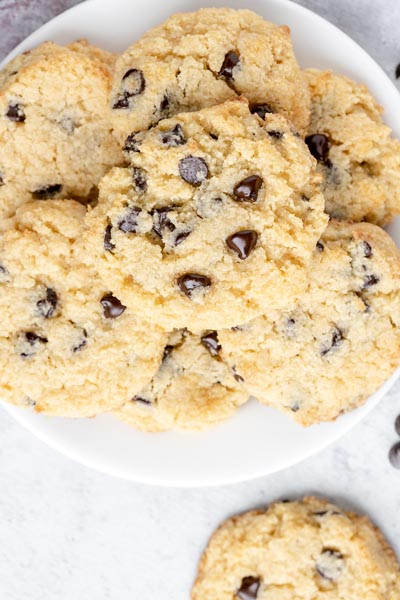 Key ingredients
Almond flour – This recipe uses almond flour as it is the preferred keto flour among most and it is readily available at most larger grocery stores. If you needed to use coconut flour, you could try using 2/3 to 3/4 cup of coconut flour instead.
Baking powder – The leavening agent to help puff up these cookies and get them to rise.
Salt – Salt is a necessary ingredient for flavor and to enhance the sweetness of the keto cookies.
Butter – Make sure you are using real butter and not margarine. Margarine can cause your cookies to spread.
Sweetener – You can use your favorite sugar-free sweetener in this recipe as long as it measures cup for cup like sugar. I like to use a erythritol monkfruit blend sweetener. Try experimenting with brown sugar substitutes too.
Egg – Helps the mixture bind together and helps makes these cookies soft, chewy and fluffy.
Heavy cream – Cream is added to dilute any artificial flavors that come from adding nut flours or sugar-free sweeteners.
Chocolate chips – Make sure you use sugar-free chocolate chips. Besides dark chocolate chips, try experimenting with white chocolate chips or milk chocolate chips. If you can't source keto chocolate chips, use a 90% dark chocolate bar and cut the bar into chunks.
keto chocolate chip cookie Recipe Video
Subscribe to the KetoFocus YouTube Channel
With 100s of videos and millions of views, Ketofocus is one of the most popular Keto channels on YouTube.
Keto Chocolate Chip Cookies Ingredients
2 cups almond flour
1 1/2 teaspoon baking powder
1/4 teaspoon salt
1/3 cup butter, softened
3/4 cup sugar-free sweetener
1 egg
2 tablespoons heavy cream
1 teaspoon vanilla
1/2 bag keto approved chocolate chips
Keto Almond Flour Chocolate Chip Cookies Directions
Preheat oven to 350 degrees.

In a small bowl, whisk almond flour, baking powder and salt together. Set aside.

In a large bowl, cream together the butter and sugar substitute. Beat in egg and mix in heavy cream and vanilla.

Slowly sprinkle in the dry ingredients to the wet ingredients. Once combined mix in the chocolate chips.

Scoop into 1 inch balls, flatten and place on a parchment lined baking tray. Refrigerate dough for at least 30 minutes or overnight.

Bake at 350 for 12 to 15 minutes. Bake until edges start to brown. Let rest on a baking tray for 2 minutes then transfer to a cooling rack.