Chicken Stir Fry
by KetoFocus.com
Take out flavor made from simple ingredients
This chicken stir fry is perfect for any busy weeknight- easy, customizable, and on the table in less than 30 minutes!
You know those nights where you have nothing planned, everyone is starving, and you're fighting the urge to call in take out? Every busy family has them. It's the perfect time to whip together this easy chicken stir fry for a healthy & satisfying dinner.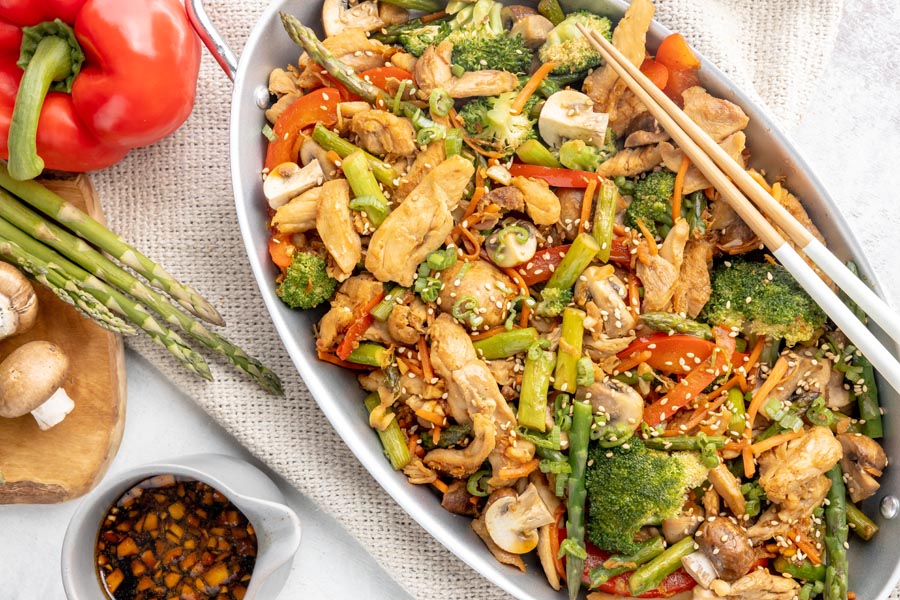 Stir fry is a genius way to use up leftover veggies that have been sitting in the fridge, saving you a trip to the store and keeping food out of the trash. Use the list below for ideas of vegetables that work amazingly well in stir fry. Feel free to mix and match the vegetables and use whatever meat you have on hand- chicken thighs, ground chicken, turkey, or even beef!
Takeout stir fry is loaded with sugary sauces and sometimes MSG. Plus it can get expensive! When you're in the mood for Asian-style flair without expense, try this stir fry recipe, Shrimp Fried Rice or Egg Roll in a Bowl for a flavor packed dinner the whole family will enjoy.
How to make chicken stir fry
Add the avocado oil to a large skillet over medium-high heat.
Dice the chicken and add it to the hot pan. Cook until heated through with an internal temperature of 165 degrees.
Add your favorite stir fry vegetables like bell pepper, broccoli, asparagus, mushrooms and carrots to the pan. Cook for 1-2 minutes.
Stir in the my 3 ingredient stir fry sauce – soy sauce, vinegar, garlic. Add extras like ginger, chicken broth and sesame oil for extra flavor.
Lower the heat to medium and let the stir fry cook until the veggies are soft.
Serve over rice, cauliflower rice or enjoy by itself.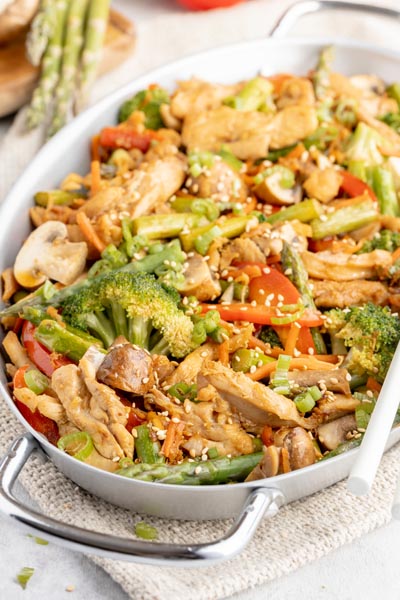 Key ingredients
Boneless skinless chicken thighs – A juicy and flavorful cut of chicken that goes great with stir fry. Feel free to substitute with ground turkey, ground chicken, chicken breast. You could even change up the protein by make pork or even beef stir fry.
Vegetables – Red pepper, broccoli, asparagus, mushrooms and carrots are what I used, but feel free to mix and match with zucchini, cauliflower, onion, cabbage, bok choy, bean sprouts, green bell pepper or spinach as well. Basically any vegetable that you need to use up in your refrigerator will work perfectly in a vegetable stir fry.
Soy sauce – If you're soy free, use coconut aminos or liquid aminos instead. For a gluten free stir fry, use tamari sauce. This is the base for our easy stir fry sauce.
Vinegar – Another key component to the stir fry sauce to add some tang and acid. Can use white vinegar, apple cider vinegar or rice vinegar.
Arrowroot powder – Thickens the sauce for the perfect stir fry glaze, but can be left out if desired. Cornstarch, xanthan gum or even an egg yolk are other thickeners that can be used in this chicken stir fry recipe.
Chicken Stir Fry Recipe Video
Subscribe to the KetoFocus YouTube Channel
With 100s of videos and millions of views, Ketofocus is one of the most popular Keto channels on YouTube.
Chicken Stir Fry Ingredients
2 tablespoons avocado oil
1.5 lbs boneless skinless chicken thighs, sliced or diced
1/2 red bell pepper, diced or sliced
1 cup broccoli florets
7-8 asparagus spears, cut into 1 inch pieces
1/2 cup quartered mushrooms
1/2 carrot, julienned
1/3 cup soy sauce, tamari or liquid aminos
3 tablespoons vinegar (white, rice or apple cider)
2 garlic cloves, minced
1 teaspoon ground ginger or 2 tablespoons freshly grated ginger
1 teaspoon sesame oil, optional
1 teaspoon arrowroot powder, optional
Chicken Stir Fry Directions
Add avocado oil to a large skillet and heat medium high heat. Add chicken and sauté until cooked through.

Ingredients

Avocado oil
Chicken (sliced or diced)

To the chicken stir fry mixture, add sliced bell pepper, broccoli, asparagus, mushrooms and carrot. Continue to cook for 1-2 minutes.

Ingredients

Bell pepper (sliced or diced)
Broccoli (florets)
Asparagus (cut into 1" piece)
Mushrooms (quartered)
Carrots (julienned)

Quick Tip
You can use any vegetables in your stir fry recipe.

Stir in soy sauce, vinegar, garlic and ginger. Lower heat to medium and let cook until veggies are soft. Add in sesame oil and thickener (arrowroot powder) if desired.

Ingredients

Soy sauce, tamari or liquid aminos
Minced garlic
Ginger (ground or fresh ginger)
Sesame oil (optional)
Arrowroot powder (optional)

Quick Tip
Can add additional flavor components like chicken broth, sesame oil or fish sauce. Use arrowroot powder, corn starch, xanthan gum or egg yolk as a thickener if needed.