Keto Teriyaki Chicken
by KetoFocus.com
Quick, easy and better than takeout!
This keto teriyaki chicken recipe will be your favorite when you crave take-out. In this one pan recipe, chicken thighs are pan seared and tossed with vegetables and coated with a sweet and tangy low carb teriyaki sauce.
When I am wanting Asian flavors, I make this simple keto teriyaki chicken recipe rather than ordering take out. Other keto recipes that help curb my cravings are keto fried rice and my sesame chicken cooked in an instant pot.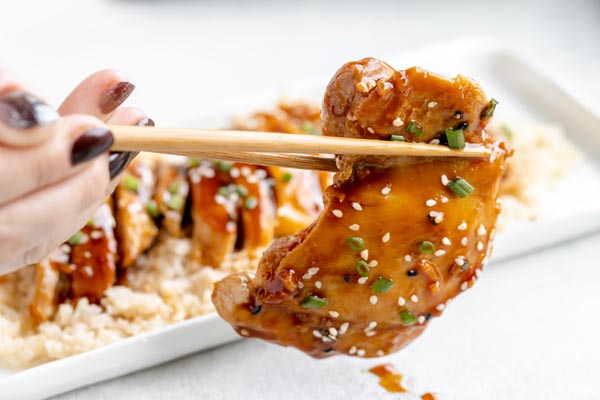 Although you can get teriyaki chicken at any Japanese restaurant, it's best to make it at home on the keto diet. Why? Because the teriyaki sauce a restaurant uses is higher in carbs – whether they make their own or use bottled. In this recipe, we make our own keto teriyaki sauce, which is easy to make and just involves whisking up a few ingredients you probably already have in your pantry.
Once you top this over your favorite keto noodles or cauliflower rice, you will forget the number to your favorite take-out place.
How to make keto teriyaki chicken
Quickly whisk together keto teriyaki sauce. Set aside.
Pan sear chicken thighs or chicken breasts in a skillet over medium high heat. Cook chicken on both sides until cooked through.
Add your favorite vegetables and cook until softened.
Pour in teriyaki sauce and cook until bubbly and thickened.
Serve over cauliflower rice or keto noodles – kelp noodles, shirataki noodles, heart of palm noodles or zucchini.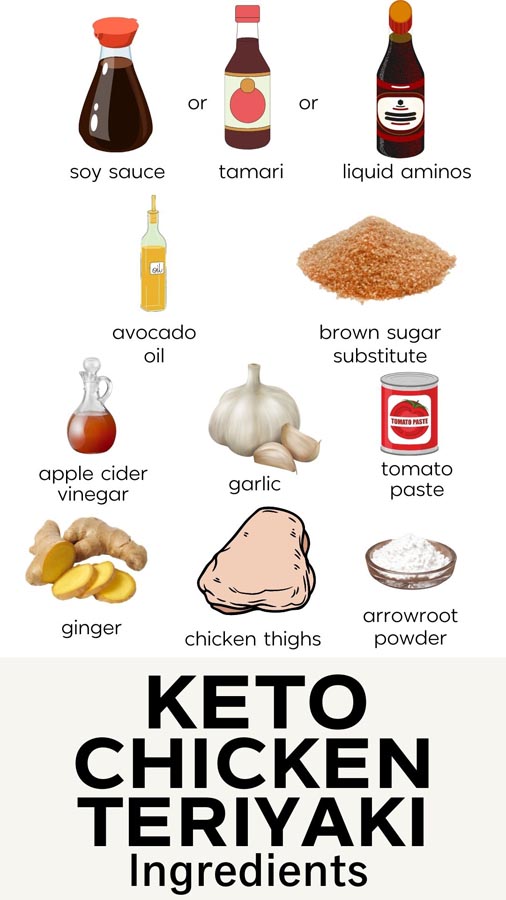 Key ingredients
Soy sauce/Tamari/Liquid Aminos – Depending on your preferences or allergies, you can choose either of these for you base to the teriyaki sauce. Soy sauce is your least expensive option and you can find it at most grocery stores. If you are gluten-free, you can use tamari or liquid aminos. For a soy free option, choose liquid aminos. Coconut aminos can also be used but it is higher in carbs.
Avocado oil – Used as a flavor vessel. Olive oil can be used as well. A teaspoon of sesame oil might add a little twist to the flavor.
Brown sweetener – Teriyaki sauce is general sweet and this is our keto sweetener that we use in this recipe. I use a sugar-free brown sugar substitute. Sugar-free maple syrup can also be used.
Apple cider vinegar – To give our sauce a tang, apple cider vinegar is added. Another option is to use white vinegar.
Garlic – Use for flavor. Minced garlic, garlic powder or garlic paste can all be used. If using garlic powder, use 1/2 teaspoon.
Tomato paste – My secret ingredient to enhance the flavor of the keto teriyaki sauce recipe. And another umami element besides the soy sauce. Tomato sauce can be used as a substitute.
Arrowroot powder – Works as a thickener for the sauce. It is low in carbs and thickens well without turning the sauce slimy. Xanthan gum could be used as a substitute; however, it can make the sauce slimy.
Sesame seeds – These are optional and are only added for appearance. You can add toasted sesame seeds, black or white sesame seeds.
Ginger – Added for flavor. Grated fresh ginger or ground ginger can work.
Chicken – I prefer to use chicken thighs because they are higher in fat and have more flavor but other cuts of chicken like chicken breast, tenderloin or even chicken legs will work. You can use skinless, boneless chicken or keep the skin on.
Vegetables – These are optional but some options for keto vegetables delicious in teriyaki stir fry are broccoli, asparagus, onion, mushrooms, green beans zucchini and bell pepper.
Keto Teriyaki Chicken Recipe Video
Subscribe to the KetoFocus YouTube Channel
With 100s of videos and millions of views, Ketofocus is one of the most popular Keto channels on YouTube.
Keto Chicken Teriyaki Ingredients
1/3 cup soy sauce, tamari or liquid aminos
2 tablespoons avocado oil
2 tablespoons brown sugar substitute
1 tablespoon apple cider vinegar
1 garlic clove, minced
1 teaspoon tomato paste
1/2 teaspoon arrowroot powder
1/4 teaspoon ground ginger or 1/2 teaspoon freshly grated ginger
1/2 teaspoon sesame seeds, optional
1 pound boneless, skinless chicken thighs or chicken breast
Assorted vegetables, optional
Keto Teriyaki Chicken Directions
In a small bowl, combine the soy sauce, avocado oil, brown sugar substitute, apple cider vinegar, tomato paste, garlic, arrowroot powder, ginger and sesame seeds (if using). Mix until combined. Set aside.

Ingredients

Soy sauce/tamari/liquid aminos
Avocado oil
Brown sugar substitute
Apple cider vinegar
Garlic
Tomato paste
Arrowroot powder
Ginger
Sesame seeds (optional)

Quick Tip
If cooking in the Instant Pot, don't add arrowroot powder until the end.

Lightly coat a skillet with cooking spray and heat over medium high heat. Add chicken and cook on each side for 3-4 minutes or until cooked through.

Remove chicken and add vegetable, if using, and cook until softened.

Quick Tip
Vegetables are optional in this recipe.

Add back in the cooked chicken and pour in teriyaki sauce. Let cook over medium heat until sauce bubbly and thickened.

Mix the ingredients for the teriyaki sauce, leaving out the arrowroot powder for now. Add chicken and vegetables to the liner of the Instant Pot. Add most of the sauce - reserve a tablespoon or two. Pressure cook high for 10 minutes.  Let pressure release naturally for 5 minutes before releasing the rest of the pressure. Mix remaining sauce with arrowroot powder and add to cooked chicken and stir-fry vegetables. Using sauté mode, cook until sauce is bubbly and thickened.

Quick Tip
See below for instructions on how to sous vide teriyaki chicken with an Instant Pot