Keto Teriyaki Sauce
by KetoFocus.com
Homemade keto teriyaki sauce with no junk - no need to buy store bought
Thick, sweet & tangy keto teriyaki sauce is easier than you think. At only 1.8 g net carbs per serving, you will never have to rely on store bought or grab carb questionable take-out again!
Nutrition Facts
Serving Size:
2 tablespoons
Making your own sauces is easier and cheaper. Try these other homemade keto sauces to add flavor to any dish – mole sauce, chimichurri, and keto curry.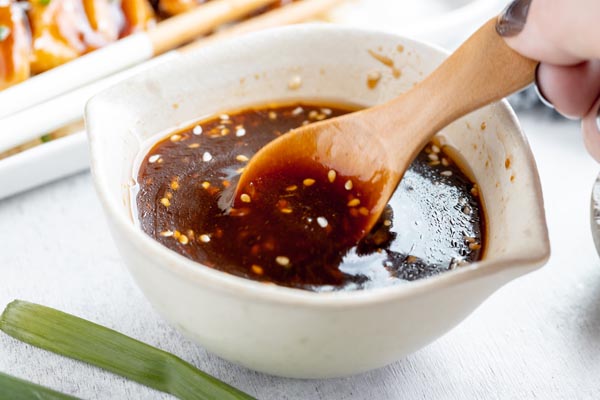 Unless it states no-sugar, most bottled teriyaki sauces are a source of hidden sugars and carbs. There a few bottled keto teriyaki sauces on the market but they are so expensive. Fortunately it's easy to make your own. With this teriyaki recipe, you probably already have most of these ingredients at home. You also have complete control over the type and quantities of ingredients that go into your sauce. Gluten free? Then use tamari or liquid aminos instead of soy sauce. Want more ginger flavor? Add more ginger powder or use freshly grated ginger.
Once you see how easy this is to make, you will never go back to jarred low carb teriyaki again and now you can enjoy keto teriyaki chicken anytime!
How to make keto teriyaki sauce
Mix in all ingredients.
Add to a sauce pan and heat over medium heat until bubbly and thickened.
Remove and pour over chicken, your favorite vegetables and cauliflower rice.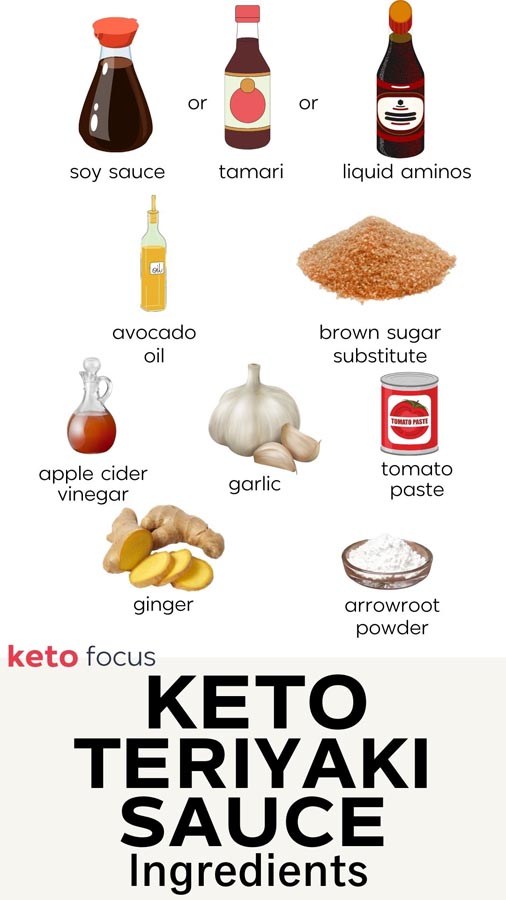 Key ingredients
Soy sauce/Tamari/Liquid Aminos – Any one of these sauces can be used in our sugar free teriyaki sauce. Obviously soy sauce will be the cheapest, most assessable of the three. Select Tamari or liquid aminos if you are gluten-free. Use liquid aminos if you are trying to avoid soy products. Coconut aminos can also be used but they are higher in carbs.
Avocado oil – My oil of choice for cooking and baking. Helps if you use this as a keto teriyaki marinade to stick to chicken thighs if you are making chicken teriyaki. Olive oil can be used as well. Try experimenting with a little bit of sesame oil as well for flavor.
Brown sweetener – This provides the sweetness that is in teriyaki sauce. I use a sugar-free brown sugar substitute. Sugar-free maple syrup can also be used.
Apple cider vinegar – Vinegar will provide a slight tang to the sauce. White vinegar will also work here.
Garlic – For flavor. Add more or less depending on your taste preference. Minced garlic, garlic powder or garlic paste can all be used. If using garlic powder, use 1/2 teaspoon.
Tomato paste – Enhances the flavor of the keto teriyaki sauce recipe. Not a necessary ingredient but I highly suggest you keep it in there. Tomato sauce can be used as a substitute.
Arrowroot powder – Works as a thickener for the sauce. It is low in carbs and has 7x the thickening power as all-purpose flour. Xanthan gum could be used as a substitute; however, it may make the sauce slimy.
Sesame seeds – These are optional and are only added for appearance. You can use either toasted sesame seeds, black or white sesame seeds.
Ginger – Added for flavor. You can add more or less ginger depending on your taste preference. Grated fresh ginger or ground ginger can work.
Keto teriyaki sauce Recipe Video
Subscribe to the KetoFocus YouTube Channel
With 100s of videos and millions of views, Ketofocus is one of the most popular Keto channels on YouTube.
Keto Teriyaki Sauce Ingredients
1/3 cup soy sauce, tamari or liquid aminos
2 tablespoons avocado oil
2 tablespoons brown sugar substitute
1 tablespoon apple cider vinegar
1 garlic clove, minced
1 teaspoon tomato paste
1/2 teaspoon arrowroot powder
1/4 teaspoon ground ginger or 1/2 teaspoon freshly grated ginger
1/2 teaspoon sesame seeds, optional
Keto Teriyaki Sauce Directions
Whisk together ingredients

In a small bowl, add soy sauce/tamari/liquid aminos, avocado oil, brown sugar substitute, apple cider vinegar, garlic, tomato paste, arrowroot powder, ginger and sesame seeds if using. Whisk until combined.

Ingredients

Soy sauce, tamari or liquid aminos
Avocado oil
Brown sugar substitute
Apple cider vinegar
Garlic
Tomato paste
Arrowroot powder
Ginger
Sesame seeds (optional)

Quick Tip
See "Key Ingredient" list above for ingredient substitutions. Can store in a sealed bottle or container in the refrigerator to use later. If using as a marinade, add to protein or vegetables at this point.

Add sauce to a medium saucepan and heat over medium heat until sauce is bubbling and thickened.

Quick Tip
Let simmer longer for a glaze like consistency.