Keto Cheesecake Fluff
by KetoFocus.com
A simple way to enjoy keto cheesecake with only 4 ingredients
Fluffy cheesecake filling in minutes with only a few simple ingredients. This creamy, silky dessert with a mousse-like texture can be enjoyed by the spoonful or as a dip for berries.
Keto cheesecake fluff is a quick fix for something sweet. Just like my single serve keto chocolate chip cookie and these chocolate covered strawberries.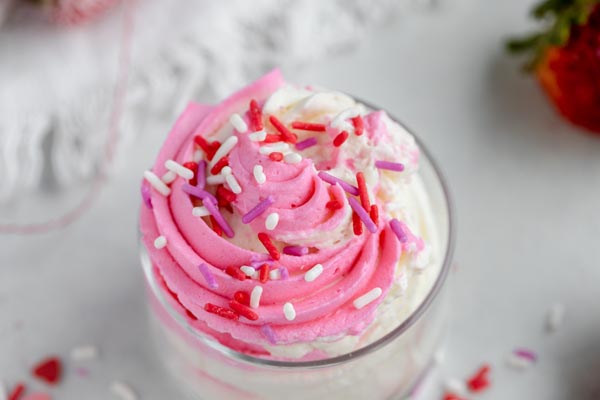 If you have five minutes a block of cream cheese and some heavy cream, you can make this quick and easy low carb dessert. It's just like enjoying cheesecake filling but without all the hassle of making to bake cheesecake. Besides being an simple option for a sweet treat at only 2.8 g carbs, this keto cheesecake fluff recipe can be customized by adding different flavors and colors.
How to make keto cheesecake fluff
Cream together cream cheese, powdered sugar-free sweetener, lemon juice and a pinch of salt.
Beat heavy cream using a hand mixer until stiff peaks form in a separate bowl.
Fold together cream cheese mixture and whipped cream until fluffy.
Scoop or pipe into your dish. Enjoy!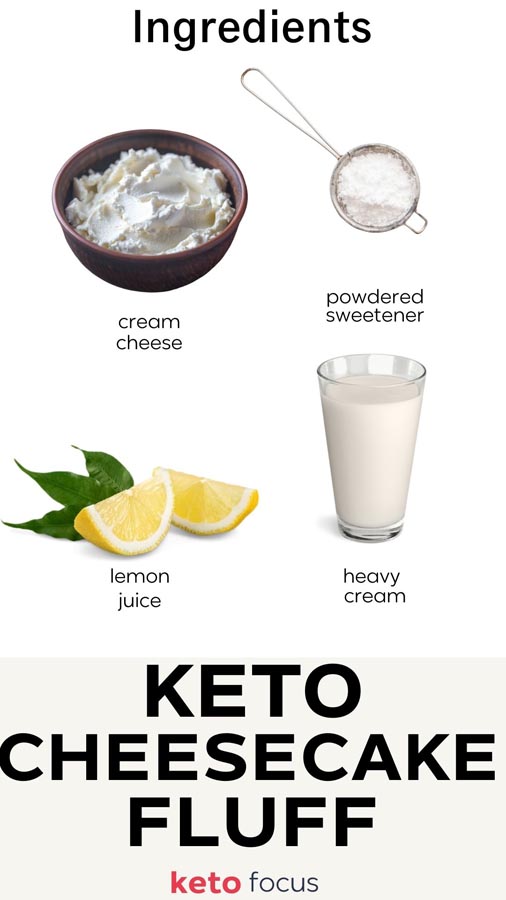 Key ingredients
Cream cheese – Can't be cheesecake without cream cheese! Cream cheese should be softened in order to cream it into a fluffy, silky texture the keto cheesecake mousse.
Sweetener – It's preferred to use powdered sugar-free sweetener like a powdered erythritol or monkfruit blend in order to prevent a grainy texture that may occur with a granulated sweetener. The sweetener amount can be adjusted to your liking. Add more or less depending on how sweet you like it.
Lemon juice – Lemon juice is a necessary ingredient for cheesecake flavor. It helps to balance out the sweetness and brighten up the cheesecake.
Salt – Salt is added to enhance the sweetness so we can get away with using less sweetener in this cheesecake recipe.
Heavy cream – Heavy whipping cream and beaten with an electric mixer to form stiff peaks. This will provide the airiness to create the fluff.
Keto Cheesecake Fluff Recipe Video
Subscribe to the KetoFocus YouTube Channel
With 100s of videos and millions of views, Ketofocus is one of the most popular Keto channels on YouTube.
Keto Cheesecake Fluff Ingredients
Keto Cheesecake Fluff Directions
Make cream cheese mixture

In a large bowl, cream together cream cheese, powdered sweetener, lemon juice and salt until smooth and silky. Set aside.

Ingredients

Cream cheese (softened)
Sweetener
Lemon juice
Salt

Quick Tip
Lemon juice and salt are optional ingredients but should be added for best flavor.

Pour heavy cream into a medium bowl. Beat with an electric mixer until stiff peaks form.

Add 1/3 the whipped cream into the cream cheese mixture. Stir until smooth. This will lighten up the mixture to make it easier to fold in the rest of the whipped cream. Add remaining whipped cream and gently fold until combined, fluffy and smooth.

Quick Tip
Fold gently to keep the light, airiness of the fluff. Stirring to much or too hard can cause the fluff to deflate.