Flourless Cookies
by KetoFocus.com
Delicious chocolate cookies made without any flour or dairy!
Chocolate flourless cookies you can make with only 5 ingredients and one of those ingredients isn't flour, almond flour, coconut flour or butter!
These flourless cookies are ideal for someone with sensitives to flour, nut flours or dairy since they are dairy free, gluten free and nut free. Most of my recipes are made with food sensitivities in mind – like these  thin mint cookies and chocolate chip cookie dough truffles. Both are gluten free and dairy free cookies.
You don't need flour to make cookies! You don't even need an oat, nut or seed flour substitution either – like rolled oats, almond flour or coconut flour. Most flourless cookie recipes use peanut butter or a nut butter like almond flour. These no flour cookies use a combination of egg, cocoa powder and sweetener to form the bulk of the cookie which results in a cookie texture and rich chocolate flavor. Peanut butter is not necessary to make a delicious cookie without flour. Chocolate chips give rich, melty chocolate in every bite.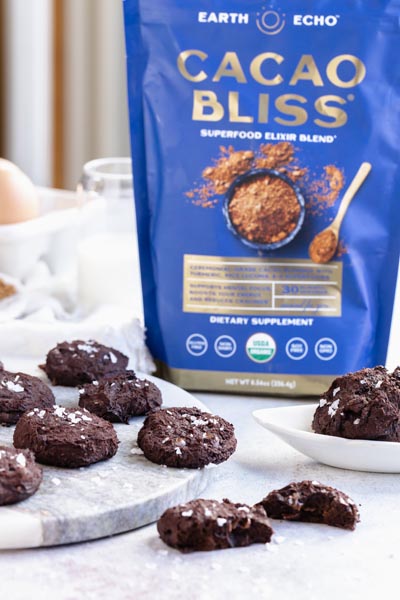 I partnered with Earth Echo for this recipe. Using their Cacao Bliss in these cookies gives them an amplified chocolate flavor with a hint of cinnamon. Cacao Bliss is a raw cacao powder blend that contains superfoods like turmeric, black pepper, cinnamon, lucuma and Himalayan salt. I often use Cacao Bliss in my recipes as a substitute or in addition to cocoa powder. Not only am I getting benefits from the superfoods with these flourless chocolate chip cookies, but it adds a special flavor to all of my chocolate treats. 
Get 15% off your order of Cacao Bliss when you use my code KETOFOCUS. 
How to make cookies without flour
Instead of flour, oats or nut flours, we combine powdered sugar that is sugar-free, cocoa powder and salt.
Beat two eggs until frothy.
Stir in cocoa mixture along with vanilla extract and chocolate chips.
Bake for 10 minutes.
Key ingredients
Eggs – Two eggs serve as the binder to hold the cookie together in this flourless cookie recipe without using peanut butter.
Cocoa powder – Use 100% unsweetened cocoa powder in this recipe as some cocoa powder mixtures can contain added sugars and carbs.
Sweetener – Powdered sugar substitute works best in this recipe as sometimes granulated sweeteners can add a gritty texture. I used a sugar-free sweetener. Monkfruit, erythritol or allulose are good options.
Cacao Bliss – An optional ingredient, but adds a deeper chocolate flavor and a hint of cinnamon. You can omit this and replace with 1/2 teaspoon of cinnamon.
Salt – Salt works as a sweetness enhancer in baking recipes allowing us to use less sweetener.
Vanilla extract – Vanilla extract is optional but it does provide flavor to these no flour cookies.
Chocolate chips – I used sugar free chocolate chips. If you are dairy free, make sure you use dairy free or vegan chocolate chips.
Flourless Cookies Recipe Video
Subscribe to the KetoFocus YouTube Channel
With 100s of videos and millions of views, Ketofocus is one of the most popular Keto channels on YouTube.
Flourless Cookies Ingredients
Flourless Cookies Directions
Preheat oven to 350 degrees.

In a medium bowl, whisk together powdered sugar free sweetener, cocoa powder, Cacao Bliss (if using) and salt.

Ingredients

Powdered sugar free sweetener
Unsweetened cocoa powder
Cacao Bliss (optional)
Salt

Quick Tip
Using a sifter for a delicate texture.

Beat eggs with an electric mixer for 1 minute in a separate large bowl.

Slowly, mix in dry ingredient mixture. Add vanilla extract and chocolate chips. Mix until combined.

Ingredients

Vanilla extract
Chocolate chips

Quick Tip
Mixture will be thick and sticky.

Using a cookie scoop, scoop a 1/2 - 3/4 inch ball of cookie dough onto a parchment lined baking tray. Space cookies about 1 inch apart on the baking sheet. Flatten with the back of a greased spatula or spoon. Sprinkle with finishing salt. Bake at 350 degrees for 10 minutes. Let cool before handling.

Ingredients

Finishing salt (optional)

Quick Tip
Cookies will appear underdone after 10 minutes - this is normal. They will firm up as they cool. Do not overbake.