Keto Chocolate Chaffle
by KetoFocus.com
This 6 minute recipe produces a dessert chaffle and is perfect for when you have a chocolate craving and a sweet tooth.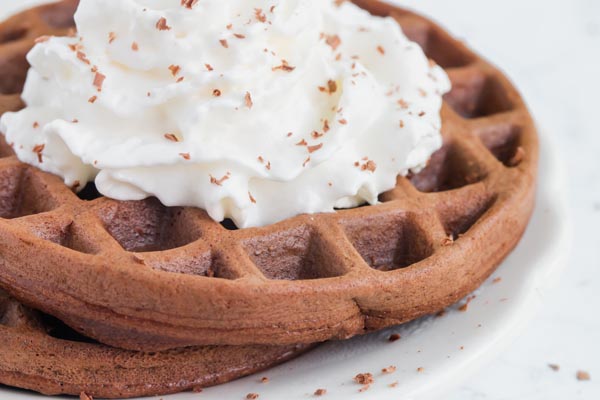 A chaffle is a keto friendly waffle that is primarily made up of cheese and egg. That's why it's called a chaffle.
Chocolate chaffles make the ideal breakfast when you want something sweet or perfect dessert when you have a chocolate craving up don't want to mess with the hassle of making a keto dessert with lots of steps and ingredients. Chocolate chaffles can be made in about 5 minutes.
These chocolate chaffles are made with cream cheese instead of mozzarella cheese. That way they don't taste like sweet chocolatey cheese. Almond flour is added to give substance to the waffle. Chocolate chaffles are delicious topped with butter, whipped cream, nut butters, or sugar free syrups.
What is a chocolate chaffle?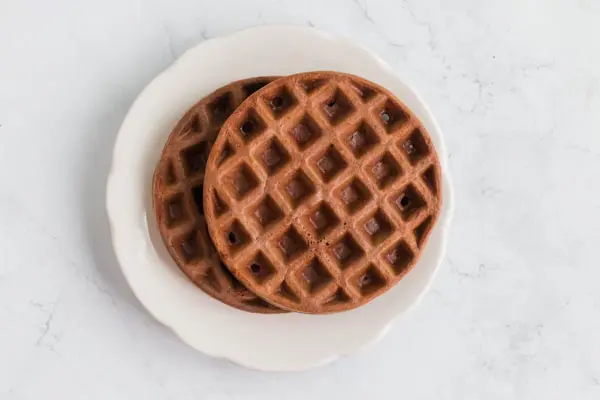 A chocolate chaffle is a cream cheese waffle that is low carb and chocolate flavored.
Chocolate chaffles are an easy keto dessert to make and taste great topped with whipped cream and sugar free chocolate syrup.
Keto Chocolate Chaffle Recipe Video
Subscribe to the KetoFocus YouTube Channel
With 100s of videos and millions of views, Ketofocus is one of the most popular Keto channels on YouTube.
Keto Chocolate Chaffle Ingredients
1 egg
1 oz cream cheese
2 tablespoons almond flour
1 tablespoon unsweetened cocoa powder
2 teaspoons monk fruit
1 teaspoon vanilla extract
Keto Chocolate Chaffle Directions
Preheat waffle maker to medium high heat.

Whisk together egg, cream cheese, almond flour, cocoa powder, monk fruit, and vanilla.

Pour chaffle mixture into the center of the waffle iron. Close the waffle maker and let cook for 3-5 minutes or until waffle is golden brown and set.

Remove chaffle from the waffle maker and serve.