Keto Cheesecake
by KetoFocus.com
Perfect New York style sugar-free cheesecake without using a water bath
Slice into heaven with this silky, creamy New York style keto cheesecake. With this foolproof method, you can have the perfect cheesecake without having to bake your cheesecake in a water bath to prevent cracking.
Cheesecake has always been a classic dessert loved by many. It's right up with there with other iconic desserts like chocolate cake, brownies and pumpkin pie.
This silky dessert can be a labor of love if you are making a baked New York style cheesecake with eggs and cream cheese. There are some important steps to follow to ensure you have perfectly creamy, silky classic cheesecake that doesn't crack or deflate. With this method, you don't have to use a water bath to prevent cracking. This method for making plain cheesecake is very easy. Soon you can enjoy your favorite dessert with strawberry syrup on top or caramel sauce.
How to make keto cheesecake?
Making keto cheesecake recipe is pretty simple– but there are many factors that can cause it to flop. It would still taste delicious, but for a perfectly puffed cheesecake free of cracks and lump, you want to follow these steps and tips.
Bake the keto graham cracker crust in a tightly fitting springform pan.
Cream three blocks of softened cream cheese together with salt and sweetener. Add sour cream, vanilla and lemon juice. Stir in egg yolks and whole eggs. Mix just enough until evenly incorporated.
Add filling on top of cooled crust in the springform pan. Bake at 450 degrees for 10 minutes. Lower heat to 200 degrees and continue baking until internal temperature of the center of the cheesecake is 150 degrees.
Remove from oven. Loose the edges of the cheesecake with a knife. Let sit at room temperature for until cool (about 2 hours), then wrap with plastic wrap and refrigerate until cold, at least 3 hours.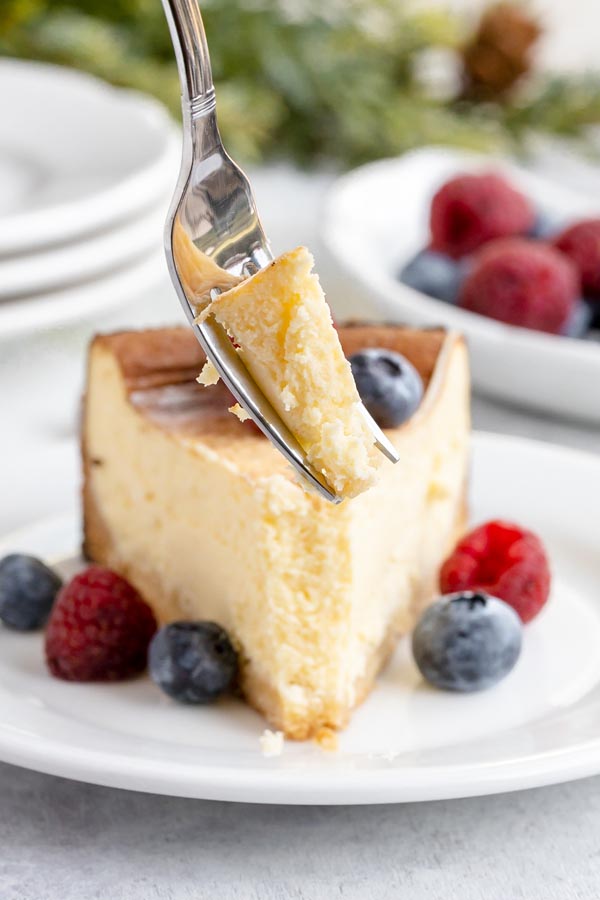 Tips for making the best low carb cheesecake
Use softened cream cheese & room temperature ingredients. Make sure all ingredients are at room temperature and your cream cheese has softened to room temperature. This will ensure the cream cheese creams smoothly to form a velvet texture. Using cold ingredient can result in a lumpy, chunky cheesecake.
Scrap the sides of the bowl as you mix. Constantly scraping the sides of the bowl with a spatula while mixing will allow for even incorporation of ingredients.
Don't overmix. Overmixing the cheesecake filling will allow too much air to get trapped in the batter from the eggs. This will cause the cheesecake to expand too quickly while baking which will lead to cracking and deflating.
Use a water bath or the initial high heat blast method. To keep your cheesecake from cracking, the method laid out in this recipe with an initial high heat blast to help set the edges and then lower the temperature to slowly bake the cheesecake without risk of cracks. A water bath can be used as well. The water will create steam to help puff up the cheesecake as it bakes.
Key ingredients in cheesecake filling
Block cream cheese – Get the full-fat block style cream cheese. Don't get the spread or whipped variety. You will not get the same result.
Salt – Salt in a necessary ingredient in most dessert recipes to help enhance the sweet flavor.
Sweetener – The sugar-free sweetener used in this recipe was a monk fruit erythritol blend sweetener. Other sweeteners like allulose will work as well, as long as they measure cup for cup with sugar.
Sour cream – Add stability, richness and softness to your cheesecake. A low carb greek yogurt can be uses in place of sour cream if desired. You may be able to use heavy cream. It will yield a soft cheesecake but it might affect the structure a bit.
Vanilla extract – No classic plain cheesecake is complete without a little vanilla flavor.
Lemon juice – Sounds odd, but lemon juice helps to brighten up the flavor of the cheesecake. You have to add this. Your cheesecake won't be quite as good without it.
Egg yolks & eggs – A necessary ingredient if you are making New York cheesecake, the eggs help with structure and to thick the cheesecake. Egg yolks work as an emulsifier to create a silky, velvet texture.
Keto Cheesecake Recipe Video
Subscribe to the KetoFocus YouTube Channel
With 100s of videos and millions of views, Ketofocus is one of the most popular Keto channels on YouTube.
Keto Graham Cracker Crust Ingredients
Sugar-Free Cheesecake Filling Ingredients
24 oz (3 blocks) cream cheese, softened
1/8 teaspoon salt
1 cup sugar free sweetener
1/4 cup sour cream
1 1/2 teaspoons vanilla extract
1 1/2 teaspoons lemon juice
2 egg yolks
4 eggs
Keto Cheesecake Directions
Preheat oven and prepare the pan

Preheat oven to 350 degrees and spray the inside of a 9-inch springform pan with cooking spray or brush with melted butter.

Quick Tip
A springform pan is ideal for baking cheesecake as you can release the sides of the pan to make serving easy; however, you can bake the cheesecake in a pie plate or cake pan if necessary.

Make keto graham cracker crust

In a food processer, add almond flour, coconut flour, brown sugar sweetener substitute, baking powder, xanthan gum and salt. Pulse a few times to combine. Add cubed butter and flavoring. Pulse until coarse crumbled form.

Ingredients

Almond flour
Coconut flour
Sugar-free brown sweetener
Baking powder
Xanthan gum
Salt
Butter (cubed)
Vanilla extract or graham cracker flavoring

Quick Tip
If you don't own a food processor, you can combine the ingredients using a blender or cut the cubed butter into the dry ingredients using a pastry blender or fork.

Press crust into pan and bake

Press the keto crust ingredients into the prepared springform pan. Make sure you press into an even layer along the bottom and a little bit up the sides. Bake at 350 degrees for 9 minutes. Remove from oven to cool. Increase oven temperature to 450 degrees.

Quick Tip
Crust is finished baking when golden brown.

Prepare cheesecake filling

In a large bowl, mix cream cheese with an electric mixer at medium-low speed until cream cheese is slightly softened, about 1 minute. Mix in salt and half of the sweetener. Continue mixing for 1 minute. Scrap down the sides of the bowl and add in remaining sweetener. Mix until combined.

Ingredients

Cream cheese (softened)
Salt
Sweetener

Quick Tip
Make sure cream cheese is softened to room temperature to ensure you don't end up with a lumpy cheesecake.

Classic cheesecake flavor

Scrape down the sides of the bowl and add sour cream, vanilla extract and lemon juice. Beat at low speed until just combined.

Ingredients

Sour cream (room temperature)
Vanilla extract
Lemon juice

Add egg yolks and continue mixing at medium low speed until combined. Scrape bowl and add remaining eggs two at a time. Mix until combined (about 1 minute).

Ingredients

Egg yolks (room temperature)
Eggs (room temperature)

Quick Tip
Don't overmix the eggs or else you may crack or deflate your cheesecake during baking.

Pour keto cheesecake filling on top of crust in the springform pan. Place pan on a cookie sheet. Bake at 450 degrees for 10 minutes. Lower heat to 200 degrees and continue baking until center of the cheesecake reaches an internal temperature of 150 degrees (about 1 1/2 hours). Remove from oven. Let cool for a few minutes then slide a knife around the edges to loosen from the sides. Continue cooling at room temperature for 1-2 hours before wrapping with plastic wrap and placing in the refrigerator to finishing cooling (about 3 hours).

Quick Tip
The cookie sheet will catch any leakage from your springform pan if it isn't sealed correctly. Open the oven after the 10 minute bake at 450 degrees to quickly decrease temperature to 200 degrees.

To unmold cheesecake from the springform pan, flip the latch to remove the side. Let cheesecake stand at room temperature for about 30 minutes before serving.