Protein Pudding
by KetoFocus.com
Easy protein packed pudding treat to enjoy with any meal or as a quick creamy chocolate dessert
Simple 3 ingredient chocolate protein pudding designed to be satisfying and creamy without using bananas or chia seeds!
When I have a sweet tooth, this chocolate pudding is my go-to recipe. Other easy desserts that you can make up in a snap are this 3 ingredient berry fool and my favorite keto mug cake.
Fuel up with a thick, creamy chocolate protein pudding. Made with low carb and dairy free ingredients like chocolate protein powder and avocados, this silky protein pudding can be enjoyed with a meal or as a dessert. Only 3 ingredients are needed to make a thick pudding consistency and we don't even need the chia seeds! It makes a great alternative to chia seed protein pudding. 
To achieve the ultimate fudgy flavor with a hint of cinnamon, I partnered with Earth Echo and used Cacao Bliss in my protein pudding. Cacao Bliss is a raw cacao powder superfood blend. It has superfoods like turmeric, Himalayan salt and cinnamon. It is slightly sweetened with monk fruit. 
How to make protein pudding
Add ½ avocado to a mini food processor or blender.

Pour in nut milk, a scoop of low carb protein powder and a scoop of Cacao Bliss. 

Blend until smooth. Enjoy!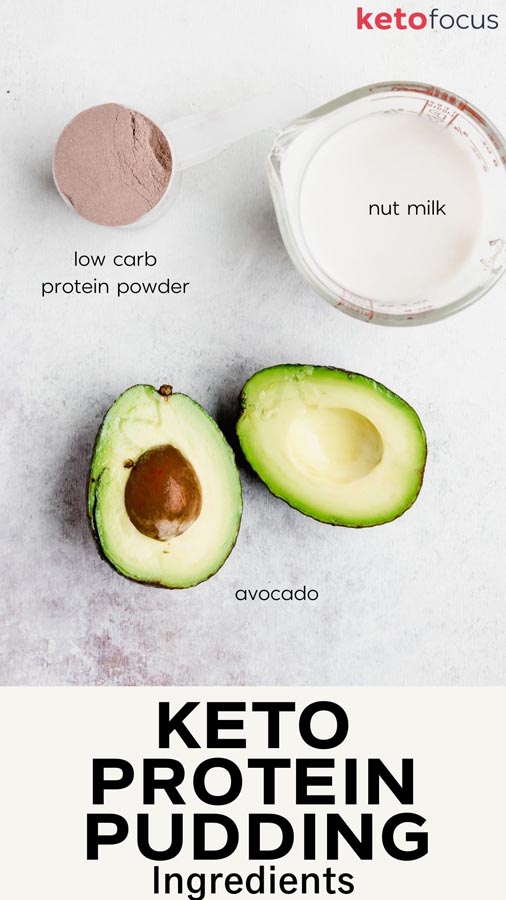 Key ingredients
Subscribe to the KetoFocus YouTube Channel
With 100s of videos and millions of views, Ketofocus is one of the most popular Keto channels on YouTube.
Protein Pudding Ingredients
Protein Pudding Directions
Add ingredients to a blender

To a blender or mini food processor, add avocado, protein powder, nut milk and Cacao Bliss if using.

Ingredients

Avocado
Protein powder
Nut milk
Cacao Bliss, optional

Quick Tip
You can use macadamia nut milk, almond milk or coconut milk. Any protein powder can be used in this recipe (Isopure, Premier Protein, vegan protein powders). Greek yogurt can be substituted for the nut milk.

Blend pudding ingredients together until smooth and creamy.

Quick Tip
Store in an air tight container in the refrigerator for up to 3-4 days.