Keto Carrot Cake with Almond Flour
by KetoFocus.com
Sugar-free, Low-Carb, Gluten-Free
Looking for a delicious keto carrot cake recipe? Now you don't have to feel guilty when you want to indulge in this sweet treat. Made with almond flour and sugar-free gives you a low carb, guilt and gluten-free pleasure that is indistinguishable from regular carrot cake.
Can a carrot cake be sugar free and keto?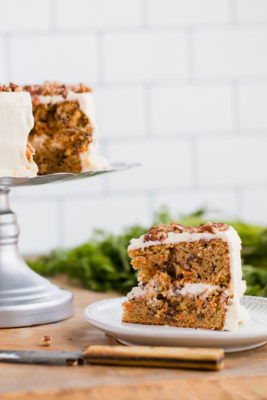 Carrot cake is a favorite cake loved by many.
It is probably my most popular keto dessert recipe on my social media although a close rival is my keto chocolate cake and a new recipe I have keto cheesecake. Everyone who tries this sugar-free cake, loves it as well as their non-keto friends and family! I especially love it in the Spring and around Easter because that's usually the season of carrot cake.
I created this keto carrot cake recipe with cream cheese frosting because I needed to satisfy my occasional craving for carrot cake.
This low carb cake recipe is moist and full of carrot and spice flavors because it is made using REAL carrots.
Using real carrots helps give this cake a spongy texture and helps keep the almond flour based cake from drying out. We also don't use coconut flour in this recipe as coconut flour tends to be more dense and will be a denser cake instead of one that is light and airy.
Many keto carrot cake recipes use carrot cake flavoring extract instead of actual carrots. They do this because some keto police say that carrots aren't keto. But that's not true. As long as you aren't consuming a ton a carrots, the occasional carrot isn't going to budge your carb limit that much.
Using real grated carrots in this recipe not only produces authentic carrot cake flavor but it provides moisture to the cake too. You will be sold once you make this low carb carrot cake and so will your guests. Just cover with frosting and if desired, top with chopped walnuts.
Keto Carrot Cake Recipe Video
Subscribe to the KetoFocus YouTube Channel
With 100s of videos and millions of views, Ketofocus is one of the most popular Keto channels on YouTube.
Sugar-Free Almond Flour Carrot Cake Ingredients
1 ½ cup almond flour
½ cup granulated Swerve or sweetener of choice
¼ cup of brown sugar substitute
1 ½ teaspoon baking powder
¼ teaspoon baking soda
½ teaspoon salt
1 ¼ teaspoon cinnamon
½ teaspoon nutmeg
⅛ teaspoon ground cloves
1 cup loosely packed grated carrots (from one medium sized carrot)
4 egg
4 tablespoons butter, melted
½ teaspoon vanilla
½ cup chopped pecans
Sugar Free Frosting Ingredients
8 oz cream cheese, softened
5 tablespoons butter, softened
1 tablespoon sour cream or plain yogurt
½ teaspoon vanilla
½ cup confectioner's sweetener
Keto Carrot Cake with Almond Flour Directions
Preheat oven to 350 degrees.

Grease the bottom and sides of one large circle cake pan or two 6 inch pans. Line the bottom with a circle of parchment paper.

Whisk together all the dry ingredients.

Add the carrot, eggs, butter, vanilla to the dry ingredients and mix until combined.

Scoop batter into prepared baking pans (fill halfway). Bake at 350 for 22-30 minutes. 22-25 minutes for 6 inch pans and 25-30 minutes for 8 inch. Bake until set in the middle.

Let cool completely before frosting.

For the frosting, whip together cream cheese, butter, vanilla, and sour cream. Slowly add in the confectioner's Swerve and continue to whip for another 2-3 minutes or until fluffy. Top with nuts if using, like chopped walnuts.