Keto Peanut Butter Mousse
by KetoFocus.com
Creamy, smooth keto mousse loaded with peanut butter flavor
All you need is 5 ingredients and 5 minutes to make this velvety keto peanut butter mousse.
I am a huge fan of peanut butter. To keep me from eating spoonful after spoonful of the nutty, creamy stuff, I like to take low carb peanut butter treats like keto peanut butter pie and chewy keto peanut butter cookies. This keto peanut butter recipe is the simplest of them all because it only uses five ingredients and doesn't take very long to make or require any baking.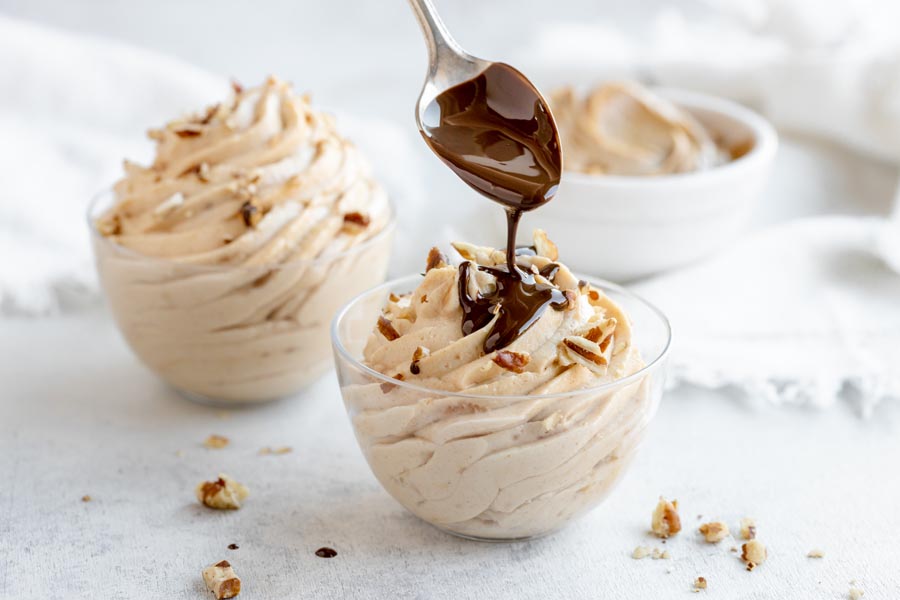 For a quick and easy sugar free dessert that everyone will love, you must make this keto peanut butter mousse. The light and airy mousse is loaded with your favorite nutty flavor and pairs perfectly with those hot summer days when you want a cool treat or when those peanut butter cravings hit.
How to make keto peanut butter mousse
Combine creamy low carb peanut butter with softened cream cheese, powdered sugar free sweetener and vanilla.
In a separate bowl, whip heavy whipping cream until stiff peaks form using an electric mixer.
Fold in 1/3 of the whipped cream into the peanut butter mixture in order to lighten up the batter. Then gently fold in the remaining whipped cream aiming to keep the fluffiness of the mousse.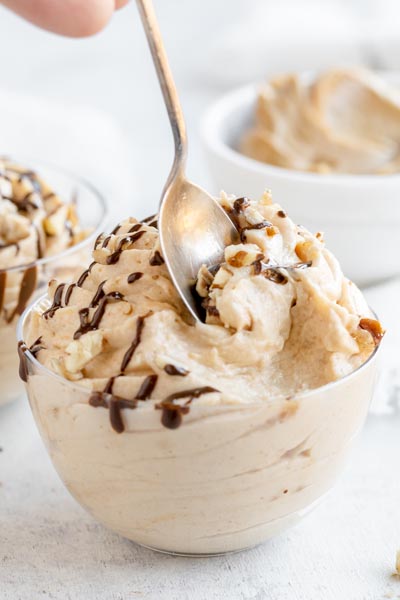 Key ingredients
Peanut butter – The star of the show, you can't have peanut butter mousse without peanut butter. Although you could substitute with your favorite nut butter, like almond butter or cashew butter and achieve a similar result. When selecting a peanut butter, make sure to use a creamy peanut butter instead of chunky (unless you want chunks of nuts in your mousse). Also look for a peanut butter that doesn't contain added sugars. Ideally the ingredients should just say peanuts or peanuts and palm oil.
Cream cheese – Cream cheese is added to give this no-bake dessert structure, so you don't end up with a floppy mousse.
Powdered sweetener – Added to sweetened up our dessert. Look for a confectioner's sugar-free sweetener like erythritol, monk fruit or allulose.
Heavy cream – Whipped to form whipped cream. This is used to provide lightness and airiness to our creamy keto dessert.
Keto Peanut Butter Mousse Recipe Video
Subscribe to the KetoFocus YouTube Channel
With 100s of videos and millions of views, Ketofocus is one of the most popular Keto channels on YouTube.
Keto Peanut Butter Mousse Ingredients
Keto Peanut Butter Mousse Directions
Cream peanut butter mixture

In a large bowl, cream together peanut butter, cream cheese, powdered sweetener and vanilla.

Ingredients

Peanut butter (creamy)
Cream cheese (softened)
Powdered sugar free sweetener
Vanilla

In a medium bowl, add heavy cream. Using an electric mixer, beat until stiff peaks form.

Add 1/3 of the whipped cream to the peanut butter mixture and mix to combine. Then add in remaining whipped cream and gently fold until combined.

Quick Tip
Adding in a small amount of whipped cream first will allow the mixture to thin out in order for the rest of the whipped cream to be gently folded in to keep the airiness of the mousse.