Jello Whip
by KetoFocus.com
A fluffy, fruity treat you can make in under 5 minutes
Jello whip is a fluffy, creamy dessert you can make in minutes and only requires 3 ingredients. One bite and you'll be hooked by the texture and flavor of this jello recipe.
A cool treat you can make in a snap, this Jello whip is kid friendly and mom approved too. It's an easy sugar free dessert you can make in minutes. It has an airy texture similar to cheesecake fluff or mousse, but not as dense.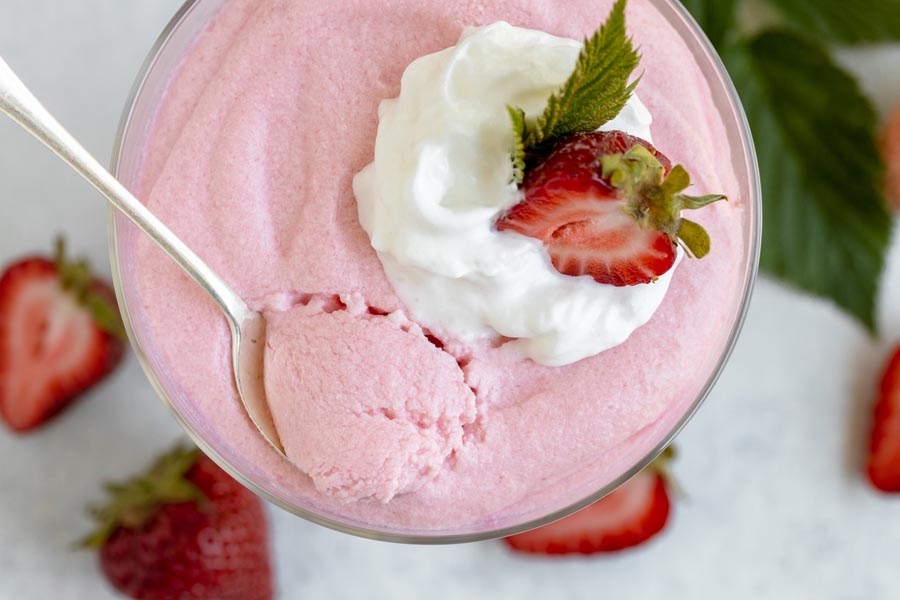 Jello whip combines three ingredients that most probably already have in their refrigerator or pantry – heavy cream, cream cheese and a flavored gelatin mix. Use any flavor from lemon jello, cherry jello, or strawberry. The combination of the whipped cream with the gelatin creates a creamy, cloud like texture with a punch of flavor. If you want chunks of fruit, you can add in fruit to match or compliment your jello flavor to make a jello salad. Enjoy right away or chill it for several hours to thicken up. Top with fresh strawberries and whipped topping.
Beat softened cream cheese until fluffy.
Add heavy cream and beat until stiff peaks form.
In a separate bowl, add cold water to jello packet to bloom the gelatin.
Pour in boiling water. Mix to dissolve.
Slowly add jello mixture to the whipped cream and mix until combined.
Refrigerate for 3-4 hours or overnight.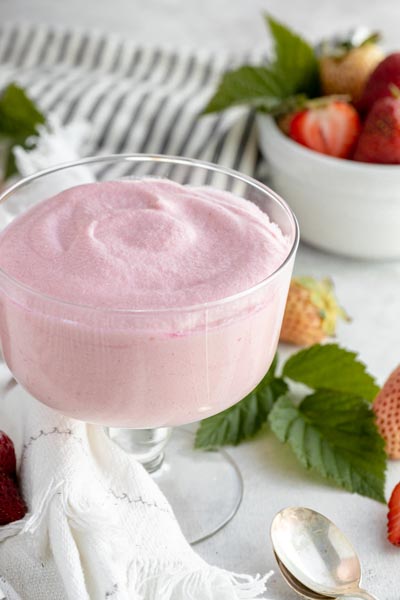 Key ingredients
Cream cheese – Add for texture and very slight tangy, cheesecake flavor. This could be omitted; however, if you don't have cream cheese on hand or don't care for it.
Heavy cream – Used to make our jello dessert creamy and fluffy. Whipping air to the whipped cream makes this treat expand like fluffy clouds.
Gelatin packet – Flavored sugar free jello is used to make this easy keto dessert. I used strawberry for this recipe.
Subscribe to the KetoFocus YouTube Channel
With 100s of videos and millions of views, Ketofocus is one of the most popular Keto channels on YouTube.
Keto Jello Whip Ingredients
2 oz cream cheese, softened
1 1/2 cups heavy whipping cream
1 (0.7oz) packet sugar free gelatin, flavor of choice
1/4 cup cold water
1/2 cup boiling water
Jello Whip Directions
Add softened cream cheese to a large bowl and beat until fluffy. Pour in heavy cream and continuing beating until stiff peaks form. Set aside.

Ingredients

Cream cheese (softened)
Heavy cream

Quick Tip
Letting the heavy cream sit at room temperature for 30 minutes prior prevents the jello from cooling too fast when it is mixed. It creates a more uniform consistency.

To a 2 cup measuring cup or small bowl, add the contents of one flavored jello packet. Pour in cold water and let bloom for 1-2 minutes. Stir in boiling water and mix until dissolved.

Ingredients

Jello packet (sugar free)

Slowly stir in liquid jello mixture into the whipped cream. Don't add in too fast as you want to keep the airiness of the whipped cream. Once added, mix an electric mixer until fluffy. Scoop or pipe into a serving dish if desired. Refrigerate for 3-4 hours or enjoy right away.

Quick Tip
Refrigerating jello whip creates a thicker texture. Add fresh fruit to make an easy jello salad.