Keto Easter Bunny Cheesecake Bites
by KetoFocus.com
Hop to it and makes these delicious keto cheesecake bites in the shape of an Easter bunny
A fun keto Easter dessert you can make this holiday are these bunny cheesecake bites. Balls of low carb cheesecake are coated in sugar-free white chocolate and sprinkled with shredded coconut. Add the bunny ears and before you know it, these cuties will hop off the plate!
Holidays shouldn't the a time when you fall off your lifestyle. If you want to stick to your way of low carb eating and feel great, I have a recipe for you this Easter. Whether you are needing a show-stopping main course like rack of lamb or a sugar-free treat to sneak in the Easter basket like keto Cadbury eggs, these keto cheesecake bites shaped like an Easter bunny will keep it fun and help you reach your goals.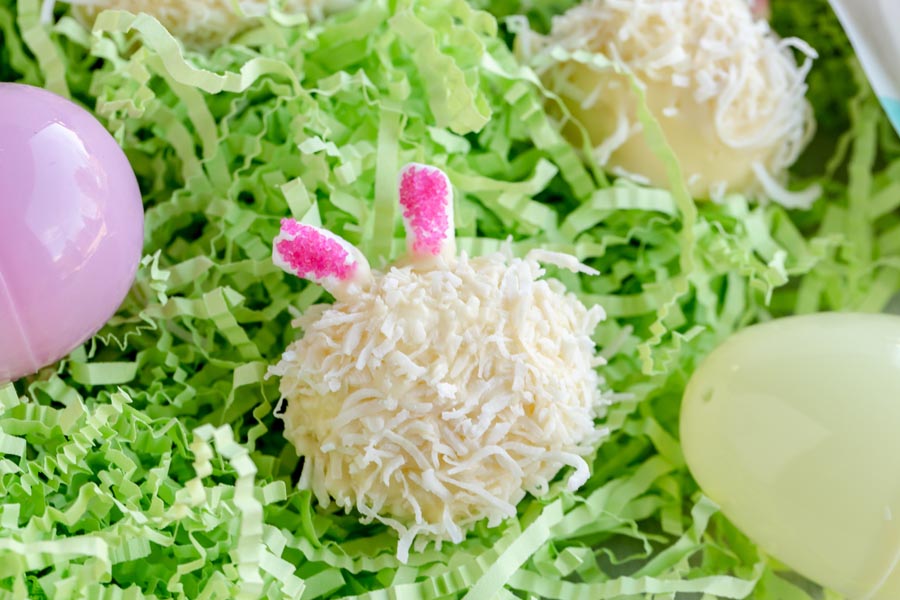 Something new I have been doing with my kids is baking. We use every holiday as an excuse to bake or create something fun in the kitchen. Like these Easter bunny sugar cookies, we are always cooking up something special in the kitchen.
These adorable Easter bunnies are what we created last week. Creamy keto cheesecake balls are dipped in sugar-free white chocolate and rolled in unsweetened shredded coconut. Then marshmallow bunny ears are added. Of course, I had to make this entirely sugar free!
Subscribe to the KetoFocus YouTube Channel
With 100s of videos and millions of views, Ketofocus is one of the most popular Keto channels on YouTube.
Keto Cheesecake Bites Ingredients
Keto Easter Bunny Cheesecake Bites Directions
In a large bowl, cream together cream cheese, powdered sugar free sweetener, coconut flour and lemon juice. Set aside.

Ingredients

Cream cheese (softened)
Powdered sugar free sweetener
Coconut flour
Lemon juice

In a separate small bowl, beat heavy cream with an electric mixer until stiff peaks form.

Gently fold in whipped cream into the cream cheese mixture until combined.

Quick Tip
Mix by hand, carefully folding the whipped cream into the cream cheese mixer in order to keep the fluffiness and airiness of the cheesecake balls.

Make cheesecake bites and freeze

Scoop about 1 inch ball of cheesecake mixture using a cookie scoop and place on a parchment line baking tray. Repeat with remaining mixture. This should yield around 12 balls. Place cheesecake balls in the freezer for 15 minutes to harden.

Meanwhile add sugar-free white chocolate chips and coconut oil to a medium bowl. Microwave at 45 second intervals, stirring in between, until melted. Once cheesecake balls are set, dip cheesecake balls into the melted white chocolate. Then roll or sprinkle coconut flakes all over the ball. Place back on the parchment lined tray to set.

Ingredients

Sugar-free white chocolate chips
Coconut oil
Shredded coconut

Quick Tip
Can also melt chocolate using the double boiler method over the stovetop.

Cut out bunny ears from sugar-free marshmallows and glue on each cheesecake ball with melted white chocolate. Store in the refrigerator when not enjoying.

Ingredients

Sugar free marshmallows
Granulated sweetener (optional)
Pink food coloring (optional)

Quick Tip
Option: Create a pink center to the ear by coating the sticky part of the marshmallow with a pink graduated sweetener made by combining granulated sweetener with pink food coloring.