Keto Chocolate Mousse
by KetoFocus.com
A creamy, silky chocolate keto dessert that can be made quickly
For a quick chocolate fix, all you need is 3 ingredients and a couple minutes of time to whip up this thick, velvety keto chocolate mousse.
The best way to satisfy a chocolate craving on the keto diet is to make this keto chocolate mousse. It only takes a few minutes to make and uses ingredients that most people have in their refrigerator or pantry. It's the perfect solution when you feel like something sweet like a keto dessert – just like my keto cheesecake fluff and my double chocolate cookie for one.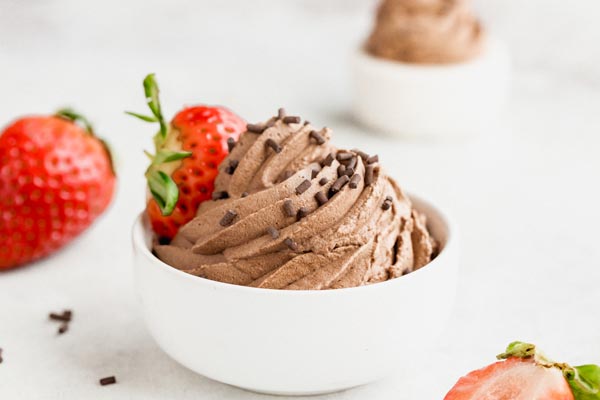 This is an easy way to make chocolate mousse without having to fuss with having to make a pudding or curd from eggs and you don't have to use cream cheese. This easy keto chocolate mousse is thick, creamy and it's a low carb dessert that you can make when you need some chocolate in your life. All you need is a few simple ingredients and a hand mixer!
How to make keto chocolate mousse
Pour heavy cream into a large bowl.
Mix until the heavy whipping cream begins to thicken.
Add in cocoa powder, sweetener, vanilla and salt.
Beat the chocolate mixture until stiff peaks form into whipped cream.
Pipe or scoop into a bowl and enjoy!
Key ingredients
Heavy cream – The heavy whipping cream is the base for this keto recipe. It is what gives the velvet, mousse-like texture. Using all whipping cream instead of cream cheese allows this recipe to save on carbs too.
Sweetener – Use a sugar free sweetener like erythritol, allulose or a monk fruit blend. It's best to use a powdered sweetener to ensure you have a smooth, creamy mousse. Using granulated sweeteners can cause you keto mousse to be graining or gritty.
Cocoa powder – The cocoa powder gives the chocolate flavor in this recipe. It's best to select a cocoa powder that is 100% unsweetened and doesn't contain any sugar. Check the nutrition labels as some do contain added carbs and sugars. Another option is to use melted keto chocolate; however, you must make sure your heavy cream is warmed to room temperature. Using cold cream will solidify your melted chocolate as it is mixed.
Vanilla – This is an optional ingredient but adds a little bit more flavor to your low carb chocolate mousse.
Salt – Enhances the sweetness of the mousse without having to add additional sweetener.
Keto Chocolate Mousse Recipe Video
Subscribe to the KetoFocus YouTube Channel
With 100s of videos and millions of views, Ketofocus is one of the most popular Keto channels on YouTube.
Keto Chocolate Mousse Ingredients
Keto Chocolate Mousse Directions
Pour heavy cream into a large bowl and beat with an electric mixer until slightly thickened.

Add remaining ingredients

To the thickened cream, add powdered sweetener, cocoa powder, vanilla and salt. Continue beating until stiff peaks form.

Ingredients

Powdered sweetener
Cocoa powder
Vanilla (optional)
Salt

Quick Tip
Chill in the refrigerator for 30-60 minutes for ultra thick and smooth mousse.