Smoked Cream Cheese
by KetoFocus.com
Turn a block of cream cheese into a smoky, creamy spread for crackers and vegetables. Smoked cream cheese seasoned with BBQ rub, red pepper flakes and more is the best way to impress your friends at your next cookout!
Nutrition Facts
Serving Size:
1 tablespoon
Instead of bringing a dip to a potluck, like the infamous million dollar dip or buffalo chicken dip, bring a spread to top on crackers or crunchy vegetables. Smoked cream cheese is simple and easy to make, yet packs an incredible flavor. The seasoned cream cheese, when smoked, takes on a subtly smoky flavor creating the perfect contrast between the finishing touches added later – spicy red pepper flakes, sweet & sticky honey and savory parsley.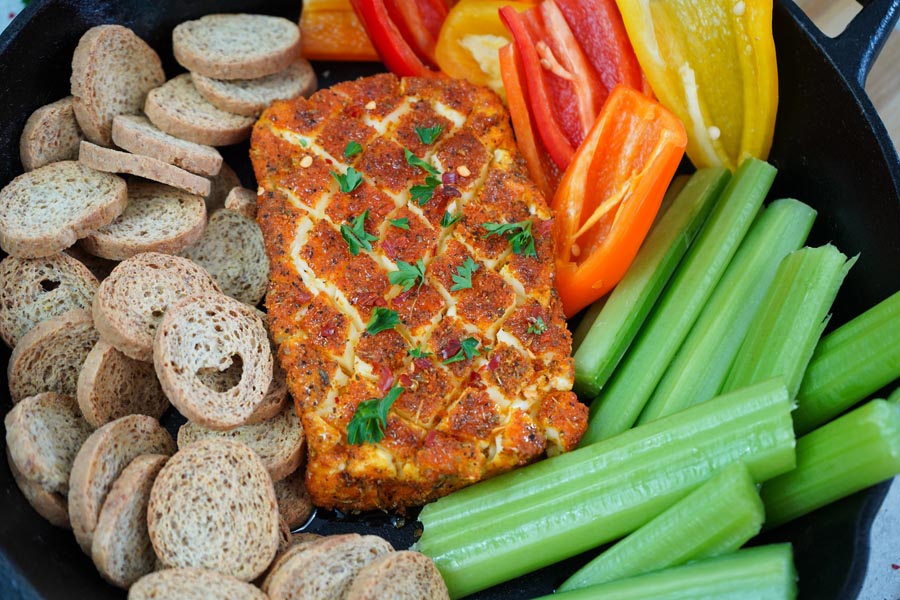 This smoked cream  cheese recipe is one that any Traeger owner should try and experiment with different chips – apple, hickory, mesquite chips all give a slightly different smoke flavor. Cutting crosshatch marks, not only results in a stunning presentation but it allows the smoky flavor and BBQ seasoning to penetrate deeper into the soft cheese, so every creamy bite has wood-smoke flavor.
Smoked cream cheese can be paired with a variety of topping sprinkles or drizzled over this velvety spread. From red pepper flakes, honey, lemon, fresh herbs – the different garnishes can add a variety of unique compliments to this tasty appetizer.
Serve smoked cheese with an assortment of vegetables like sweet peppers, celery or cucumbers. Or those who love fire roasted, smoke flavor, add to smoked salmon under a slice of cucumber or cracker. To really impress your friends, top the smoky cream cheese with bacon jam.
How to make smoked cream cheese
Smoking cream cheese doesn't require much effort. Like most smoker recipe, you just need time.
Preheat the Traeger or smoker to 225°F.
Brush olive oil all over cream cheese and score the top only with diagonal crosshatch marks to allow the smoke flavor to get inside the soft cheese.
Sprinkle seasoning all of the block.
Place cream cheese in a small cast iron skillet and smoke for 2 hours.
Garnish with more seasoning, herbs or honey.
Smoked Cream Cheese Recipe Video
Subscribe to the KetoFocus YouTube Channel
With 100s of videos and millions of views, Ketofocus is one of the most popular Keto channels on YouTube.
Smoked Cream Cheese Ingredients
8 oz block cream cheese, cold
1-2 tablespoons olive oil
2 tablespoons favorite BBQ rub
1 tablespoon sugar free honey
minced parsley, for garnish
red pepper flakes, for garnish
Smoked Cream Cheese Directions
Preheat Traeger to 225°F.

Brush cream cheese with olive oil.

Ingredients

1-2 tablespoons olive oil
8 oz cream cheese

Quick Tip
Make sure cream cheese is cold when starting. This will make it easier to score and season.

Using a knife, score the top with diagonal crosshatch marks. Only slice through about 1/2-1 cm deep. Sprinkle BBQ rub all over the block of cream cheese.

Ingredients

2 tablespoons of your favorite BBQ rub or seasoning

Quick Tip
Sprinkle seasoning over a small plate and press the excess that falls into the cream cheese.

Traeger smoked cream cheese

Place seasoned cream cheese on a 8-10 inch cast iron skillet, cross hatch marks facing up. Smoke at 225°F for 2 hours.

Remove skillet from the Traeger or smoker. Drizzle the top with honey and garnish with minced parsley and red pepper flakes.

Ingredients

1 tablespoons sugar free honey
minced parsley
red pepper flakes