Bell Pepper Sandwich
by KetoFocus.com
An easy way to enjoy a low carb sandwich without the bread!
Instead of reaching for the bread when you make a sandwich, try using a bell pepper! It's a fresh take on a sandwich that uses a bell pepper in place of the bread.
Trying to find an easy, healthy keto lunch can be different at times. Luckily this bell pepper sandwich fits the bill along with my avocado pesto pasta and my basic wonderbread keto sandwich.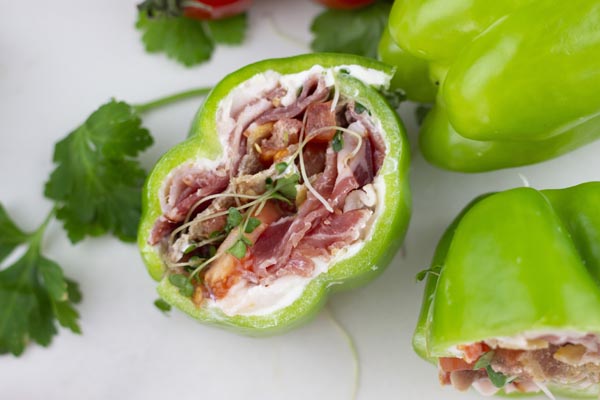 Go ahead and ditch the bread! You won't need it for this sandwich. Instead, we use a crisp bell pepper that is sliced in half and deveined and seeded. The bell pepper halves become our sandwich bread that hold layers upon layers of sliced deli meat, cheese, bacon, tomato and sprouts. But really, you could add anything inside this sandwich. Well, except peanut butter and jelly. Don't try that!
The bell pepper sandwich, not only holds the delicious layers of cold cuts together but gives a delicious flavor and a crunch that will have you hooked.
How to make a bell pepper sandwich
Slice a whole bell pepper in half from the stem down.
Remove the ribs and seeds.
Spread softened cream cheese into the cavity of each bell pepper half.
Layer your favorite cold cuts, cheese, tomatoes, sprouts, avocado or even bacon.
Press the layers together and you have a keto sandwich!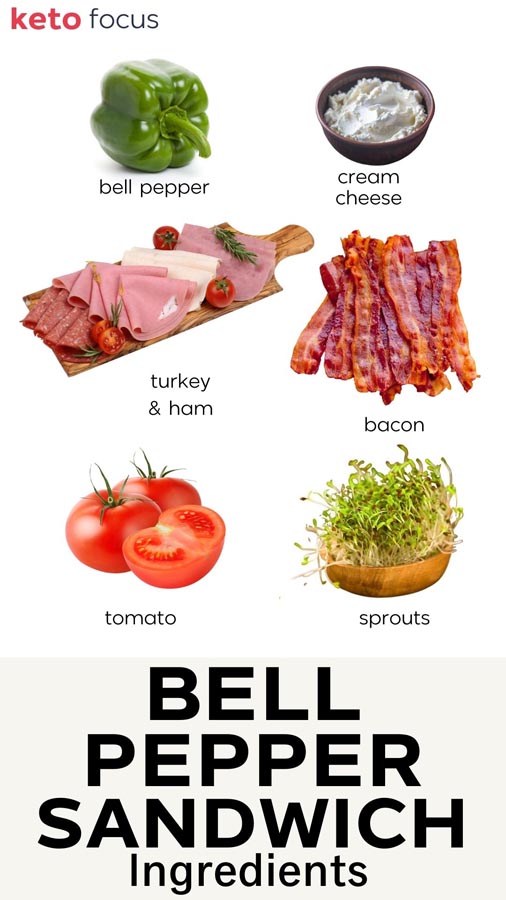 Key ingredients
Bell pepper – We use the bell pepper as our sandwich bread in this recipe. Choose a bell pepper that is uniform in shape and can easily lay down flat on one side. That way your sandwich won't fall over when you place it down. You can use the bell peppers with three lobes (male) or four lobes (female), just as long as one side will lay down flat.
Cream cheese – This is our mayonnaise for our healthy sandwich. You could use mayo instead of cream cheese, but cream cheese pairs so well with bell pepper and you will love the combination of deli meat, bell pepper and cream cheese. It's best to use softened cream cheese or whipped cream cheese, just so that it's easier to spread on the inside of your pepper halves.
Lunch meat – Stuff your sandwich with your favorite sliced deli meats. From ham, turkey, salami, pepperoni, bologna, roast beef, pastrami. If you are vegetarian, you can skip the lunch meat and just fill your bell pepper sandwich with lots of your favorite veggies.
Favorite sandwich fixings – This is where you can customize your sandwich to your liking. I love to add bacon, sprouts, tomatoes but other ideas are avocado, cucumber, lettuce – even everything but the bagel seasoning!
Subscribe to the KetoFocus YouTube Channel
With 100s of videos and millions of views, Ketofocus is one of the most popular Keto channels on YouTube.
Bell Pepper Sandwich Ingredients
1 bell pepper
2 oz cream cheese, softened
2 slices deli cut turkey
2 slices deli cut ham
2 slices cooked bacon
1 slice tomato
Handful of sprouts
Bell Pepper Sandwich Directions
Prep bell pepper sandwich 'bread'

Slice the bell pepper in half lengthwise, from the stem down. Remove the inside ribs and seeds.

Quick Tip
Find the best side of your bell pepper that will lay flat. This will be your bottom layer to ensure your sandwich doesn't fall over when you aren't holding it.

To inside of both bell pepper halves, spread a thin layer of cream cheese all around.

Quick Tip
Spread evenly to ensure every bite will have cream cheese.

Add your sandwich fixings

Add a slice of turkey and ham to each bell pepper. Cut bacon in half and add two halves of bacon to each side. Top one side with tomato and sprouts.

Ingredients

Turkey
Ham
Bacon
Tomato
Sprouts

Assemble by placing the side with fewer ingredients on top of the other side, cut in half with a serrated knife, and enjoy!