Keto Grilled Cheese
by KetoFocus.com
Easy grilled cheese sandwich made with gluten-free keto bread is ready in less than 10 minutes
It's easy to enjoy a keto grilled cheese sandwich without having to use store-bought gluten filled keto bread. Bite down on crunchy grilled cooked keto bread with a melty cheese center and only 3 g net carbs per sandwich!
A grilled cheese sandwich is a lunch-time classic. On a keto diet, it's hard to enjoy any sandwich without using keto bread that has gluten. Rather than opting for low carb sandwich recipes using ingredients other than bread like a bell pepper sandwich or sandwich bowl, you can easy make a gooey keto grilled cheese in minutes with this simple bread recipe.
This is the BEST keto grilled cheese around! Fluffy pieces of white low carb bread are toasted on a griddle or non-stick skillet to create a golden crunchy crust with gooey, melty cheddar cheese sandwiched within.
The keto bread recipe is baked in the microwave at 90 seconds. It only takes a couple minutes to make 2 slices of bread. This bread looks and tastes like real bread. It doesn't have that overwhelming eggy flavor that other keto recipes have. All that's left is to layer on your favorite cheese – cheddar, Pepper Jack, Colby Jack, brie, or try a combination of all of them!
Lunchtime just got better especially if served with a tomato soup or a tomato based soup like minestrone.
FEATURED COMMENT
"I have all the ingredients except the microwave which I don't have only because of limited space. Doubled the recipe into a longer thick ceramic pan in which cooking time was 17 minutes at 350°. To my surprise, after cooling and careful slicing in half, it looked exactly like your bread and tasted so good by itself. I made the grilled cheese sandwiches and it was ever oh so delicious! This is a keeper!!"
➥ from YouTube subscriber @maryleialoha2843
How to make a keto grilled cheese sandwich
Make low carb bread for the sandwich. The recipe used only takes 90 seconds to bake in the microwave; although, you can use the oven as well. It has special ingredients to make the bread fluffy and airy, all the while looking and tasting like real bread.
Spread butter on one side of each slice of bread. This will help crisp and toast the outside of the sandwich.
Grill each slice of bread on a non-stick skillet. Add the bread, butter side down to a hot skillet, top with cheese, cover and cook until cheese is melted and bread is golden brown.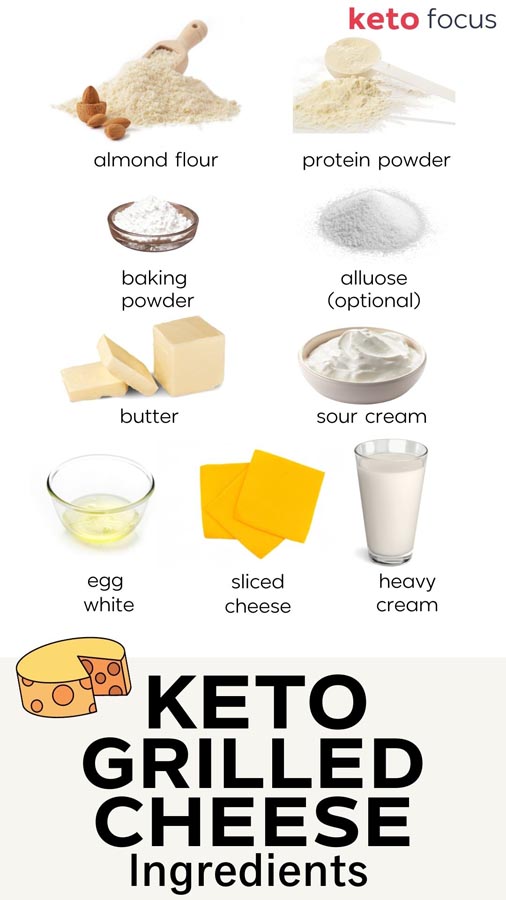 Key ingredients
Keto bread – When it comes to sandwich bread for your keto grilled cheese recipe, this recipe yields an easy bread that comes together in a few minutes. It uses almond flour, protein powder, baking powder, allulose, butter, egg white, sour cream and heavy cream. The combination of all these ingredients makes a soft, airy bread that doesn't taste like an egg.
Butter – Necessary to spread on the outside of the bread so the bread will toast on the skillet to a crunchy, golden brown hot sandwich.
Cheese – Of course, you need cheese when you make a cheese sandwich. I use sharp cheddar cheese because it has a strong cheddar flavor and is zero net carbs per slice. Other options for cheese are, mild cheddar cheese, medium cheddar cheese, pepper jack cheese, swiss cheese, gouda cheese, and Havarti cheese. You could use American cheese, however American cheese does have carbs in it. Typically, a slice of American cheese has 1 g carb.
Equipment needed
Square baking dish – This will be the mold for making your keto sandwich bread. Make sure it is microwave and oven safe. Ideally, you want a square shape around 4″ x 4″. The baking dish I used  came in a meal prep set similar to this set. It holds 781 ml if that helps.
Parchment paper – To keep the bread from sticking to the sides of the baking dish and to make it easier to lift our your bread loaf out of the dish.
keto grilled cheese Recipe Video
Subscribe to the KetoFocus YouTube Channel
With 100s of videos and millions of views, Ketofocus is one of the most popular Keto channels on YouTube.
Keto Sandwich Bread Ingredients
1/4 cup almond flour
1 tablespoon low carb protein powder
1 teaspoon baking powder
1/4 teaspoon allulose, optional
2 tablespoons unsalted butter, softened
1 egg white
1 tablespoon heavy cream
2 teaspoons sour cream
Keto Grilled Cheese Ingredients
1/2 tablespoon butter
1-2 slices sharp cheddar cheese
Keto Grilled Cheese Directions
To a small bowl, add almond flour, protein powder, baking powder, allulose (if using). Whisk until combined. Add butter, egg white, sour cream and heavy cream. Mix with a fork until combined.

Ingredients

Almond flour
Protein powder
Allulose (optional)
Unsalted butter (softened)
Egg white
Sour cream
Heavy cream

Quick Tip
Allulose is used to give the bread a very slight sweet flavor characteristic of white bread.

Spray a square microwave and oven-safe baking dish with cooking spray and lay down 2 strips of parchment paper to line the dish on each side. Add bread dough batter to the lined dish and spread evenly. Microwave Instructions: Place dish in the microwave at bake at 100% power for 90 seconds or until bread is set on top and springs back when you touch the top. Oven Instructions: Bake at 350 degrees for 9-11 minutes.

Quick Tip
The recommended size dish is listed above. It is a 4" x 4" glass square baking dish.

Remove from microwave or oven and let cool before slicing. Using a serrated knife, cut the bread loaf into two slices by cutting down the middle.

Spread softened butter on one side of each slice of bread.

Quick Tip
It's easy to spread the butter when the bread slices are cooled to room temperature.

Grill bread and top with cheese

Place each slice butter side down on a non-stick skillet heated to medium heat. Add 1-2 slices of cheese on top of each slice of bread. Cover the pan and let cook for 2-3 minutes or until cheese is melted and underside of bread is golden brown. Flip one slice on top of the other. Remove from skillet.

Place buttered bread into the basket or tray of an air fryer. Top with cheese. Air fry at 360 degrees for 4-6 minutes. Flip one side on top of the other and air fryer for additional 3-4 minutes if needed.