Bacon Jam
by KetoFocus.com
Bacon Jam is the perfect condiment for burgers, steak, eggs, and just about every other dish really! The recipe combines sugar free maple syrup and bacon flavors to make a delicious low carb jam!
Onion bacon jam recipe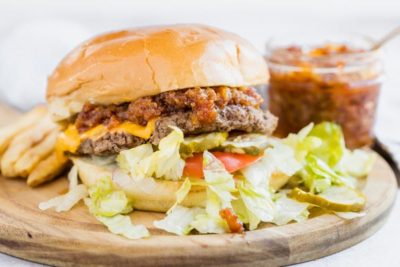 Bacon is such a common ingredient in keto diets due to it being so high in fat and protein yet being low in carbs.
However, bacon jam sounds like a strange concept when you hear about it for the first time as you wouldn't think to combine bacon and jam together. But this combination makes the perfect condiment for keto burgers, hot dogs or on top of keto bread.
Bacon jam is made by using ingredients which most people following a low carb diet would typically already have in their kitchens. It is very easy to make as all you have to do is cook the ingredients in a skillet and then add the mixture to a food processor or blender and pulse until it looks like a chunky jam or relish.
Some recipes use balsamic vinegar or brown sugar to add sweetness and flavor, but we are able to keep it low carb by using a sugar free maple syrup and smoked paprika.
The recipe takes around an hour to make but it makes around 8 servings, meaning it will last you for quite a few times, even if it is shared with your family. The most difficult thing about this recipe is waiting for the bacon mixture to thicken up!
Subscribe to the KetoFocus YouTube Channel
With 100s of videos and millions of views, Ketofocus is one of the most popular Keto channels on YouTube.
Bacon Jam Ingredients
14 slices bacon, diced
1 white onion, thinly sliced
2 garlic cloves, minced
1/4 cup apple cider vinegar
1/4 cup sugar free maple syrup
1/2 teaspoon smoked paprika
1/2 teaspoon black pepper
Bacon Jam Directions
Over medium - high heat, cook bacon in a large skillet until crispy. Remove cooked bacon from skillet using a slotted spoon and transfer to a paper towel lined dish to set aside. Leave remaining bacon grease in the skillet.

Caramelized onions and garlic

Lower heat to medium and add onion and garlic to the skillet with the bacon grease. Cook until onion is translucent (about 5 minutes).

Add the crispy bacon back to the skillet with the onions and garlic. Add apple cider vinegar, sugar free maple syrup, smoked paprika and black pepper. Lower heat to low. Cook for another 30-60 minutes or until mixture is thickened.

Once mixture has thickened, remove from the skillet and transfer bacon mixture and bacon fat to a food processor or blender. Pulse or blend until a thick jam texture forms.