Keto Chicken Parmesan
by KetoFocus.com
The best keto chicken parmesan recipe for your main dish with crispy breaded chicken thighs and layers of marinara and gooey mozzarella cheese.
When it comes to filling comfort foods, you have lasagna, chicken soup and this keto chicken parmesan recipe!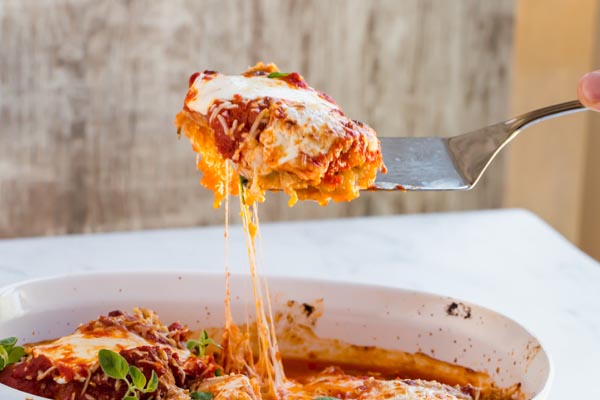 Juicy chicken thighs breaded with a crispy low carb crusty breading and topped with marinara or tomato sauce and lots of gooey cheese?! Sign me up!
This recipe for keto chicken parmesan is easy to make and turns out perfect every time. This is a recipe for the most delicious keto chicken parm that you will ever taste. This dish is wonderful to serve your family or friends and it comes with a side of asparagus and some buttery keto parmesan bread rolls, which makes it even more comforting. If you are looking for something new to try out in the kitchen, this keto chicken parmesan casserole an excellent option. Give this recipe a try and let me know what you think!
The chicken thighs (you can also use chicken breast) are coated with a keto breading mixture of almond flour, ground pork rinds and grated parmesan cheese. The breaded chicken thighs are pan fried in avocado oil to form a crispy outer crust and lock in the juices on the inside.
Next layers of crispy chicken, marinara tomato sauce, parmesan and mozzarella cheese are laid down to complete this magnificent keto dinner recipe.
Keto Chicken Parmesan Recipe Video
Subscribe to the KetoFocus YouTube Channel
With 100s of videos and millions of views, Ketofocus is one of the most popular Keto channels on YouTube.
Keto Chicken Parmesan Ingredients
2 pounds boneless, skinless chicken thighs
½ cup almond flour or coconut flour
3 eggs
1 ½ cups ground pork rinds
½ cup grated parmesan cheese
avocado oil or ghee for frying
2 cups low sugar marinara sauce or keto pizza sauce
1 cup shredded parmesan cheese
½ pound fresh mozzarella cheese, sliced
Keto Chicken Parmesan Directions
Preheat oven to 400 degrees. To get thinner cuts of thighs, place the thigh in a ziploc bag or between two pieces of plastic wrap or parchment paper. Using a mallet or rolling pin, pound the meat until the chicken is ¼ inch thick.

Place almond flour in a shallow dish. Place eggs in a second shallow dish and beat. Place ground pork rinds and grated parmesan cheese in the third shallow dish and mix until combined.

Ingredients

Almond flour
Eggs
Crushed pork rinds
Parmesan cheese

Season each chicken thigh with salt and pepper. Dip a piece in almond flour to evenly coat with a light dusting of flour.

Dip the floured chicken thigh in the egg mixture.

Dredge in pork and cheese

Finally dip the chicken in the pork rind and parmesan cheese mixture to evenly coat.

To a large skillet, add ½ inch of avocado oil or ghee. Heat over medium high heat. The oil is hot enough when a small piece of the breading mixture sizzles in the skillet. Start adding in the chicken thighs to the pan. Only add in enough thighs to allow for evenly cooking. Have about ½ inch room around each thigh. You will have to cook the thighs in batches.

Cook the thighs until golden brown, turning halfway through. Transfer to a paper towel lined plate when done.

To a large casserole dish, add a thin layer of marinara sauce to the bottom. Sprinkle ⅓ the parmesan cheese over sauce. Place half of the breaded chicken thighs over the parmesan cheese layer and top with half of the mozzarella slices. Spoon half of the marinara sauce on the mozzarella layer and sprinkle with another third of the parmesan cheese. Repeat layers one more time ending with a final layer of sauce and parmesan cheese.

Ingredients

Marinara sauce
Parmesan cheese
Mozzarella slices

Bake until cheese is golden and bubbling, about 40 minutes. Let cool before serving.