Keto Pancakes
by KetoFocus.com
In 15 minutes, these low carb pancakes can be on your breakfast table!
A delicious keto pancakes recipe that doesn't require a lot of fuss, switches out almond flour for coconut flour and is the BEST low carb pancake you will ever have!
I would be lying if I said I didn't miss the common breakfast comfort food while on the keto diet, that is why I love keto French toast, chaffles and this pancake recipe.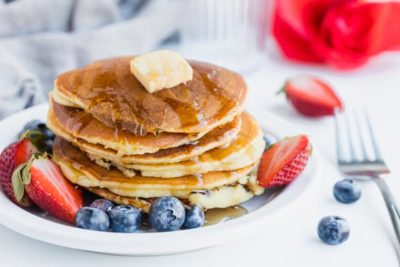 Why I love these low carb pancakes
Keto pancake recipes that are easy to make and actually taste good are hard to find, not to mention fluffy pancakes.
Sure,  you can purchase a low carb pancake mix and honestly, there are some good solutions there, but there is something special about a recipe that starts from scratch.
I used to only make keto pancakes on the weekends since they were more involved and required bowls and measuring spoons. These blender keto cream cheese pancakes have changed my weekday breakfast game and these really are fluffy keto pancakes!
The whole family can enjoy the best keto pancakes and bacon in the mornings before they head to school since these take about 15 minutes to make. And because these keto pancakes are filled with healthy fats and protein, I know my boys won't be hungry two hours later!
These keto pancakes are made with coconut flour instead of almond flour.
Don't worry – they don't taste like coconut flour. The cream cheese helps to mask any coconut flour flavor. I prefer coconut flour when making keto friendly pancakes because almond flour can burn easily making the pancake a dark brown color instead of the golden brown pancake you traditionally see. If you want to make almond flour pancakes, you will need an entirely different recipe.
Many keto pancake recipes involve a lot of eggs since nut flours don't rise as well as gluten containing flours. In order to achieve a fluffy pancake, tons of eggs are added to the batter; however, the result is an eggy tasting pancake. In this recipe, I only use 4 eggs and combine cream cheese to mask the eggy flavor while still producing a fluffy keto pancake.
Want a delicious twist to your keto pancakes, try adding cocoa powder to make chocolate pancakes!
What people are saying about these pancakes
"Ok guys…. her pancakes are LEGIT!!! They are soooo good."
➥ from YouTube subscriber @toni5737
Keto Pancakes Recipe Video
Subscribe to the KetoFocus YouTube Channel
With 100s of videos and millions of views, Ketofocus is one of the most popular Keto channels on YouTube.
Low Carb Keto Pancakes Ingredients
8 oz. cream cheese, softened at room temperature
½ cup coconut flour
¼ cup sugar free sweetener
½ cup heavy cream, or keto approved milk of choice
2 teaspoons baking powder
1 teaspoon vanilla extract
4 eggs
Keto Pancakes Directions
Preheat your griddle or non stick skillet to low. (A griddle is the preferred cooking method for these keto pancakes)

Quick Tip
The griddle keeps the entire surface at constant heat.

Add all ingredients except eggs to the blender - cream cheese, coconut flour, sweetener, cream, baking powder and vanilla. Mix until combined.

Ingredients

8 oz cream cheese, softened
½ cup coconut flour
¼ cup sugar-free sweetener.
½ cup heavy whipping cream, almond milk or coconut milk
2 teaspoons baking powder
1 teaspoon vanilla extract

Quick Tip
If you don't have a blender, just use an electric mixer or food processor.

Add the eggs to the blender. Pulse until just combined.

Quick Tip
Don't over blend the final mixture to keep the pancakes from falling flat.

Pour pancake mixture onto the pre-heated, greased griddle or non stick pan. Pour enough to form a 3 inch in diameter pancake. Larger pancakes are harder to flip.

Quick Tip
These pancakes need to cook slowly over LOW heat, so they will take longer to cooker.

Cook the pancakes on low heat until the edges start to set and the underside of the pancake is golden brown. Takes about 5-6 minutes on the first side.

Quick Tip
If you can easily slide a spatula underneath the pancakes without tearing them, they are ready to flip.

Slide a rubber spatula under the pancake and flip the pancake to cook the other side, about 2-3 minutes.

Remove pancakes from the griddle. Serve and Enjoy!

Quick Tip
Top with butter, sugar free maple syrup, whipped cream, nut butter or berries.

Sheet Pan Instructions (alternative to the griddle)

Pour pancake batter into a rimmed baking sheet lined with parchment paper. Bake at 350 degrees for 17 to 20 minutes.