Keto Sausage Balls
by KetoFocus.com
These easy to make keto sausage balls are the perfect morning breakfast or game day appetizer. With more flavor than traditional sausage balls (and way less carbs since we don't use almond flour), you'll want to batch cook and freeze them for a quick and easy meal any time.
Nutrition Facts
Serving Size:
One 1-inch ball
If you're constantly running late for work and skipping breakfast, this recipe is going to save your mornings! Just like my make ahead keto egg breakfast sandwiches and keto egg cups, this keto sausage ball recipe is quick to make and can be meal prepped and eaten as an on the go breakfast all week long.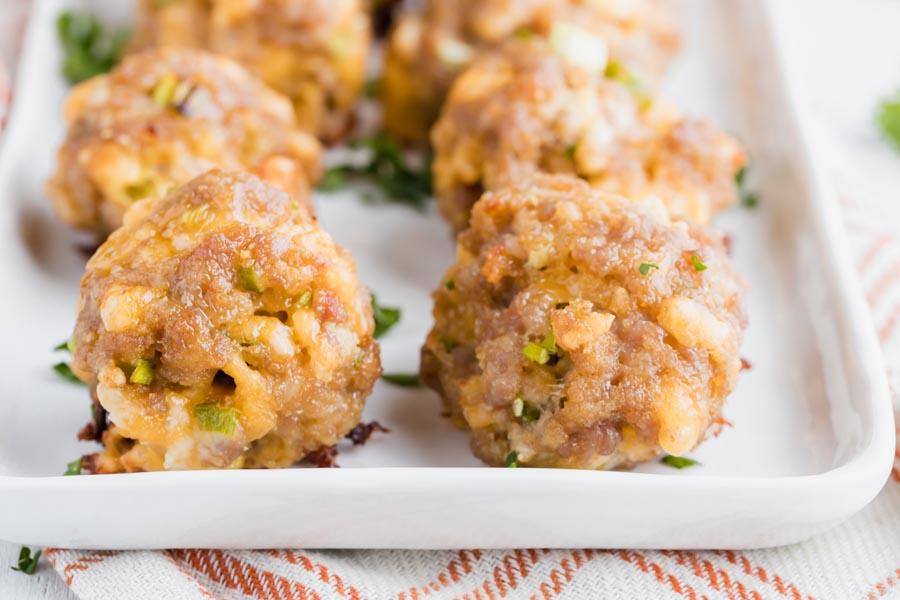 Sausage balls are the perfect pairing for eggs and fruit in the morning, served with various dipping sauces as an appetizer, or snacked on by themselves. The spices and pork panko in this recipe add a flavor intensity you just won't get with other sausage balls. If you like even more spice, use a spicy sausage like chorizo to add a little more zing. But, with how much flavor these little balls have, regular sausage or even ground chicken or turkey are perfect.
Using only one bowl to mix the ingredients and foil to line your pan, clean up takes less than five minutes. You can even make your sausage balls in the air fryer and get them on the table even quicker.
How to make keto sausage balls
Add all of the ingredients to a large bowl and mix until combined.
Roll the sausage mixture into 1 to 1

¼

inch size balls and place them about ½ inch apart on a foil lined baking tray.
Bake the keto sausage balls at 400 degrees for 15-18 minutes. Or Air fry at 400 degrees for 10-12 minutes.
PRO TIP: Use a cookie scoop to easily measure uniform 1 inch sausage balls.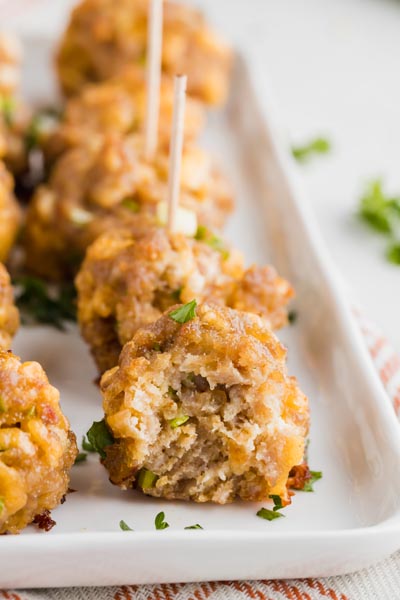 Key ingredients & swaps
Ground sausage – The possibilities are endless. Use your favorite ground breakfast sausage or substitute with ground turkey or chicken if you prefer. The flavor will be slightly different if not using sausage, but still delicious!
Cream cheese – Helps to bind the sausage balls together and adds the perfect amount of creaminess.
Shredded cheddar cheese – Cheddar cheese is traditional, but feel free to use other types like pepper jack, parmesan cheese or colby to change up the flavor. If you don't have shredded cheese, you can crumble up or shred block cheese for the same effect.
Pork panko – To make your own pork panko, just grind pork rinds until they reach bread crumb consistency. You can also use almond flour or coconut flour in place of the pork panko. Use 1 cup of almond flour or 1/3 cup cup coconut flour for your low carb sausage ball.
Seasonings – This cream cheese sausage ball recipe uses garlic powder, onion powder and cayenne pepper for flavoring. Feel free to omit or swap out any of the seasonings. Want a basic sausage ball? Omit all seasoning. Want Italian sausage balls? Add Italian seasoning!
Keto Sausage Balls Recipe Video
Subscribe to the KetoFocus YouTube Channel
With 100s of videos and millions of views, Ketofocus is one of the most popular Keto channels on YouTube.
Keto Sausage Balls Ingredients
1 pound ground sausage
3 oz cream cheese, softened
1 cup shredded cheddar cheese
1 cup pork panko
1 teaspoon baking powder
1 teaspoon garlic powder
1/2 teaspoon onion powder
1/2 teaspoon salt
1/4 teaspoon cayenne pepper
3 green onions, chopped
Keto Sausage Balls Directions
To a large bowl, add ground sausage, softened cream cheese, shredded cheese, pork panko, baking powder, garlic powder, onion powder, salt, cayenne pepper and sliced green onions. Mix with an electric mixer until combined.

Using a cookie scoop or your hands, scoop or roll into 1 inch sized balls and place about ½ inch apart on a foil lined baking tray. Bake in a 400 degree oven for 12-15 minutes or until sausage is cooked through.

Air fry at 400 degrees for 10-12 minutes or until sausage is cooked through.