Make-Ahead Keto Egg Breakfast Sandwich
by KetoFocus.com
Prep once, keto breakfast sandwiches for a week
A satisfying, make-ahead keto meal for mornings when you are short on time but still want some sausage and eggs. The keto egg breakfast sandwich will meet all your early morning food demands.
Mornings run anything but smoothly if you have work, school, kids, etc. Having easy keto breakfast recipes that you can eat on the go are key for sticking to your low carb goals. Whether you enjoy an easy to make option in the morning like keto avocado toast or grab something that you meal prepped a few days ago like egg cups, having easy access to keto meals that you can quickly grab or make are a must if you lead a busy life.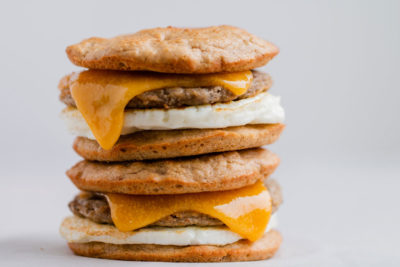 Most store bought frozen breakfast sandwiches, like Jimmy Dean breakfast sandwiches, or fast food options, like McDonald's Egg McMuffins, are not keto friendly. The bread has carbohydrates and wheat plus they are filled with processed ingredients and preservatives.
Luckily, it's pretty easy to make homemade breakfast sandwiches that are low carb with keto bread, scramble egg, bacon, cheddar cheese and sausage.
How to make keto breakfast sandwiches
When making a low carb breakfast sandwich, you can use all your breakfast favorites – sausage, cheese, egg, bacon, tomato, avocado, etc. The major change we make is with the bread. Since most store bought bread is not keto or gluten free, we make our own in this recipe.
Make keto bread by coming coconut flour, eggs, heavy cream, butter and a few other ingredients.
The bread batter is pouring onto a muffin top pan or ramekin and baked at 350.
Meanwhile, prepare the sandwich fixings – eggs, bacon or sausage patties.
Assemble the keto breakfast sandwich.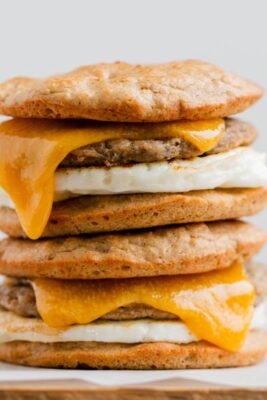 Key ingredients
Keto bread – In this recipe, we make our own low carb bread using almond butter, coconut flour, eggs, butter, heavy cream, baking powder and salt. This is an easy way to make a gluten free low carb bread with ingredients you already have in your pantry. However, options for different keto breads are listed below.
Egg – Scrambled, fried, over easy, over medium eggs.
Sausage and/or bacon – Add your favorite breakfast meat. Look for sausage and bacon without added sugar.
Cheese – Cheddar, pepper jack, colby, mozzarella – there are endless options for making a cheese breakfast sandwich.
Looking for other make ahead keto breakfast ideas? Try these egg muffins or a low carb breakfast casserole. 
Keto Egg Breakfast Sandwich Recipe Video
Subscribe to the KetoFocus YouTube Channel
With 100s of videos and millions of views, Ketofocus is one of the most popular Keto channels on YouTube.
Make-Ahead Keto Egg Breakfast Sandwich Ingredients
¼ cup coconut flour
1 teaspoon baking powder
½ teaspoon salt
8 eggs, divided
6 tablespoons butter, melted
⅓ cup almond butter
1 tablespoon heavy cream
4 Frozen Sausage Patties, cooked
4 Slices Cheddar Cheese
Make-Ahead Keto Egg Breakfast Sandwich Directions
Preheat the oven to 350 degrees.

In a small bowl, whisk together coconut flour, baking powder and salt. Stir in almond butter, melted butter, four eggs and heavy cream. Mix until smooth.

Pour the batter evenly into 8 greased muffin top tins or ramekins.

Bake at 350 for 7 minutes. If you are using ramekins and want to cook them in the microwave, cook for 1 - 1.5 minutes per ramekin.

Prepare remaining 4 eggs your favorite way or anyway mentioned above.

Assemble the breakfast sandwich.