Air fryer breakfast sausage
by KetoFocus.com
Perfectly cooked sausage links in the air fryer
Cooking breakfast sausage links in an air fryer is easy and creates a juicy sausage link that is evenly browned.
Breakfast sausage is probably the food I cook the most in my air fryer, if not second to only air fryer bacon. Making sausages in the air fryer is easy and quick. Since we are a family that is always on the go, I love that I can set some raw sausages in the basket of my air fryer and walk away. I can go on with my morning without standing over the skillet worrying if I'm burning the underside of the sausage.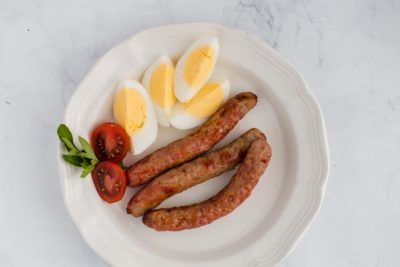 You can make breakfast sausages in your air fryer, smoked sausage, Italian sausage or brats! You'll be serving breakfast in no time once you have mastered how to cook sausages in the air fryer with these tips.
How to cook breakfast sausage in the air fryer
Of all the recipes, I have made, surely, air fryer breakfast sausage is the easiest.
The minimum you need is your sausage links (or patties) and the air fryer.
How long?
If you are cooking breakfast sausage in the air fryer, cook the sausage for 8-10 minutes @ 360 degrees. This is assuming you are cooking a common breakfast sausage that has a similar width to a finger. For brats and thicker sausages you will need to cook longer, as long as 14 minutes, but start checking after 10. Cook until a safe temperature is reached on your meat thermometer.
Cooking Sausage in the Air Fryer Tips
For easy clean up, consider laying down parchment paper. You can poke some holes in the parchment paper  to allow for circulation under the sausages and air fryer basket.
You can also lay down aluminum foil in the air fryer and place the sausages on top. However, be careful because the grease released from cooking the sausages in the air fryer might circulate up and hit the heating element causing smoke.
Air fryer breakfast sausage Recipe Video
Subscribe to the KetoFocus YouTube Channel
With 100s of videos and millions of views, Ketofocus is one of the most popular Keto channels on YouTube.
Air Fryer Breakfast Sausage Ingredients
1 pound breakfast sausage links or sausage patties
air fryer
Air fryer breakfast sausage Directions
Add the sausage links to the air fryer basket.

Air fry sausage links or any type of sausage at 360 degrees for 8 - 10 minutes.

Quick Tip
For frozen sausage links, cook for 10-14 minutes, depending on the thickness of the sausage. Will need to cook longer for thicker cuts like Italian sausage or thick pork sausage patties.