Keto Ranch Dressing
by KetoFocus.com
A creamy homemade keto ranch dressing you can make up in minutes.
This low carb ranch dressing is easy to make and tastes way better than the bottled ranch you find at the store.
Nutrition Facts
Serving Size:
2 tablespoons
Ranch dressing is a favorite in our house. Not only do we pour it over our salads, but we love ranch dip – especially when paired with bacon wrapped brussels sprouts, pizza or my garlic parmesan puffs.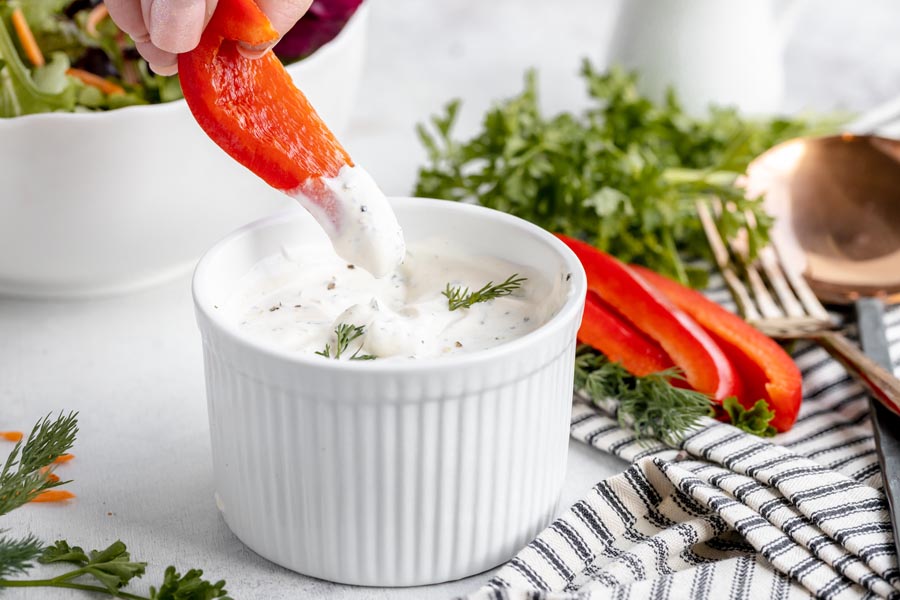 I try not to buy bottled ranch dressing. They are filled with unhealthy oils and honestly don't taste as good as homemade ranch dressing. On top of that, many brands will add sugars to their dressing. We don't need necessary carbs in our ranch!
This recipe for homemade keto ranch dressing is creamy, uses ingredients you probably already have in your refrigerator or pantry and you can make it up in minutes.
How to make keto ranch dressing
In a small bowl or mason jar, add mayonnaise, sour cream, heavy cream, minced dill, minced parsley, onion powder, garlic powder, white wine vinegar, salt and pepper.
Mix or shake until combined.
Store in the refrigerator until ready to use.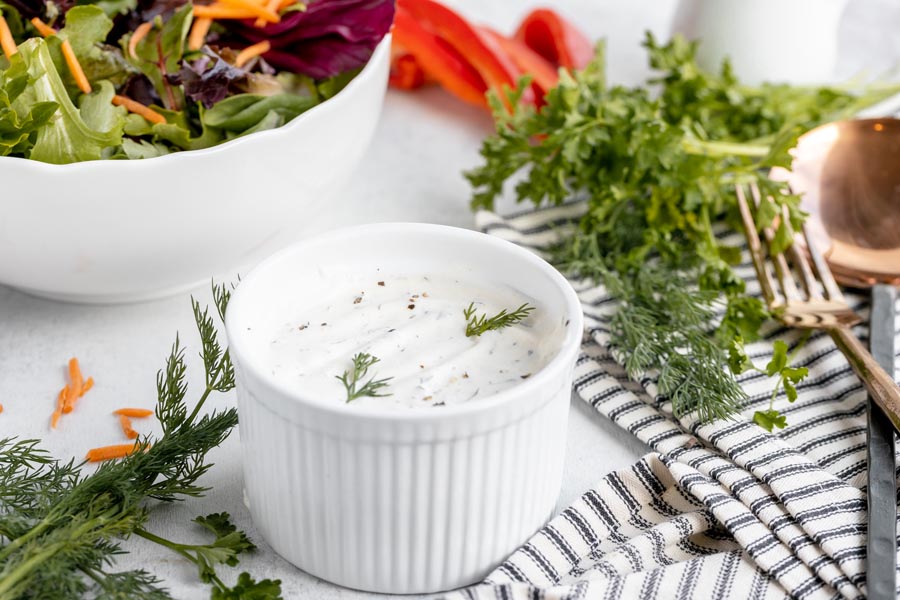 Key ingredients
Mayonnaise – Serves as a base for the dressing. Can use avocado mayo or regular mayo.
Sour cream – Serves as a base for the ranch dressing. This does add carbs to this keto ranch dressing recipe, so you can replace with more mayo if needed to lower carbs.
Heavy cream – Used to thin out the dressing. For keto ranch dip, use only heavy cream. To make a thinner ranch dressing, use a combination of nut milk, like coconut milk or almond milk, and heavy cream.
Dill – Can use fresh dill or dried dill depending on what is in season or available at your grocery store. Amount of fresh herbs can be adjusted based on your taste preferences.
Parsley – Can use fresh parsley or dried parsley. Fresh herbs have a stronger more pronounced flavor. The level of parsley can be increased or decreased for flavor preference.
Onion powder – To make this an easy recipe, I used onion powder over fresh onion. Freshly minced onion can be used as well.
Garlic powder – Can use granulated garlic or freshly minced garlic as well.
Vinegar – I used white wine vinegar in this keto dressing, but white vinegar or apple cider vinegar will also work. This just adds some tang or acid to the dressing. Don't omit this. You can always increase or decrease the amount of vinegar depending on your taste preference. Lemon juice makes a great alternative in a pinch too.
Subscribe to the KetoFocus YouTube Channel
With 100s of videos and millions of views, Ketofocus is one of the most popular Keto channels on YouTube.
Keto Ranch Dressing Ingredients
1/3 cup mayonnaise
1/3 cup sour cream
1/4 cup heavy cream or nut milk
1 tablespoon fresh dill, minced or 1 teaspoon dried dill
1 tablespoon fresh parsley, minced or 1 teaspoon dried parsley
1 tablespoon white wine vinegar or lemon juice
1 teaspoon garlic powder
1/2 teaspoon onion powder
1/2 teaspoon salt
1/4 teaspoon black pepper
Keto Ranch Dressing Directions
To a small bowl or a mason jar, add mayo, sour cream, heavy cream, dill, parsley, vinegar, garlic powder, onion powder, salt and pepper.

Quick Tip
Use nut milk for a thinner pourable dressing. Use heavy cream for a thicker dressing like a dip. To lower the carbs, use all mayo instead of sour cream.

Whisk ingredients until combined or close mason jar with the lid and shake until combined.

Quick Tip
Use right away or let sit in the refrigerator for 1 hour for ingredients to meld together and flavor to develop.