Stuffed Italian Sausage
by KetoFocus.com
A simple 3 ingredient dinner you can throw together in minutes
For nights when you don't know what to make, this stuffed Italian sausage is a go-to that the whole family will love. Italian sausage is stuffed with a mozzarella cheese stick and baked in marinara. It's a simple fix using ingredients you may already have on hand.
I love no-brainer recipes. The ones that you know the ingredients and recipe off the top of your head. This stuffed sausage recipe is one of those. Just like my pizza bowl or stuffed peppers, it's one that I can easily whip together without any effort.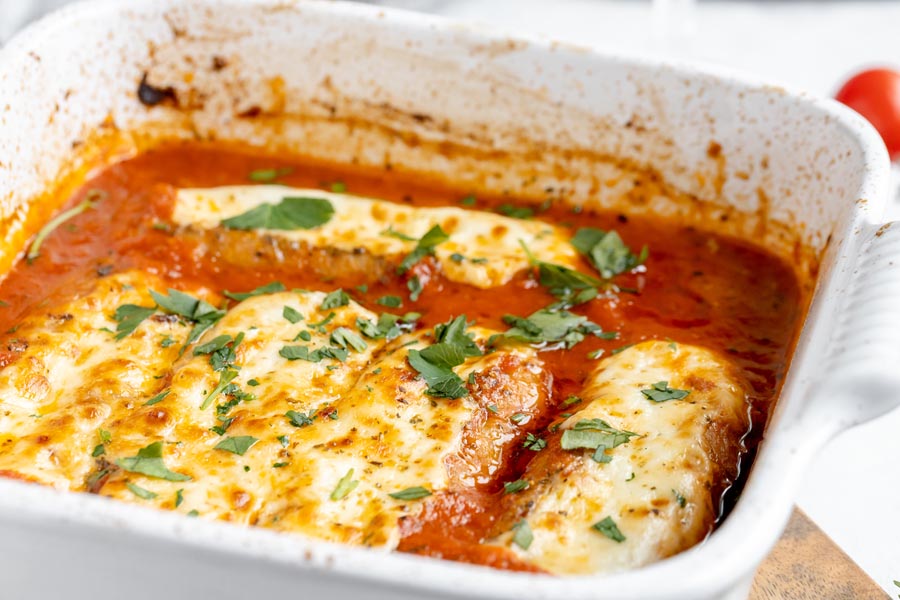 There are also meals that my family loves where I like to keep these ingredients on hand, especially on nights when I need to get dinner on the table but don't have anything planned. With this three ingredient stuffed sausage recipe – all you need is Italian sausage (which usually keep in the refrigerator for a long time), mozzarella cheese sticks (ya know, the kind your kids eat), and marinara sauce. All of that goes in a baking dish and in the oven.
Once your dinner bakes, you are left with gooey cheese stuffed sausages to serve along side noodles or asparagus. Top with fresh parsley, fresh basil or a sprinkle of grated parmesan cheese.
How to make stuffed Italian sausages
Cut a vertical slit down each sausage. Only go to the middle and not all the way through.
Stuff a mozzarella cheese stick into the slit of each sausage.
Place stuffed sausages in a baking dish and pour in marinara sauce.
Cover with aluminum foil and bake.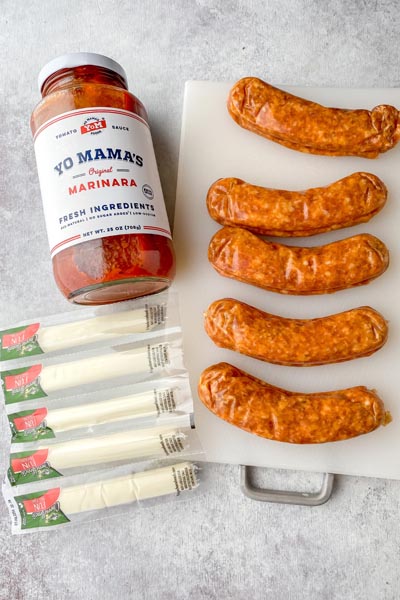 Key ingredients
Italian sausages – You want the sausage with the casing on them because you want your sausages to hold together as they bake. You can use mild Italian sausages, hot Italian sausages or even Bratwurst. Although it will work in this recipe, I avoid sweet Italian sausages as they are higher in sugar.
Mozzarella cheese sticks – Here we use the string cheese sticks that my kids like to have for snack. They are the perfect length and size to be stuffed into a sausage, but you can use other flavors of cheese. Try pepper jack, colby or even cheddar cheese sticks in your cheese stuffed sausage.
Marinara sauce – Grab your favorite pasta sauce. I like to find ones with less sugar in them or you can use tomato sauce if that is all you have.
Stuffed Italian Sausage Recipe Video
Subscribe to the KetoFocus YouTube Channel
With 100s of videos and millions of views, Ketofocus is one of the most popular Keto channels on YouTube.
Stuffed Italian Sausage Ingredients
5 Italian sausage links
5 mozzarella cheese sticks
1/2 cup marinara sauce, divided
dash Italian seasoning, optional
Stuffed Italian Sausage Directions
Preheat oven to 400 degrees.

Using a knife, cut a vertical slit down the center of each sausage. Only go halfway through.

Unwrap each cheese stick and stuff each cheese stick into the slit of the sausages.

Pour 1/4 cup marinara sauce to the bottom of a square baking dish. Add stuffed sausages. Top with remaining marinara sauce. Sprinkle on Italian seasoning if using.

Cover with aluminum foil and bake at 400 degrees for 40 minutes or until sausage is cooked through.