Keto French Fries
by KetoFocus.com
"Best Ever!" Trust me, these are the best low carb fries you will ever have!
Keto French fries made with almond flour are easy to prepare and they are closest keto fry to those fast food fries we all miss. From appearance, texture and flavor, these fries will have your family cheering when it's burger night. AND you will love that there's no peeling required!
Low carb used to be a restrictive diet, however with the addition keto mozzarella sticks, air fryer chicken wings and this keto French fry recipe (to name just a few), the limits that the keto diet imposed are removed. Let's make some French fries!
Are these the "Best" low-carb keto French fries out there?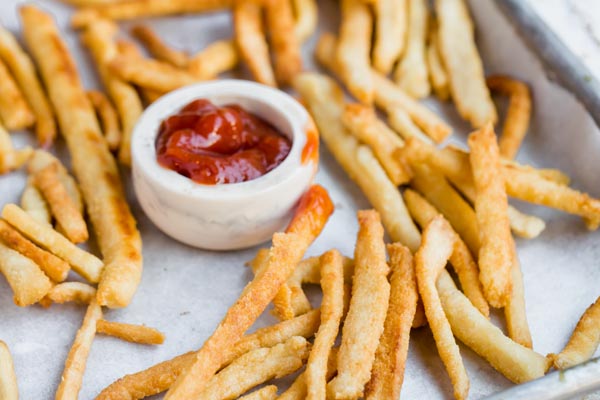 These are, hands down, the BEST keto French fry recipe I have had to date!
This recipe was inspired by Heavenly Fan who makes vegan keto recipes on YouTube. She is credited to making the foundation for this almond flour keto fries recipe. I added a few extras to perfect the flavor.
From appearance, to texture, to taste, these golden brown keto French fries are the closest thing to traditional fries you find at a fast food joint.
In fact, they remind me a lot of McDonald's fries with their appearance and crispy texture! Dip these fries in sugar-free ketchup or ranch and serve them next to your favorite burger.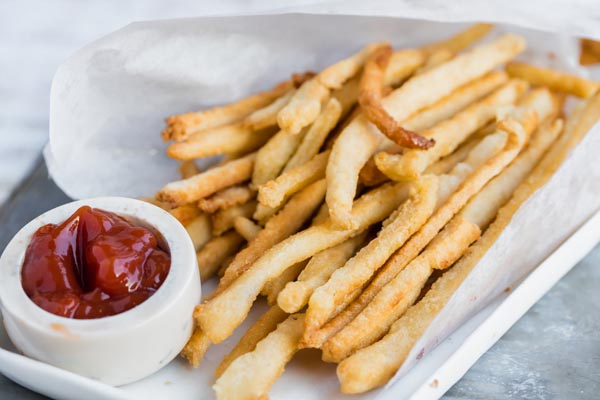 How these fries differ from other keto fry recipes
Before these fries, are best option for low carb fries was making jicama fries or french fries from other vegetables or fruit like turnip fries, zucchini fries, rutabaga – even avocado!
Keto jicama fries are good, but they are an effort to make and have a slightly sweet flavor.
Turnip and rutabaga fries can be bitter, especially if you select large turnips or rutabaga.
Zucchini fries need to be eaten right away because they get soggy. Plus they aren't always crispy or crunchy unless you add on a lot of breading.
Avocado fries are only going to be crispy on the outside with a soft interior. They should be eaten right away.
These almond flour keto fries don't require any peeling and only take a few minutes to prepare. Plus, you can FREEZE them! You can have fries on your plate whenever you want.
KETOFOCUS FANS THINK IT'S THE BEST!!
"Fries are my weakness!!! I absolutely needed to find a keto replacement for these. The added salt and potato extract were exactly what this recipe needed, for me at least. Made these today and they were so delicious!!!!"
➥ from YouTube subscriber @agriff624
Keto French Fries Recipe Video
Subscribe to the KetoFocus YouTube Channel
With 100s of videos and millions of views, Ketofocus is one of the most popular Keto channels on YouTube.
Low Carb Keto French Fries Ingredients
Keto French Fries Directions
In a small bowl, whisk together almond flour, xanthan gum and salt.

Ingredients

100 g almond flour (1/2 cup + 1/3 cup)
1 tabelspoon xanthan gum
1/2 teaspoon salt

Mix in hot water and flavor extract if using. Knead together with hands until combined.

Ingredients

6 tablespoons hot water
20 drops ashed potato extract (optional)

Place dough in between two sheets of parchment paper and roll out to an 1/4 inch thick using a rolling pin. Slice dough into small strips. Try to get them as thin as possible, around 1/8 to 1/4 inch thick.

Quick Tip
The thinner they are, the crispier and more like McDonald's fries they will be.

Lay strips of dough onto a parchment lined baking tray and stick in the freezer. Once frozen, remove the fries from the tray and store in freezer safe bag in the freezer. Proceed with directions below to cook from frozen.

To a large skillet, add enough olive oil to cover the keto french fries as they cook. Let heat over medium heat. Once the oil is heated, add a single layer of fries to the oil and let them cook until golden brown on all sides. May need to turn them to cook all sides. Remove from the oil and onto a paper towel lined plate. Sprinkle with additional salt if needed.

Quick Tip
Frying is my preferred method.

To bake, spread french fries out in a single layer onto a baking tray. Spray the fries with olive oil. Bake at 400 degrees for 10 to 12 minutes

To air fry, spread french fries onto the air fryer basket or tray in a single layer. Spray the fries with olive oil. Air fry at 400 degrees for 6 minutes.