Keto Mozzarella Sticks
by KetoFocus.com
Crispy low carb mozzarella sticks filled with cheese that oozes out when you bite into them. Dip these kid friendly keto mozzarella sticks in your favorite low sugar marinara sauce or ranch.
Nutrition Facts
Serving Size:
2 mozzarella sticks
Sometimes you need a low carb recipe that feels like you are cheating. My pork belly bites, corn dogs and a keto mozzarella cheese stick are all little treats that help my family feel like the keto diet does not compromise.  Let's make mozzarella sticks!
Low carb mozzarella sticks recipe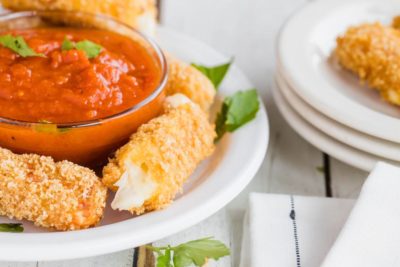 My kids love mozzarella cheese sticks, but I don't love how much junk and chemicals are in the store bought, frozen mozzarella sticks.
You will be shocked at how easy it is to make your own keto mozzarella sticks with just a few simple ingredients and a few minutes of your time. So I know exactly what my kids are eating and I can feel good about it. Plus I don't have to spend a ton of time preparing a healthy meal or snack for them to eat.
The keto cheese sticks are crispy outside while keeping the cheese gooey and melty inside. Dip them in your favorite sauce and enjoy this crunchy, cheesy appetizer!
How to make a keto mozzarella stick?
You will be amazed at how easy it is to make keto cheese sticks. This recipe only involves 4 ingredients – almond flour, egg, ground pork rinds and cheese, of course.
Cut your sticks in half to make them bite sized.
Dust with almond flour.
Dip in egg wash.
Dredge in pork panko.
Repeat egg wash and pork panko to get extra crispy coating.
Freeze.
Fry for 30 seconds.
Dip in your favorite sauce!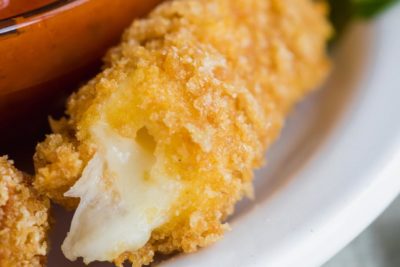 Keto Mozzarella Sticks Recipe Video
Subscribe to the KetoFocus YouTube Channel
With 100s of videos and millions of views, Ketofocus is one of the most popular Keto channels on YouTube.
Keto Mozzarella Stick Ingredients
8 mozzarella cheese sticks (string cheese)
1/4 cup almond flour
2 eggs
1 1/2 cups ground pork rinds
Keto Mozzarella Sticks Directions
Cut each mozzarella string cheese stick in half. Set aside.

Using three shallow bowls, add almond flour to one bowl. Whisk 2 eggs in the second bowl. Add ground pork rinds to the third bowl.

Ingredients

Almond flour
Eggs
Ground pork rinds

Cover with almond flour mixture

Working with one halved cheese stick at a time, first dust with almond flour.

Now the pork rind bread crumbs

Next dredge in ground pork rinds. Repeat with remaining cheese sticks. Do a second dip in the egg wash and dredge in ground pork rinds for each cheese stick.

Add to baking sheet and freeze

Place each cheese stick on a baking tray and freeze for 2 hours or until hardened. This will prevent the cheese from melting before the outer coating is cooked.

Fried mozzarella stick instructions

Instructions for frying (preferred): Add avocado oil to a small skillet. Heat over medium heat. Once oil is heated, drop in a few mozzarella sticks and fry for about 30-45 seconds. Remove and place on a paper towel lined plate to soak up excess oil.

Quick Tip
Olive oil is an acceptable alternative to avocado oil, just be careful to not get it too hot!

Baked mozzarella stick instructions

Instructions for baking: Preheat the oven to 400 degrees. Bake for 6 minutes or until golden brown and cheese starts to melt out.

Air fryer mozzarella stick instructions

Instructions for air fryer: Air fry at 390 degrees for 3-4 minutes.