Keto Air Fryer Chicken Wings
by KetoFocus.com
Keto chicken wings cooked in an air fryer come out extra crispy on the outside and juicy on the inside.
Wings are a favorite quick keto meal or appetizer that most everyone enjoys. Since they are small, chicken wings (aka party wings) cook quickly, especially if using an air fryer. This chicken wing recipe is finger lickin' good just bare but toss them in your favorite sauce to make buffalo wings, garlic parmesan wings or sticky Asian wings.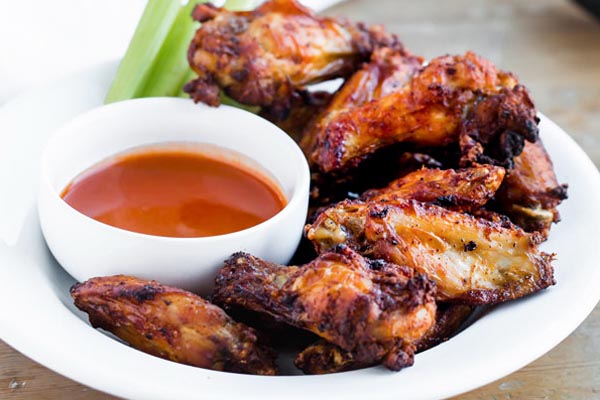 One of the easiest and best ways to cook keto wings is in the air fryer. Chicken wings cooked in an air fryer creates an extra crispy crust on the outside to seal in the juicy chicken meat inside. A simple toss in the mildly spicy seasoning and you're ready to cook.
Clean up is just as easy when using an air fryer. I simply place my air fryer basket in the dishwasher when I'm finished. No need to clean out an oil fryer or oil splatter. Or a large baking sheet if baking in the oven.
WHAT MY COMMUNITY SAYS ABOUT THIS RECIPE
"Chicken wings were amazing!!! So juicy and delicious. I recommend dipping with bleu cheese sauce."
➥ from YouTube subscriber @veronicalyons9695
Can you eat chicken wings on keto?
Yes, the chicken wing is keto approved!
Chicken wings are loved by many on the keto diet as they have near perfect fat and protein ratios, are low in carbohydrates, and are incredibly delicious.
Most people on a low carb diet eat chicken wings because of the beautifully cooked crispy chicken skin. The skin contains most of the fat. The fat is composed of saturated fatty acids and a healthy monounsaturated fat called oleic acid. This fatty acid is also found in olive oil.
Keto Air Fryer Chicken Wings Recipe Video
Subscribe to the KetoFocus YouTube Channel
With 100s of videos and millions of views, Ketofocus is one of the most popular Keto channels on YouTube.
Keto Chicken Wings Ingredients
20 party chicken wings (~ 2 lbs)
3-4 tablespoons olive oil
4 teaspoons chili powder
2 teaspoons garlic powder
1 teaspoon salt
couple dashes of black pepper
Keto Air Fryer Chicken Wings Directions
Combine the chicken wing seasonings in a small bowl - chili powder, garlic powder, salt and pepper

Ingredients

4 teaspoons chili powder
2 teaspoons garlic powder
1 teaspoon salt
black pepper (couple dashes)

Quick Tip
If you are going to coat wings in a sauce, or you are looking for a crispier wing add 1 tablespoon of baking powder to the seasoning.

Place the wings in the ziplock bag. Add olive oil and seasoning. Shake the bag until evenly coated.

Ingredients

2 lbs party wings
3-4 tablespoons olive oil or neutral oil

Quick Tip
Alternatively, add the chicken, oil and seasoning to a bowl and mix to combine.

Preheat the to 380 °F air fryer as instructed on by your air fryer.

Air fry the chicken wings

Place all the wings in the air fryer basket. Cook at 380 °F for 25-30 minutes or until cooked through. Toss the wings every 5 minutes.

Quick Tip
Air fryer brands can vary on cook time. Consult the manufacturers instructions for cooking wings or check the progress of the cook after 15 minutes.

Alternative cook method: oven instructions

Spread the wings out on a baking tray lined with a cooling wire rack that has been sprayed lightly with cooking spray. This prevents the skin from sticking to the bottom and allows for the bottom of the wing to crisp up too since air can reach it. Bake the wings at 400 °F for 45 - 60 minutes. You can turn the wings after 30 minutes to ensure even baking and crispiness.Keto baked wings in the oven still turn out marvelous if done right and I highly suggest you trying them even if you own an air fryer.

Quick Tip
If you don't have an air fryer, you can still bake this wing recipe in an oven.