Keto Corn Dogs
by KetoFocus.com
Want the flavor of a hand dipped corn dog but not the carbs? Try a keto corn dog! These corn dogs are not made with cornmeal. They are hand rolled in keto dough and fried to perfection. The result is a low carb corn dog worthy of the county fair!
How to make keto corn dogs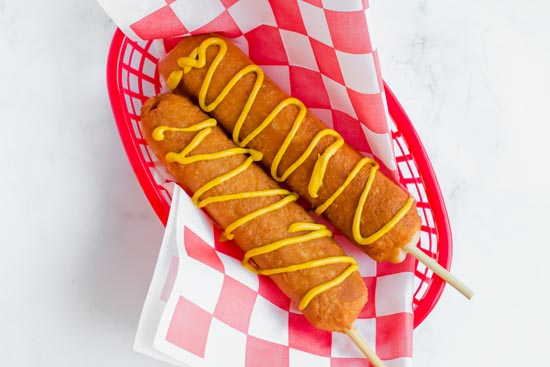 Corn dogs are a good old fashion American food that reminds me of Summer and days at the county fair. We used to get these humongous hand dipped corn dogs at the fair. They had a crunchy outer cornbread crust and a juicy hot dog in the middle.
This recipe for keto corn dogs has helped me relive those days! These keto corn dogs have a crunchy breading layer that is made out of fathead dough. It is similar to the texture of the corn breading found in regular corn dogs, just without the corn. And of course, you can't forget the hot dog inside. That hasn't changed much from a traditional corn dog.
These keto corn dogs are easy to make and can be made into little bite sized versions that are a fun party food at potlucks or gatherings. You can cut the hot dogs in half to make mini keto corn dogs or you can cut them into small chunks to make finger food. They make the perfect low carb appetizer!
Let's get started!
Keto Corn Dogs Recipe Video
Subscribe to the KetoFocus YouTube Channel
With 100s of videos and millions of views, Ketofocus is one of the most popular Keto channels on YouTube.
Keto Corn Dogs Ingredients
6 hot dogs
3 ½ cups mozzarella cheese
1 ½ cups almond flour
1 egg
1 teaspoon baking powder
1 teaspoon xanthan gum
½ teaspoon salt
oil for frying
Keto Corn Dogs Directions
Insert a hot dog stick into each hot dog. Set aside

Quick Tip
No corn dog sticks? No problem, proceed without them!

To make the breading, melt the cheese in a microwave at 60 second increments until melted. Set aside.

In a small bowl, combine almond flour, baking powder, xanthan gum and salt. Whisk until combined. Set aside.

Ingredients

Almond flour
Baking Powder
Xanthan gum
Salt

To a bowl or a food processor, combine cheese, egg, and almond flour mixture. Mix with an electric mixer or pulse in a food processor until combined and the mixture is doughy.

Lay the dough ball in between two pieces of parchment paper.

Roll the dough out into a rectangle shape that is ⅛ to ¼ inch thick.

Wrap in a blanket of dough

Place a skewered hot dog on the dough and cut out enough dough to cover the hot dog.

Mold the dough around the hot dog.

Fry two corn dogs at a time in a pre-heated 10 inch skillet filled with ¼ inch of avocado oil or other oil with a high smoke point.

Once golden brown, turn the corn dogs to fry evenly on all sides.

Remove from the oil bath and let dry on a paper towel. Repeat with remaining corn dogs.