Garlic Parmesan Jicama Fries
by KetoFocus.com
Keto jicama fries smothered in a gluten-free batter, fried to a perfect crisp and topped with minced garlic and parmesan cheese. These keto garlic parmesan fries are stand alone showstopper of a keto recipe but are also tasty with a burger or hotdog.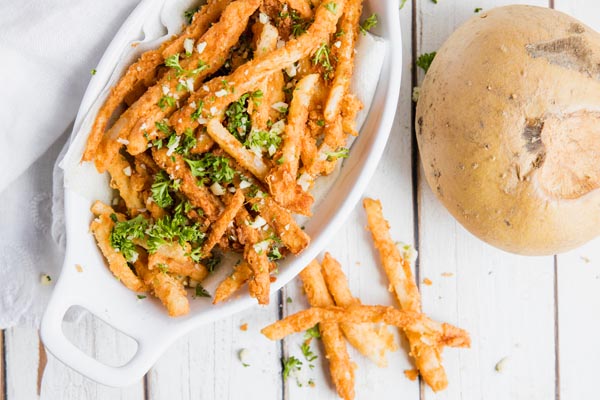 This crispy garlic parmesan keto jicama fries recipe is one side dish you should make every week! I am sure you have checked out our keto French fries recipe, this jicama recipe has been around much longer in the attempt to replace potato fries.
Jicama fries are quite easy to make and can be made ahead for a freezer safe, keto meal prep option.
My crispy battered jicama fries are cut into shoestring fry shapes and coated with a dusting of protein powder and some seasoning to create a crunchy batter when deep fried in avocado oil (preferred) or olive oil.
These crispy jicama fries are then tossed in grated parmesan cheese, garlic and parsley for a finished flavor that is delicious when served next to your favorite keto dinner.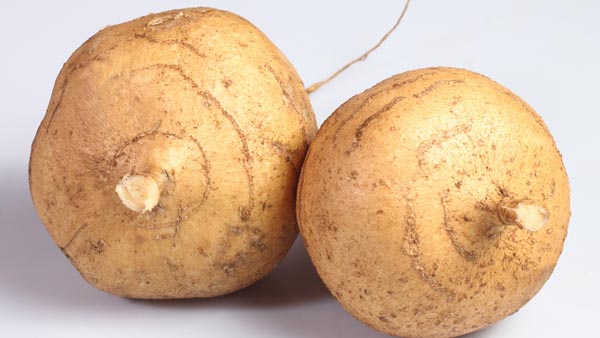 Jicama is a root vegetable or tuber similar to a potato. It has a brown outer skin similar to a potato and the inside flesh is white and hard. Jicama is also called a Mexican turnip or Mexican potato since they are mostly grown south of the border.
Garlic Parmesan Jicama Fries Recipe Video
Subscribe to the KetoFocus YouTube Channel
With 100s of videos and millions of views, Ketofocus is one of the most popular Keto channels on YouTube.
Jicama Fries Ingredients
1 medium jicama
1 cup unflavored whey protein powder
2 teaspoons salt
2 teaspoons garlic powder
2 teaspoons onion powder
avocado oil for frying (optionally can use olive oil)
1/3 cup grated parmesan cheese
5 cloves garlic, minced
2 tablespoons chopped parsley
Garlic Parmesan Jicama Fries Directions
Preheat 1 inch of avocado oil or olive oil to medium heat in a large skillet.

To peel a jicama, cut off the root. From the cut side, cut some vertical notch down the side like you would peel the skin off with a knife. Grab the jicama skin and pull down to the other end of the jicama. Repeat on all sides of the jicama.

Cut jicama into shoestring French fries sizes with a knife.

Toss shoestring jicama fries until evenly coated in a shallow bowl containing protein powder and seasonings.

To see if the oil is hot enough for fries, throw a tiny piece of the batter into the hot oil. If it sizzles right away, the oil is ready. Add jicama fries to the hot oil. Don't over-crowd the pan. Add just enough to cover the bottom of the skillet. Fry for about 7-12 minutes or until the fries are golden brown. Remove from heat and place on a paper towel to catch the excess oil.

Season with garlic, parmesan and parsley if desired.