Keto Bread Crumbs
by KetoFocus.com
This 3 ingredient recipe for keto bread crumbs adds a thick panko-style breading to your favorite recipes. You'll love that the coating stays crispy and crunchy, no matter what method you use for cooking.
Just because you're following a low-carb diet doesn't mean you need to give up your favorite traditional recipes! Recipes use bread crumbs for a number of reasons, as a binder, to absorb moisture, and to create a crispy delicious coating on foods.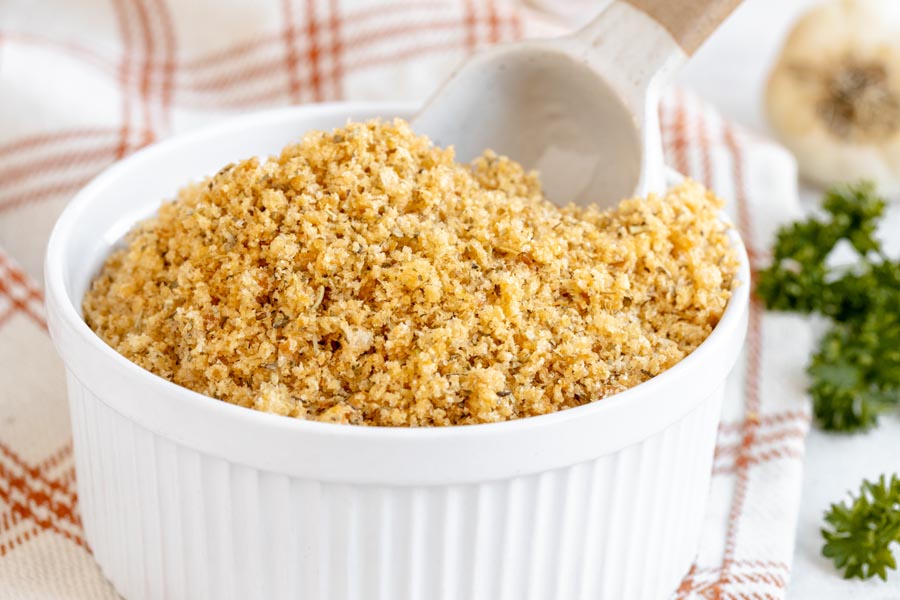 These keto Italian breadcrumbs are perfect for creating a thick and crunchy coating on Chicken Parmesan and Chicken Strips, and work just as well to add to meatloaf or sausage balls as a binder.
While there are many different types of low carb breadcrumbs you can use (I cover several options below!), this recipe adds a thick panko-style breading that's crunchy, but doesn't get overly dry or crusty when fried or baked as some other breadcrumb substitutes do.
The best part is how easy it is to make! With pork panko and a few seasonings, you'll have a batch of keto-friendly bread crumbs ready to use anytime you need them.
How to make keto bread crumbs
While this bread crumb recipe is easy to make on the fly when you need them, I prefer to make them in bulk and portion out a scoop or two when I need them.
To make keto breadcrumbs that are gluten free, simply combine pork panko (ground up pork rinds),  with Italian seasoning, garlic powder and salt!
Key ingredients & substitutions
Pork panko – Buy premade Pork Panko or make your own using my homemade pork rind recipe!
Seasoning – Italian seasoning, garlic powder and salt. If using premade pork panko, you may or may not need salt, depending on your preference.
Keto Bread Crumbs Recipe Video
Subscribe to the KetoFocus YouTube Channel
With 100s of videos and millions of views, Ketofocus is one of the most popular Keto channels on YouTube.
Keto Bread Crumbs Ingredients
4 oz pork panko
2 tablespoon Italian seasoning
1 teaspoon garlic powder
¼ teaspoon salt