Chicken Caprese Kebabs
by KetoFocus.com
Caprese Chicken Kebabs are a fun and light version of classic baked chicken Caprese. Cubed chicken breasts alternating with cherry tomatoes and fresh mozzarella balls drizzled with a tangy balsamic glaze are a quick and easy weeknight meal. This keto-friendly dish is made in under 30 minutes and is perfect for everyone in your family.
Don't miss these spicy turmeric chicken kebabs, bacon-wrapped brussel sprout kebabs, or bacon-wrapped asparagus kebabs.  
Chicken Caprese skewers are lighter and easier to eat at backyard barbecues or pot luck dinners with your friends and family, and they're great for kids with bite-sized chicken pieces.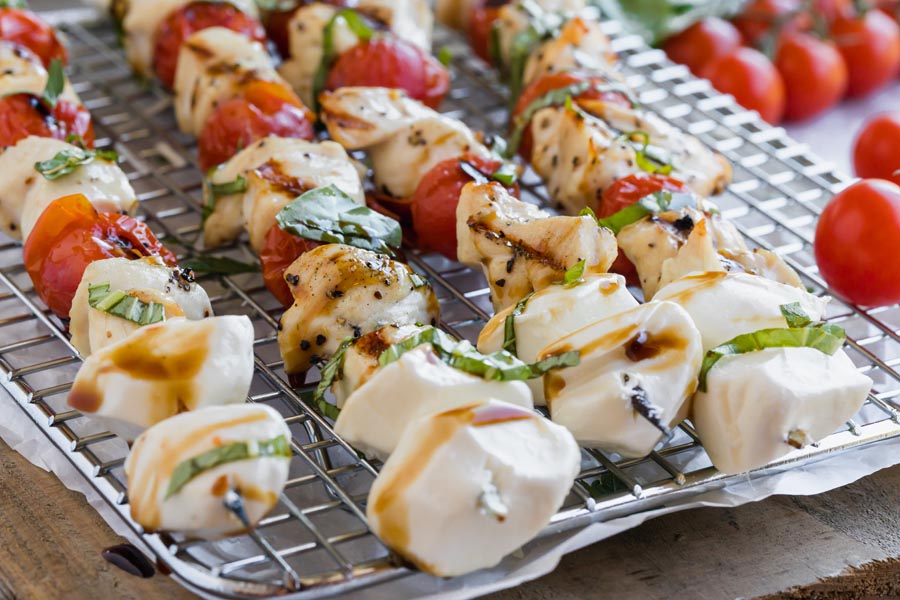 You can easily remove the pieces from the skewers and serve them on a big platter drizzled with olive oil and balsamic vinegar or pass the individual skewers around. 
Serve them with a dark green salad, coleslaw, bread, or roasted vegetables. Pair them with a cold summer drink like lemonade, ice tea or your favorite cocktail. 
How to make chicken caprese kebabs
There are only a few steps to make these Caprese chicken kebabs. Here is a brief description of how to make them. See the recipe card below for the full version.
Preheat the grill.
Thread the skewers. Alternate the chicken and tomatoes on each skewer.
Brush all sides with olive oil and season with salt and pepper.
Grill chicken kebabs on medium-high heat on each side until the chicken is cooked through, then remove them from the grill.
Thread the mini mozzarella balls on each end of the skewer.
Drizzle with more olive oil and balsamic vinegar, and serve.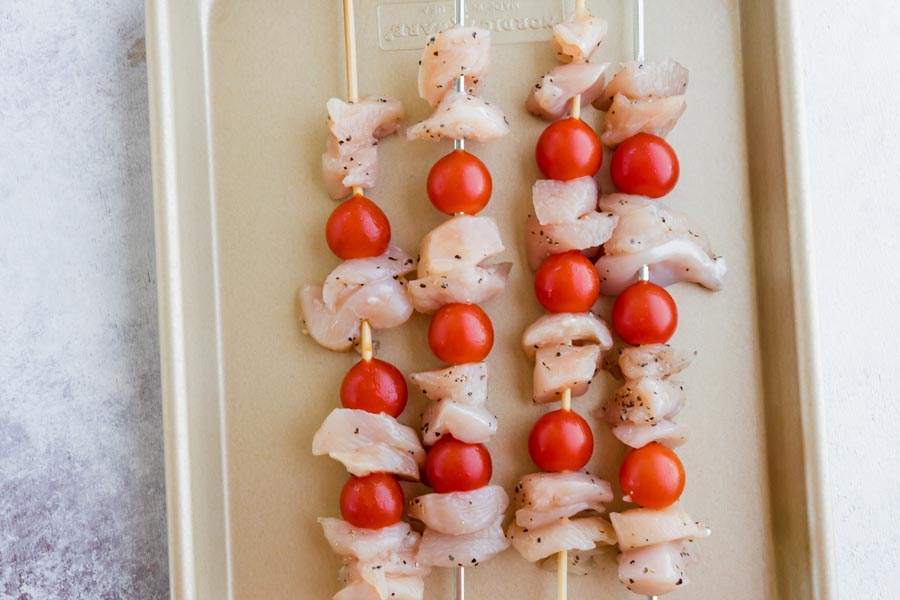 Key ingredients
There are only a few simple ingredients to make this version of traditional chicken Caprese and are easy to find at your local grocery store or farmer's market.
Chicken – Can use chicken breast, chicken thighs or tenderloins. Chicken thighs tend to have more flavor and will stay juicy when grilled. Chicken tenderloins and breast meat are lower in fat; however have a tendency to dry out easily when cooked.
Tomatoes – Use either grape or cherry tomatoes.
Mozzarella balls – It's best to get the small balls of mozzarella cheese; however, you can cut off small chunks of cheese if the balls are not available.
Fresh basil leaves – Slice up and top your dish with fresh basil.
Balsamic vinegar – Balsamic vinegar is lower in sugar compared to balsamic glaze; however, both can be used or you can make your own balsamic glaze with sugar free sweetener.
Olive oil – To help keep the chicken moist, especially if using chicken breast. Also used to keep the chicken from sticky to the BBQ grill as it cooks.
Chicken Caprese Kebabs Recipe Video
Subscribe to the KetoFocus YouTube Channel
With 100s of videos and millions of views, Ketofocus is one of the most popular Keto channels on YouTube.
Chicken Caprese Kebabs Ingredients
2 pounds chicken thighs, breast or tenderloin, cubed
8 oz grape tomatoes
2 tablespoons olive oil
8 oz mozzarella cheese balls
3-4 basil leaves, julienned
balsamic vinegar & olive oil for drizzling
Chicken Caprese Kebabs Directions
Thread the skewers, alternating between tomato and two chunks of chicken until you get to the end of the skewer.

Quick Tip
If using wooden skewers, let the skewers soak in water for 20-60 minutes to prevent catching on fire when grill or splintering.

Season the skewers with olive oil and salt and pepper.

Quick Tip
You can toss the chicken pieces in olive oil, salt and pepper before threading onto the kebab stick.

Grill over indirect heat for 5-6 minutes each side or until chicken is cooked through. Or bake at 400 degrees for 10-12 minutes or until cooked through.

Add two mozzarella cheese balls to both ends of each skewer. Top with fresh basil and drizzle more olive oil and balsamic vinegar.