Keto Bread
by KetoFocus.com
I have tested a lot of keto breads and this is the best keto bread recipe!
Sure, keto friendly bread is now available at the grocery store; however, many of those low carb loaves contain gluten - which is not ideal on the keto diet. This recipe for fluffy easy keto bread with almond flour is gluten-free and tastes like actual bread without being dense and it's around 2 grams of carbs per slice!
There a number of keto bread recipes that I make regularly: keto bread roll, keto cinnamon roll and this bread recipe.
Low Carb Bread Recipe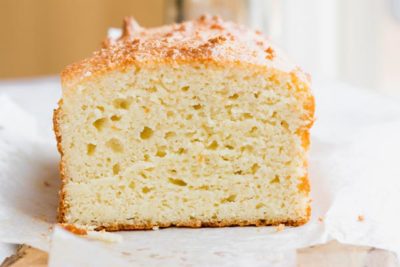 Do you remember the days when your mom would bake a loaf of bread? I sure do! Warm, fragrant, and fresh from the oven – nothing beats that smell or flavor. Traditional, carb loaded wheat based bread is not allowed on the keto diet; however, it's easy to make a low carb loaf of bread in around 30 minutes with this recipe.
There's no need to buy keto bread from the store. Not only is it expensive, but it also contains vital wheat protein. So it may be zero carbs; however, wheat protein still contains gluten.
Many of us try to avoid gluten on the keto diet as it can cause weight gain, bloating and inflammation. This recipe homemade keto bread with almond flour is your solution so you can enjoy a sliced bread with your sandwiches, french toast or served next to some lasagna!
The best part about this recipe is that you can make it anytime you have a craving for a crusty loaf of bread.
Unlike other keto bread recipes that call for less common ingredients like psyllium husk, xanthan gum or vital wheat protein. With just some minimal ingredients that can be found in most keto pantries and refrigerators you can make a delicious loaf of gluten free bread that the whole family will love.
So whip up a batch today and enjoy those sweet memories with your loved ones while they last 🙂
Subscribe to the KetoFocus YouTube Channel
With 100s of videos and millions of views, Ketofocus is one of the most popular Keto channels on YouTube.
Gluten Free Keto Bread Ingredients
Keto Bread Directions
Preheat oven to 325 degrees.

Add shredded mozzarella cheese and cream cheese to a microwave safe bowl and microwave at 60 second intervals, stirring in between, until completely melted.

Ingredients

Mozzarella cheese
Cream cheese

To a food processor, add melted cheese, eggs, almond flour, protein powder, sour cream, baking powder, baking soda and salt. Pulse until combined.

Ingredients

Almond flour
Eggs
Protein powder
Sour cream
Baking powder
Baking soda
Salt

Place almond flour bread dough in a loaf pan

Add the bread dough to a loaf pan lined with parchment paper and coated with cooking spray.

Bake in a 325 degree oven for 30-32 minutes. Let cool for 3-5 minutes before removing from the loaf pan.

Quick Tip
May need to cook longer depending on the size of your oven and loaf pan. Check after 30 minutes, insert a knife to see if it comes out clean. Bake until crust is golden brown.