Easy Flaky Keto Biscuits
by KetoFocus.com
Flaky, tender keto biscuits that are easy to make and don't require a ton of ingredients. These gluten free low carb biscuits are so tasty they need to be served along side your next meal or smothered in creamy sausage gravy.
Low carb easy biscuit recipe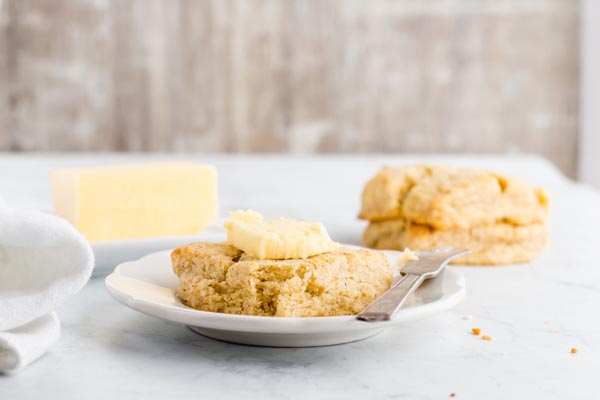 If you are looking for delicious keto bread to serve with your low carb dinners, or a flaky biscuits to pour a creamy sausage gravy on top, then you have found the right keto recipe!
These keto biscuits are tender and flaky. They are made with layers of butter and dough that help it to rise up creating a flaky, crumbly center. Keto biscuits have a buttery flavor are made with the right combination of low carb flours, cream and sour cream to cut out any of the grainy texture.
These low carb biscuits are amazing hot out of the oven with sausage gravy poured on top. They make the best keto biscuits and gravy. Since they are so tender when they are warm, all the creamy gravy can devour every nook and cranny of the fluffy biscuit.
If you desire a biscuit that you hold with your hand and use to scoop up sauces and dunk into chili or soup, let these biscuits cool overnight. As they sit they will firm up and be easier to handle like a dinner roll.
Keto Biscuits Recipe Video
Subscribe to the KetoFocus YouTube Channel
With 100s of videos and millions of views, Ketofocus is one of the most popular Keto channels on YouTube.
Keto Biscuits Ingredients
1 1/4 cups almond flour
1/3 cup coconut flour
2 tablespoons whole psyllium husk
1 tablespoon baking powder
1/2 teaspoon salt
1/4 teaspoon baking soda
6 tablespoons frozen unsalted butter
1/2 cup heavy whipping cream
1/4 cup sour cream
1 tablespoon butter, melted
Easy Flaky Keto Biscuits Directions
Preheat oven to 400 degrees. In a medium bowl, whisk together the dry ingredients - almond flour, coconut flour, psyllium, baking powder, salt, and baking soda.

Ingredients

Almond flour
Coconut flour
Psyllium
Baking Powder
Salt
Baking soda

Using a cheese grater, grate frozen butter into the bowl of dry ingredients. Stir to distribute, but don't mix too much. You want the butter to be in lumps. The more the butter is still intack and not soft or melted, the flakier the biscuit will be.

Add in the whipping cream and sour cream. Stir with a spoon to combine until just incorporated.

On a piece of parchment paper, gently mold the dough into a rectangle that is 1 inch tall.

Press and fold and press and fold

Fold one half of the dough onto itself, hamburger style, and press into a rectangle shape that is 1 inch tall again. Continue to fold and mold into a rectangle shape four more times.

Using a knife, cut the biscuits into six squares, brush each biscuit with melted butter, and place on a parchment lined baking tray or baking sheet. Bake at 400 degrees for 10 minutes.

Remove from oven, and let sit on the baking tray for about 5 minutes. Using a spatula, gently transfer each biscuit to a wire rack to finish cooling. They biscuits will be very tender and deliciate when they first come out of the oven, but will firm up once they cool. For a firmer biscuit, let sit overnight.