Easy Keto Cornbread
by KetoFocus.com
If delicious, fast & easy are the qualifiers, then this recipe is by far the BEST keto cornbread!
A very easy keto cornbread recipe you can serve as a side to any meal. Keto cornbread is moist, delicious and can be made in the microwave or oven and topped with melted butter!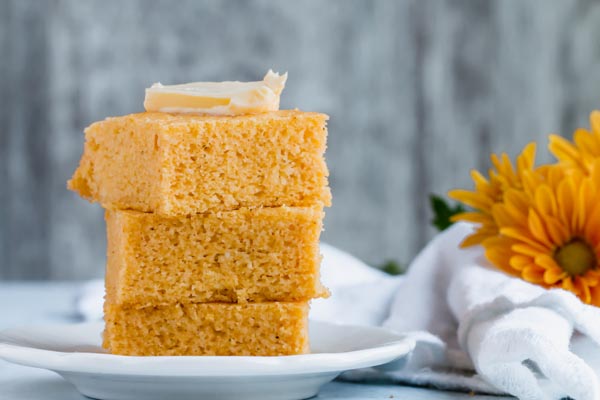 Cornbread was always an easy side dish my mom would make to go with soups and chili. This keto version is also very simple to make. Everything is mixed together in one bowl, poured into a baking dish and either microwaved or baked in the oven. You can have keto cornbread in less than 10 minutes!
Low carb cornbread has the flavor and consistency of regular cornbread but without the corn and the carbs. Regular Jiffy cornbread has 18 grams of carbs per serving. This recipe has 2 grams of carbohydrates per serving! Plus, it's moist and has just as much flavor as cornbread. I love the serve this cornbread on the side with my recipe for keto chili.
How to cook keto almond flour cornbread?
When I say this low carb cornbread recipe is easy, I mean it!
From mixing to baking, you can have it on the table in less than 10 minutes if you cook it in the microwave. In my microwave, it takes about six minutes to cook up. You want the center to be firm and not wobbly when you shake it.
If you don't like using the microwave or don't own one, you can bake the keto cornbread in the oven. Cook it in a 350 degree oven for about 14 minutes. It takes a little bit longer but not by much!
Subscribe to the KetoFocus YouTube Channel
With 100s of videos and millions of views, Ketofocus is one of the most popular Keto channels on YouTube.
Keto Cornbread Ingredients
10 tablespoons unsalted butter, melted
1 1/3 cup almond flour
4 eggs
2 teaspoons baking powder
1/2 teaspoon salt
1/2 teaspoon corn flavor extract
1/2 teaspoon blackened seasoning or Cajun seasoning (optional)
1/4 teaspoon cayenne pepper (optional)
Easy Keto Cornbread Directions
Add all ingredients to a medium bowl and mix until combined.

Pour into a greased, square 8x8 baking dish.

Microwave for 6-8 minutes (depending on your microwave) until the bread is set and not wobbly in the center. Or bake in a 350 degree oven for 14 minutes or until cornbread has risen and not wobbly in the center.