Keto Strawberry Shortcake Kebabs
by KetoFocus.com
The classic summertime favorite dessert, strawberry shortcake, just got easier and easier to eat! These keto strawberry shortcake kebabs have bites of keto cake alternating with fresh strawberries and topped with melted white chocolate.
Summertime is usually when we fire up the grill and eat foods on a stick – kebabs! This is a dessert option that takes a traditional strawberry shortcake and turns it into an easy to make dessert. Pair this with caprese chicken kebabs for a simple summer night meal.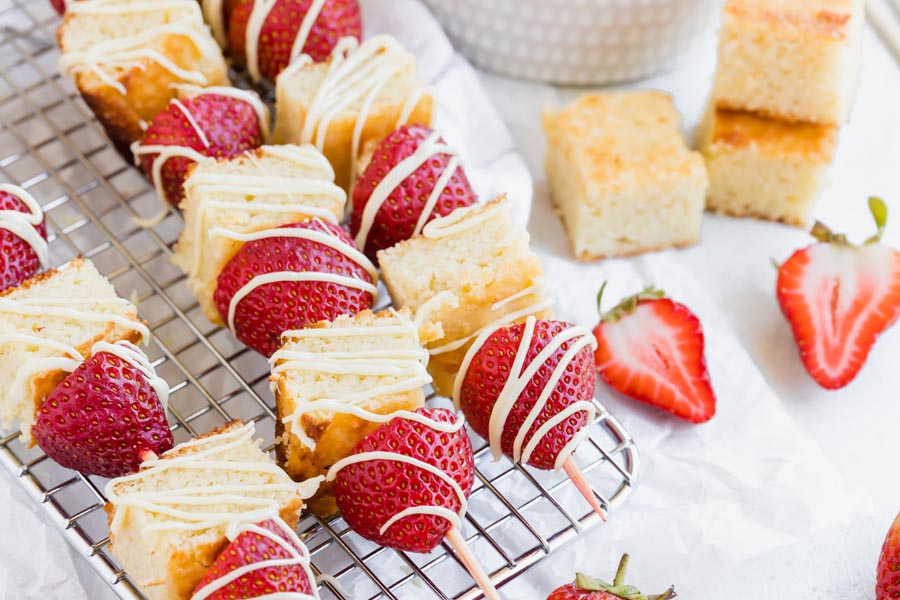 Strawberry shortcake is one of the easiest desserts to make. It's the ideal finish to a family meal or if you are feeding a large group of people since it scales so easily.
Strawberry shortcake kebabs are even easier since we use a box low carb cake mix to make the cake portion of these kebabs and thread fresh strawberries on our skewers. To finish the dessert, top with a drizzle of sugar free melted white chocolate or simply dipped into a bowl of whipped cream as you eat.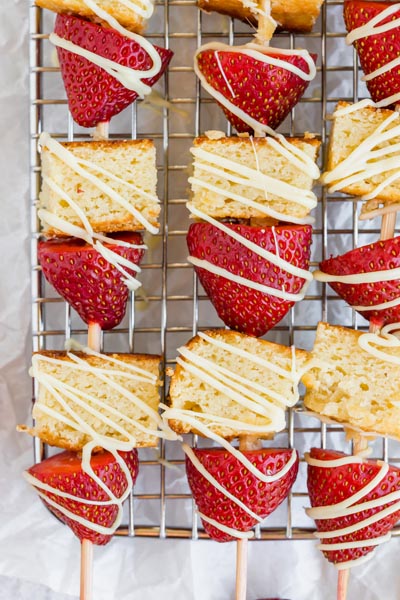 Strawberry Shortcake Kebabs Recipe Video
Subscribe to the KetoFocus YouTube Channel
With 100s of videos and millions of views, Ketofocus is one of the most popular Keto channels on YouTube.
Keto Strawberry Shortcake Kebabs Ingredients
Keto Strawberry Shortcake Kebabs Directions
Prepare you cake and bake in a square baking lined with parchment paper so it's easy to lift out once baked. Bake according to package or recipe instructions.

Quick Tip
I prefer to use a boxed or packaged keto cake mix for this. I have some favorites listed below. Bake the cake according to the package instructions.

Once the keto cake is cooled, cut into bite sized squares, set aside.

Cut tops off strawberries

Cut the green tops off of all the strawberries.

To each skewer, start with a strawberry, thread 4 strawberries and 3 cake bites, alternating and end on a strawberry.

Quick Tip
If using wooden skewers, make sure you soak the skewers for 1 hour to prevent splinters.

Drizzle melted sugar free white chocolate over the kebabs.

Quick Tip
Dip in sugar free whipped cream as an alternative or addition.