Air Fryer Steak Bites
by KetoFocus.com
Air fryer steak bites are an easy way to enjoy a juicy steak but in a bite-sized, snackable form and without have to babysit a steak just to make sure it's cooked perfectly. Using an air fryer to make steak bites, you get perfectly cooked nibble of beef coated in a garlic butter sauce.
These mouthwatering air fryer steak bites are juicy, tender chunks of beef, coated in a buttery garlic sauce and and cooked to perfection. Even better is clean up is a breeze when you cook with your air fryer.  And just like other proteins that are air fried, like salmon or pork chops, these garlic butter steak bites turn out incredibly juicy with crispy edges without having to use a ton of fat to prevent dehydrating the proteins.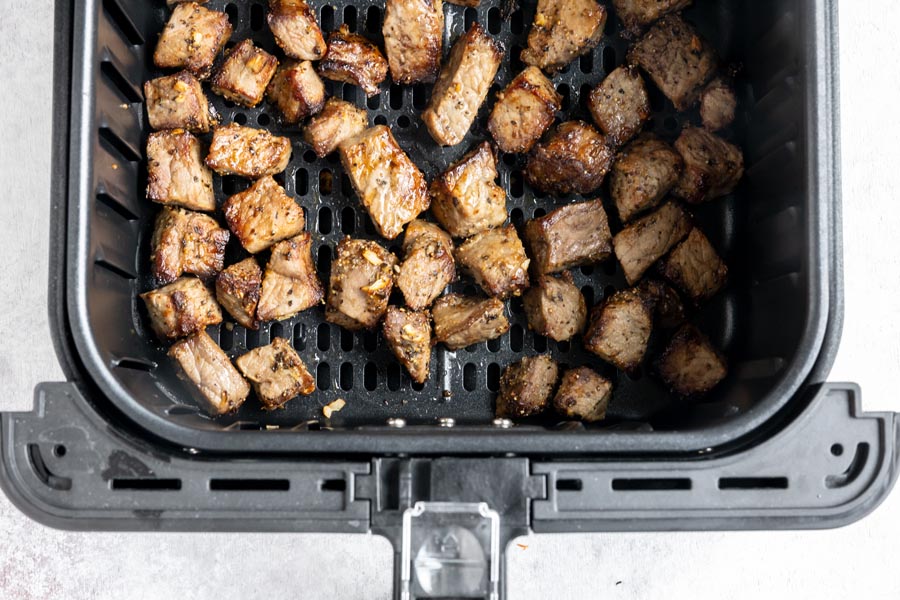 Packed with flavor between the steak, butter, garlic and salt, these bite-sized morsels are sure to be a hit with everyone, especially if you dip them in ranch, horseradish sauce or more melted garlic butter and parsley.
Air fryer steak bites are a fantastic option for those who love the taste of steak but want something that's easier to eat and share. They're also a great way to use up any leftover steak from a previous meal. With the air fryer, you can achieve a perfectly cooked steak in just a fraction of the time it would take to cook it on the stove or grill, and without all the mess and fuss.
How long to cook steak bites in the air fryer
Once you have prepared your bites by cutting a sirloin, strip or ribeye steak into 1 inch chunks and seasoning them with the garlic butter sauce, it's time to air fry.
Place the steak bites in the air fryer basket or tray. Evenly space them with at least 1/2 inch spacing on all sides to allow for even cooking and to get crisp edges. Do not pile on each other. 
Air fry at 400 degrees for 5-6 minutes, flipping halfway through.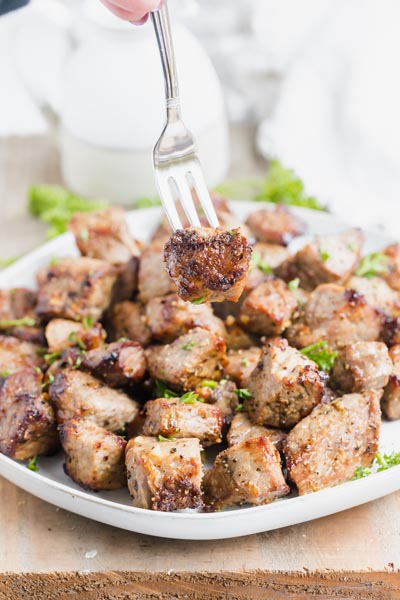 Air Fryer Steak Bites Recipe Video
Subscribe to the KetoFocus YouTube Channel
With 100s of videos and millions of views, Ketofocus is one of the most popular Keto channels on YouTube.
Steak Bites In Air Fryer Ingredients
1 ½ pounds sirloin steak
¼ cup unsalted butter, melted
4 cloves garlic, minced
1 teaspoon garlic salt
1 teaspoon black pepper
1 tablespoon minced parsley
Air Fryer Steak Bites Directions
Pat dry steak with a paper towel. Cut steak into bite sized chunks (about 1 inch squares). Transfer to a large bowl.

Add melted butter, minced garlic, garlic salt and pepper to the steak bites. Stir to evenly coat.

Ingredients

¼ cup unsalted butter, melted
4 cloves garlic, minced
1 teaspoon garlic salt
1 teaspoon black pepper

Cook in a pre-heated air fryer to 400 degrees Fahrenheit for 5-6 minutes, tossing or flipping halfway through if needed.

Transfer cooked steak bites to a serving bowl or platter. Sprinkle minced parsley. Serve with melted butter, ranch or horseradish sauce.

Ingredients

1 tablespoon minced parsley