Shirataki Noodles
by KetoFocus.com
A gluten-free alternative to keto noodles with ZERO CARBS
Whether you are making a classic pasta dish or an easy keto noodle side dish, shirataki noodles are an excellent gluten free replacement to pasta.
The shirataki noodle is the OG, the original keto noodle. We have been smothering this pasta with spaghetti sauce and cheese sauce for over a decade.
Shirataki noodles have been around for years. This iconic rubbery, stinky noodle was once the only pasta we had to turn to on a keto diet. Most shirataki pasta is zero net carbs, takes on the flavor of the sauce you pair it with and it's gluten free. However, many find shirataki konjac noodles off-putting due to it's rubbery texture and chemical smell. As long as it is prepared right, these noodles won't be smelly or have a funky taste. And you won't have to resort to eating low carb wheat noodles.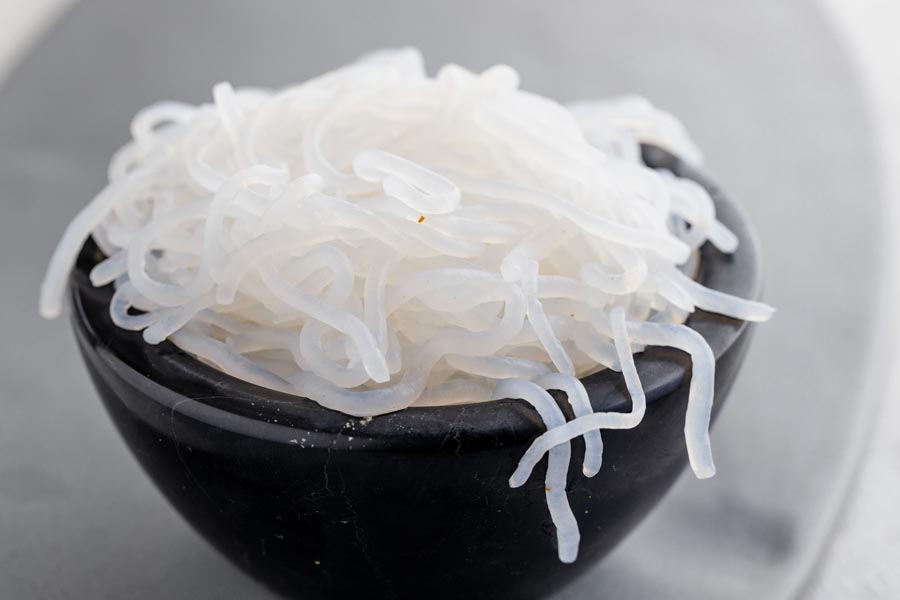 What are shirataki noodles?
Shirataki noodles (also called miracle noodles or konjac noodles) are zero calories noodles made from glucomannan, a fiber from the root of the konjac plant. The Konjac plant is common in Japan, China and other parts of Southeast Asia.
Konjac noodles are mostly water. They are about 97% water and 3% glucomannan fiber. Glucomannan is a soluble fiber that absorbs water – hence how these noodles are made. The carbs from the glucomannan in the konjac root are not digestible which is why most shirataki noodles have zero net carbs.
In Japanese, the word "shirataki" means "white waterfall", which is how these water bearing white noodles got their name.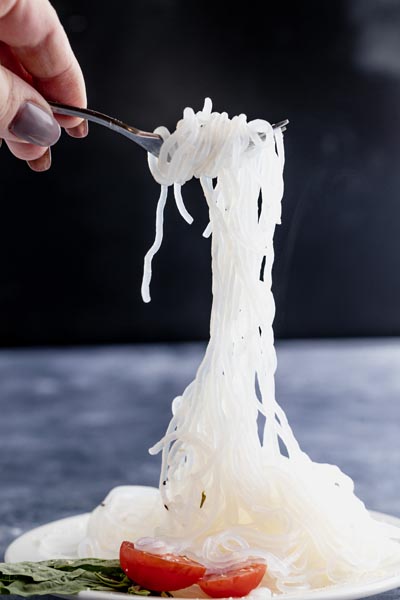 How to cook shirataki noodles
Drain the liquid off the pasta by pouring the contents into a strainer.
Run cold water over the noodles to rinse for several minutes. This helps to get rid of the strange smell.
Strain again.
Add noodles to a non-stick stick and cook over medium high heat for a few minutes to evaporate excess moisture. This step helps with the noodle texture.
Shirataki Noodles Recipe Video
Subscribe to the KetoFocus YouTube Channel
With 100s of videos and millions of views, Ketofocus is one of the most popular Keto channels on YouTube.
Shirataki Noodles Ingredients
7 oz shirataki noodles
1 tablespoon olive oil, optional
1 tablespoon grated parmesan cheese, optional
salt and pepper, optional
Shirataki Noodles Directions
Open the contents of the shirataki noodle bag into a colander and drain the liquid.

Rinse noodles under cool water for 1-3 minutes or until the smell goes away.

Quick Tip
Cut noodles to desired length with kitchen shears or scissors.

To finalize noodle texture, add noodles to a saucepan or skillet and cook over medium heat until noodles are dry and moisture as evaporated off. Add remaining ingredients if using or add in your favorite sauce.

Quick Tip
Do not add oil to the skillet. Cook in a dry, clean pan.