Hearts of Palm Pasta
by KetoFocus.com
The BEST ready to eat keto noodles
The closest thing to actual traditional noodles is hearts of palm pasta. From the texture, the flavor, and the appearance - you won't miss carby pasta on the keto diet anymore.
Nutrition Facts
Serving Size:
1/2 cup noodles
My go-to keto pasta are noodles from hearts of palm. I use them in my baked spaghetti and skillet keto lasagna recipe. I always have this gluten-free low carb pasta in my pantry.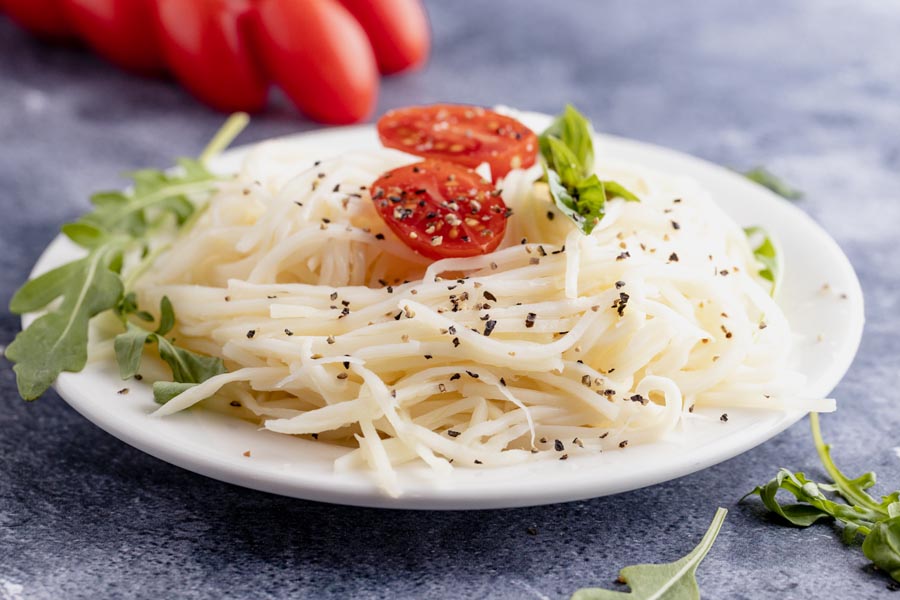 Hearts of palm pasta noodles come in different shapes from spaghetti, angel hair and fettuccine. But they also have sheets of lasagna noodles, white rice and brown rice.
Besides the variety of pasta types, they are easy to prepare. In fact, hearts of palm noodles don't require much preparation at all. Just open the package, drain and dump into your sauce. On top of that, they are shelf stable and don't need to be frozen, refrigerated or cooked.
Hearts of palm pasta is the perfect al dente texture and have a neutral flavor, so your spaghetti tastes like spaghetti and your chow mein taste like chow mein. It's the ideal pasta substitute.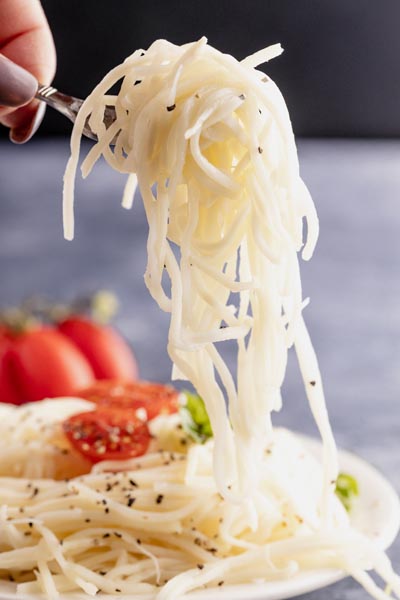 What is hearts of palm pasta?
Hearts of palm come from the center of the cabbage palm tree. They call it hearts of palm because it comes from the heart of these palm trees that grow in Ecuador,  Florida and South Carolina.
Hearts of palm has a similar texture to noodles when cut into a noodle shape. They are mostly water and fiber, so hearts of palm pasta is very low in net carbs making them the perfect noodle for the keto diet.
How to make hearts of palm pasta
Open the package.
Drain the excess liquid off.
Add to sauce or casserole
Some hearts of palm noodles, like Palmini Noodles, do require an extra step of rinsing before using but not every brand does.
Keto Noodles Recipe Video
Subscribe to the KetoFocus YouTube Channel
With 100s of videos and millions of views, Ketofocus is one of the most popular Keto channels on YouTube.
Hearts Of Palm Pasta Ingredients
Hearts of Palm Pasta Directions
Cut open hearts of palm noodles package and strain off liquid using a colander.

Quick Tip
Some brands like Palmini Noodles require you to rinse the noodles next.

Shake off excess moisture and add you to your favorite sauce or top with olive oil, cherry tomatoes and parmesan cheese.