Air Fryer Salmon
by KetoFocus.com
If you want perfectly cooked salmon every time, you have to cook it in the air fryer. This easy air fryer salmon recipe is simple yet yields the best flavor when air fried, leaving the skin crispy and the flesh light and flaky.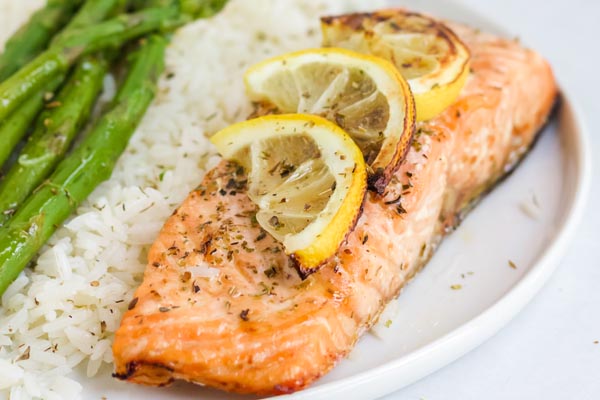 Sometimes simple recipes turn out the be the best recipes and this keto air fryer salmon recipe is no exception. Salmon fillets can be cooked to perfection using an air fryer. With just a few simple seasonings, you can turn this salmon fillet into an extraordinary dish with help from an air fryer.
The air fryer circulates air all over to produce a crispy salmon skin while keeping the fillet light and flaky. Next time you are in need of an easy keto dinner recipe look no further than the seafood aisle! Serve for a side of cauliflower rice and air fryer asparagus for a complete meal.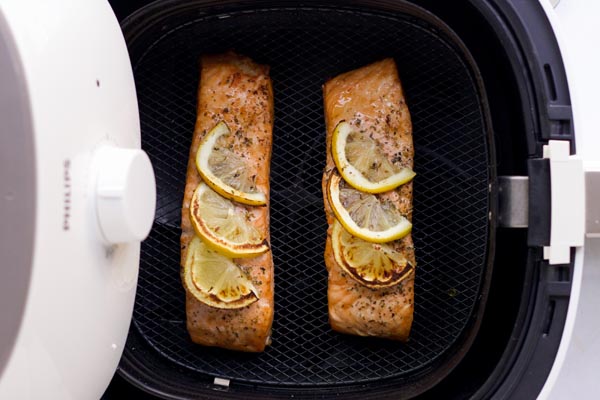 Start by preparing two 6oz salmon filets with a drizzle of olive oil and a squeeze of lemon.
Next, lightly season the filets with salt and pepper and a sprinkle of Italian seasoning blend. If desired, you can place thinly sliced lemon on the fish for extra flavor and a beautiful presentation.
The air fryer will cause the lemon to crisp up a bit which is stunning when plated. Place the salmon skin side down inside the air fryer, on the cooking basket/rack.
How long to air fry salmon?
Cook at 375° F for 8-10 minutes depending on the thickness of your filet. Your filet is done when the thickest part of the filet reaches an internal temperature of 145 degrees.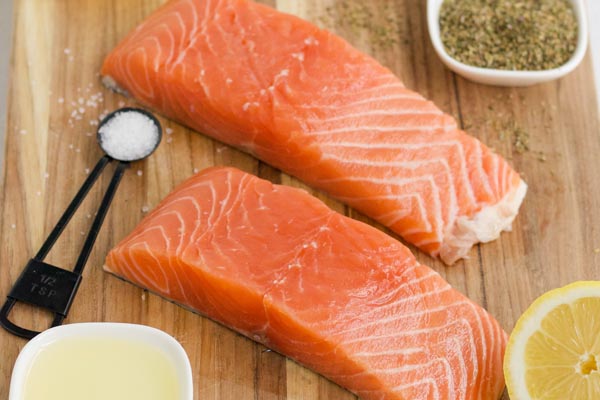 Subscribe to the KetoFocus YouTube Channel
With 100s of videos and millions of views, Ketofocus is one of the most popular Keto channels on YouTube.
Salmon Ingredients
1 lemon
Two 4-6 oz salmon filets
1 tablespoon olive oil
1/2 teaspoon salt
1/2 teaspoon pepper
1/2 teaspoon Italian seasoning blend
Air Fryer Salmon Directions
Cut the lemon in half. Save half for juicing. Cut the second half into thin slices.

Place the salmon filets skin side down and drizzle olive oil on top. Squeeze the juice from half of the lemon on top of the fish.

Sprinkle the salt, pepper and italian seasoning blend over the fish. Place the lemon slices on top, if desired.

Place the fish skin side down in the air fryer basket. Cook the fish at 375 degrees for 8-10 minutes or until cooked through.