Sandwich Bowl
by KetoFocus.com
A delicious Subway salad made at home
Sandwich bowls are filled with your favorite sandwich ingredients and are the perfect low carb meal. Ditch the bread and only eat the meat and veggies from your sandwich in these tasty bowls.
This keto sandwich bowl is highly adaptable and can be made using any sandwich ingredients. Try making a Bell Pepper Sandwich or Keto Reuben Chaffle Sandwich which are perfect candidates for this bowl.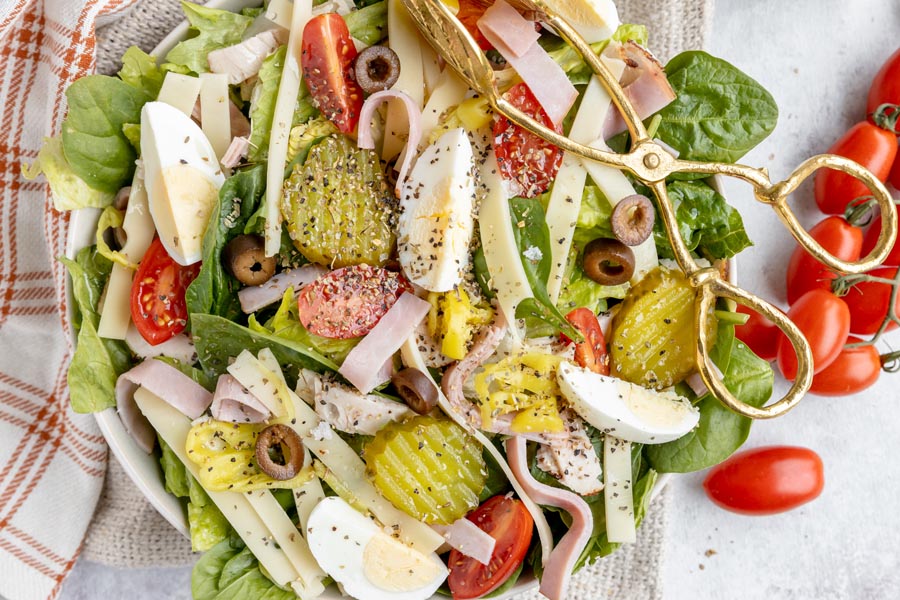 This sub in a tub is great for taking to work for lunch, a quick and easy dinner, or an energizing afternoon snack. Stick to your keto diet with this protein-packed meal.
There's no need to order lunch when you can make these low carb meal prep bowls in advance to have them ready any day of the week. You can quickly assemble them and store the dressing in a separate container for when you're ready for lunch.   
How to make a sandwich bowl
These keto bowls only take a few minutes to put together to eat for dinner. Here is a brief description of how to make them.
Cut the lettuce into bite-sized chunks.
Slice the turkey, ham, and cheese into thin strips.
Dice the tomatoes and eggs into quarters.
Assemble the salad: Toss the spinach and romaine lettuce together and create a layer of turkey strips, ham, cheese, pickles, pepperoncini, tomatoes, and eggs.
Drizzle oil and vinegar and sprinkle with salt, pepper, and Italian seasoning.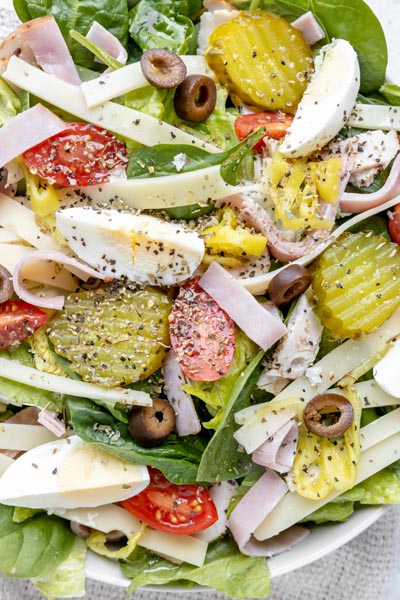 Key ingredients
The ingredients in this recipe are easy to find at the grocery store if you don't already have them in your kitchen at home.
Lettuce – A mixture of fresh spinach and romaine lettuce is crunchy and the perfect base for your bowl.
Meat – Sliced turkey and ham from the deli section at the store work well for this.
Cheese – Baby swiss is slightly milder than aged swiss cheese.
Toppings – Add some chopped pepperoncini, tomatoes, and hard-boiled eggs for a bold flavor and fun textures.
Dressing – Whisk olive oil, red wine vinegar, salt, pepper, and Italian seasoning together and drizzle over the chopped salad.
Sandwich Bowl Recipe Video
Subscribe to the KetoFocus YouTube Channel
With 100s of videos and millions of views, Ketofocus is one of the most popular Keto channels on YouTube.
Sandwich Bowl Ingredients
1 cup baby spinach leaves
1 cup chopped romaine lettuce
2 slices deli sliced turkey, cut into strips
2 slices deli sliced ham, cut into strips
2 slices swiss cheese, cut into strips
3 dill pickle slices, chopped
2 tablespoons sliced pepperoncini or banana pepper
3 cherry tomato or small tomato, quartered
2 hard boiled eggs, quartered
2 tablespoons olive oil
1 tablespoon red wine vinegar
salt & pepper
dash of Italian seasoning
Sandwich Bowl Directions
To a large bowl, add baby spinach, chopped romaine lettuce, turkey slices, ham slices, cheese, pickle, pepperoncini, eggs and diced tomato.

Toss with salad dressing.

Drizzle olive oil, red wine vinegar, salt, pepper and Italian seasoning. Toss salad to evenly coat.