Keto Nacho Cheese Sauce
by KetoFocus.com
This easy-to-make keto nacho cheese sauce contains a total of four ingredients, and three of them are cheese! Unlike most gluten-free keto queso recipes, this cheese sauce is not grainy or greasy.
Low carb queso sauce recipe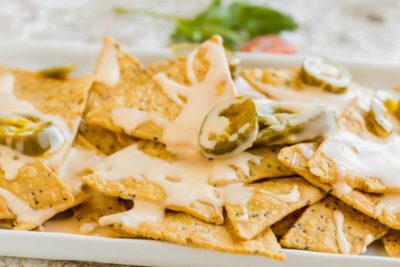 Delicious Keto Nacho Cheese sauce recipes are hard to find, but our mixture of sharp cheddar, fontina, and swiss cheese hits it right out of the ballpark.
While many keto queso sauces can't achieve the right texture because they use almond flour or xanthan gum, our recipe uses a secret ingredient – sodium citrate! By using sodium citrate, the proteins in the cheese sauce become more soluble while lowering the level of acidity in the sauce. It gives the sauce a smooth and creamy texture without curdling the cheese, which makes the perfect topper for keto nachos. This is a much better alternative than the grainy consistency that comes with an almond flour thickener or a slimy cheese sauce when xanthan gum is used.
Some keto queso dip recipes even use American cheese since it is easy to melt and creamy, but it is highly processed and high in carbs. In fact, American cheese is not even considered a real cheese; it is a cheese 'cheese product'.
Other recipes use cream cheese as a softer cheese, but again this is higher in carbs which we are trying to avoid on the keto diet.
Keto Nacho Cheese Sauce Recipe Video
Subscribe to the KetoFocus YouTube Channel
With 100s of videos and millions of views, Ketofocus is one of the most popular Keto channels on YouTube.
Keto Queso Sacue Ingredients
7 oz sharp cheddar cheese, shredded
2.5 oz fontina cheese, shredded
3 tablespoons shredded swiss cheese
1 ⅓ cup water, divided
1 tablespoon sodium citrate
Keto Nacho Cheese Sauce Directions
In a medium bowl, combine cheddar cheese, fontina cheese and swiss cheese. Toss until mixed.

In a medium saucepan, whisk together ⅔ cup water and sodium citrate over medium heat. Stir until sodium citrate dissolves and the mixture begins to simmer. (Warning: Do not use a Calphalon pan.)

Gradually add one handful of the cheese blend at a time, stirring constantly. Make sure the cheese is fully incorporated until adding the next handful.

Reduce heat to medium-low and whisk in remaining ⅔ cup water. Stir until slightly thickened, about 2-3 minutes. Mixture will continue to thicken as it cools. For a thicker sauce, simmer longer. For a thinner sauce, add more water if needed.